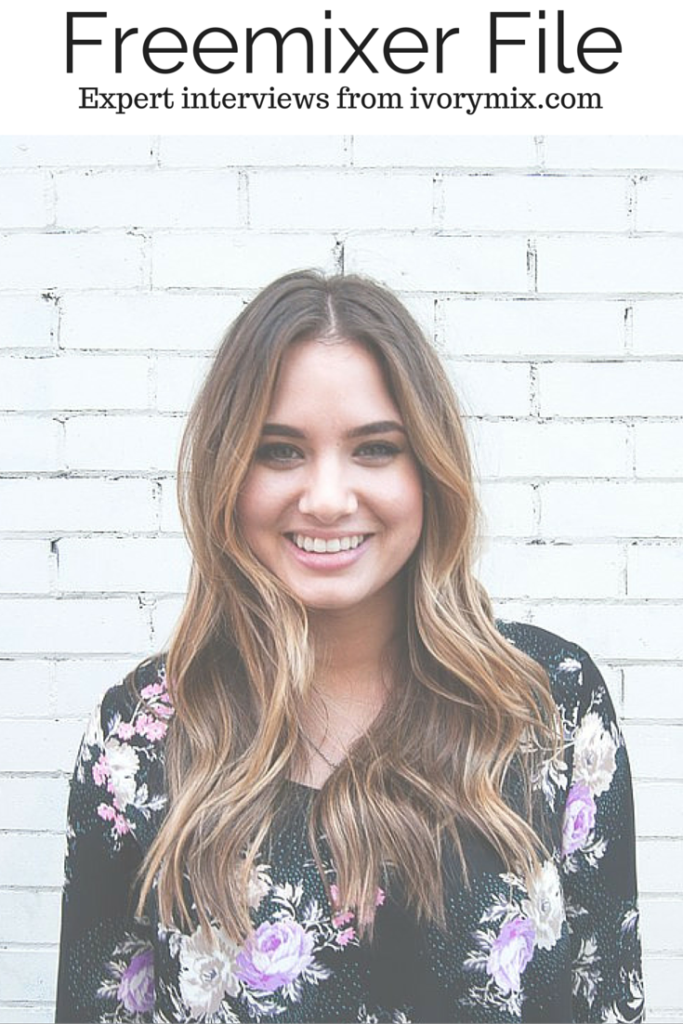 DAYUM Guys… you all are so amazingly talented and I think saying that we're overwhelmed with the response that Ivorymix has received from our Freemixer Files would be an understatement! These ladies (and hopefully gents soon) are just crushing it when it comes to following their dreams and mixing things up freely. Today's interview that I had the absolute pleasure of doing is with Alyssa, a Holistic Nutritionist and Founder of Alyssa Coleman Wellness, and the creator of the "anti-diet protocol". Her ambitious attitude to help boss ladies approach life more clear-headed and well-nourished is what inspired me to want to learn more.
I think all of us ambitious business owners and bloggers could use a little (ok a lot) more balance in our lives, don't you?
---
When we first started chatting, you mentioned that people you work with tend to over extend themselves or forget to really pay attention to their own needs – can you tell us more about that?
Yes, absolutely, I tend to work with heart-centered women who are intensely passionate about what they are creating, whether it is their blog, online programs, or photography. The online world moves so quickly that it is easy to always be on the go and have a never ending to do list! Building their dreams is at their core, so I am here to support them while they do this! Taking care of ourselves as #bossbabes is so important because we are our buisness' #1 asset.
I'm going to be honest, I am soooo guilty of doing this lately! Being a full time at everything seems to be the norm these days. At least, that's what I see around me. What do you think the number one sign for burnout is and how can they cure it?
So when I am meeting with my clients one of the first things I ask about is how they feel when they wake up in the morning, an early warning sign of burnout is having difficulty waking up in the morning (are you in an on & off relationship with the snooze button?).

The next big signal is staying up all night, if your body is having trouble letting you know that the moon is out and you should be hitting the sheets, then I would start to look into adrenal fatigue. This is how I always know that my adrenal glands need some love, I find myself "getting the best work done" around 2am, then waking up feeling like crap the next morning.

Although it may seem like you're being really productive, there are a few problems with this, firstly your body does so much repairing while you sleep, that is necessary for optimal health. Secondly, when you don't get adequate sleep you are more likely to be reaching for chips the next day, have an increase in mood swings, and be less able to deal with stress (not ideal for business owners!).

So, make sure you are getting to bed at a decent hour, if you have trouble falling asleep take a nice long bath before bed and restrict how many screens are allowed in the bedroom
For those readers who haven't gotten there yet because they've just started their blog or business, what's your number one tip for preventing burnout?
The best technique to prevent burnout is to have a solid morning routine that prepares you for the day ahead, rather than waking up and instantly scrolling through emails and social media, take some time to nourish yourself first; even if it's as simple as mindfully cooking yourself a healthy breakfast and sitting quietly while you eat it. This is vital for maintaining a healthy nervous system.
What has inspired you to start on this path of helping?

I was inspired to start on this path because I struggled with it myself, moving my nutrition business online had me burning out like nobodies business, I started packing on the pounds and really struggled with anxiety.
How did you originally get into yoga, health and wellness?
Well this takes me back….. before I was a nutritionist I was a bright eyed environmental policy student at university. I was totally going to change the world and probably win the nobel prize for reversing global warming! But in all seriousness, I am so passionate about protecting our environment and everyone in it. While I was studying I was blown away by how huge my carbon footprint was, and shocked that it mostly due to what was on my plate. So that's it, right there in the middle of the lecture hall I became a vegetarian. I had absolutely no idea what I was doing and I was less of a VEGetarian and more of a PASTAtarian.

So I researched my little tail off on and was completely consumed with the health and wellness world. I discovered quinoa and chia seeds and never looked back. After university I was working for Environment Canada and became sort of jaded by how little change I was really creating, that is when I realised I was making a bigger impact by working one-on-one with women interested in my wellness story, and the rest is history.
As a busy person that you are, how do you stay sane and what's your daily routine like?
I am so passionate about having a solid morning routine, every successful person has a morning routine from Oprah to Obama. My morning routine looks something like this: I wake up slowly and gently, I have a nice mug of warm water and lemon to detoxify my liver and kickstart my digestion, I sit quietly in meditation for anywhere from 5 – 25 minutes followed by some gentle yoga, again this depends on how I'm feeling and can be anywhere from 5-45 minutes, and sometimes is just laying in savasana, I really try to listen to my body and what it needs. This is followed by my delicious cup of coffee and checking in with social media, (coffee and instagram just go so well together). Then I get into my "work" day, blogging, recipe testing and checking in with clients.
A photo posted by ? Alyssa Coleman (@alyssacolemanwellness) on
This might be a bit deep, but where do your inspirations come from? What keeps things interesting in your life?
This is so important, I am always looking for inspiration and it makes me a better coach and program creator when I'm inspired. I love to travel, it is my biggest inspiration and totally keeps things interesting in my life! Although I can work from anywhere in the world I am not travelling all the time so when I need a little inspo injection I plan my next trip or swoon over travel blogs.
Many of Ivorymix readers are new to online businesses and blogs, can you tell us how you approach blogging and business online? How do you meet new clients?
Absolutely, it can be very overwhelming when you first begin, I approach blogging by writing directly to my clients, I usually get my blog post inspiration from their biggest needs, for example one of my most recent blog posts is on how to eat your healthy fats without eating fish, I created this because a couple of my clients HATE fish, and were overwhelmed by how they should be getting their fats.

Business online can be scary but I have found it so incredible because I am constantly surrounded by my ideal clients from all over the world, which is totally impossible offline. I meet a lot of my new clients on facebook. I have a facebook group called "Free Spirited Babes" and I also run facebook ads for my bikini-ready challenge.
Can you tell us something that people might not know about you, but that you don't mind sharing?
People might not know that I am a total cat lady – I am straight up obsessed with cats, if I am procrastinating it is usually because of cat memes. Luckily my cat is my business consultant, I usually have to bring another chair into my office so that he doesn't try to sit on the keyboard.
So Alyssa, what does the future hold for you?
I am so loving what I'm doing right now, working one on one with my clients, but I want to create a way to work with  more women at a time and spread the love! I am planning some upcoming nutrition + yoga retreats for free-spirited #bossbabes! So stay tuned for that!
Last but not least: What's your favorite blog that you follow and can't get enough of?
Oh man that's tough, my favourite blogger is connie chapman, and I am also a heavy stalker of #farmersmarketinspo on instagram.
---

Alyssa is a Holistic Nutritionist,  founder of Alyssa Coleman Wellness, and the creator of the "anti-diet protocol".
Learn more about Alyssa, and access her free training here and connect with her on her Website, Instagram or Facebook