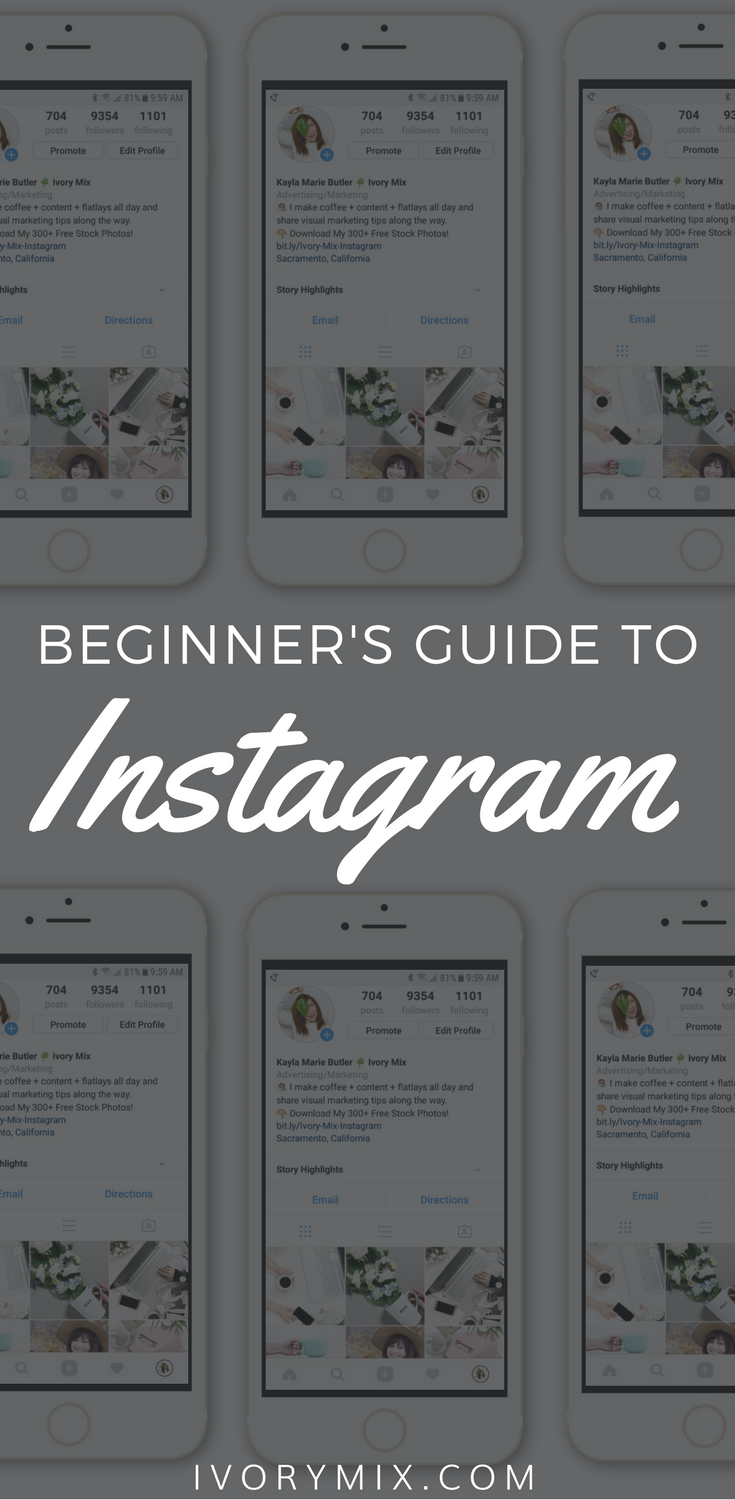 This is  guest blog post from Why Hello Beauty on Instagram
Instagram is completely addictive and hours of time is easily wasted spent scrolling through feeds. Over the course of about 3 years, I have built a steady audience of over 16k followers at @whyhellobeauty through sharing inspirational and beautiful content that compliments by beauty + lifestyle blog WhyHelloBeauty.com. If you too wish to grow your following + create killer content – you're in the right place!
BRAINSTORM:
Who do you admire on Instagram? Whose feeds totally inspire you? Brainstorm what it is about these accounts that you love and begin to incorporate these ideas into your feed, your way. Think about colour schemes; do you want a neutral black + white theme or maybe bright pops of pastel colors? Do you want to include the odd quote to break up your images, maybe every second or third image to create a tiled appearance, similar to mine at @whyhellobeauty? Don't feel that you have to get your feed perfectly instantly, creating a fantastic feed is all trial + error to find what works best for you and your audience.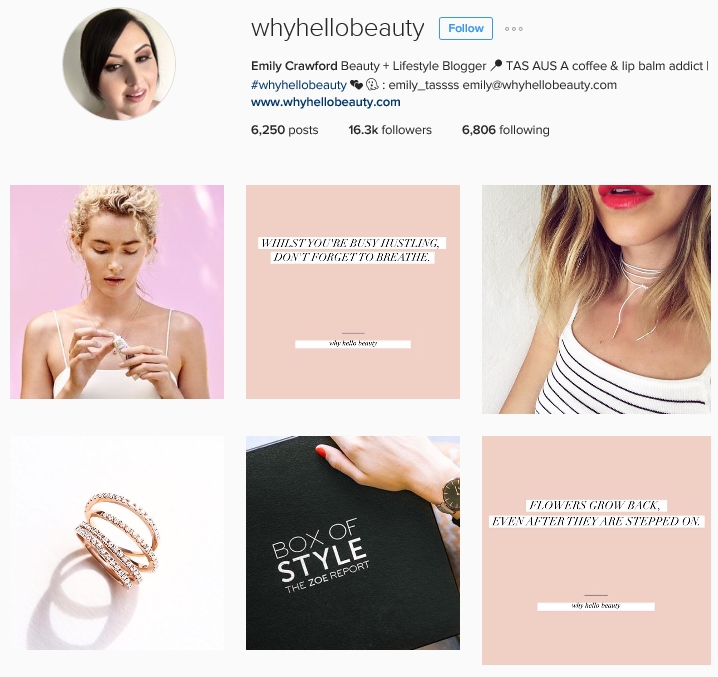 YOUR INSTAGRAM BIO:
Use your bio to describe who you are and what you do, in a creative and/or witty way – I've popped mine below for reference.
For more in-depth details about creating the perfect profile, read these 10 Must-Haves for a jaw-dropping Instagram Profile.

CURATED INSTAGRAM:
Besides learning how to style flatlays for Instagram growth here in this blog posts,  You can also a tool like a Social Media Calendar, to schedule + plan out your images each week. You can view how images look to each other and ensure cohesion is achieved before you press the upload button! No more quickly deleting images that just look off…. This is what Social Media Managers tend to use if you were to hire one to curate your Instagram feed, so use their tools + do it yourself!

If flatlays are something you really want to get into, you should check out this tutorial for Styling Flatlays for Instagram Content
IMAGE EDITING:
Play around with the editing options within the Instagram app or even explore apps like SnapSeed and VSCO Cam to use the same filters to each image uploaded, for that lush feeling of cohesion again. This is where your dream Instagram feed's appearance also comes into play …
INSTAGRAM CAPTIONS:
Ensure you utilize captions to their full capacity. If you post an image of a luxurious lipstick, I'm a-gonna wanna know what shade is, so please sure to add it to the caption. I also mention crediting reposts below, which is so important!
INSTAGRAM HASHTAGS:
Research what hashtags are used widely within your niche/community and like accordingly. Remember though, think outside the box; for example, I'm a beauty blogger who obvs loves lipstick and all things beauty, BUT I also adore monogrammed leather goods like The Daily Edited, magazines like Elle & Vogue, cute desk stationery and books such as How to be Parisian and Love X Life X Style, so use this to use advantage when searching hashtags.
TAGS:
I've broken tags into three categories, location, personal tags, and business/brand tags;
People:
Always, always, always credit the image's owner/creator if you are reposting an image within the caption and also, within the image – it's just polite and great insta etiquette.
Brands:
If you are posting a flatlay or just an image of an object, be sure to tag the brand within the image in the caption and if the brand has a hashtag they promote, use that too! Give brands all the tools they need to find you within the millions of images and if your content rocks, you'll no doubt score a regram too – cue more followers with no effort whatsoever!
IMAGES:
All images look best using natural light, to keep this mind when you are creating flatlays or playing around with selfies. Remember too though, that the sun can cause shadows so if want a clean + crisp flatlay, try to avoid sun but use natural light from a window and maybe edit afterward. If you don't have an on-trend marble base for flatlays, a simply a4 piece of paper works better than a tabletop or carpet – try it today!
Ready for More Instagram Hacks? Here are some of my favorite top tips:
• How to Hack the Instagram Algorithm for More Engagement
• The Best time to post on Instagram for Maximum Engagement
• How to create 30 days of Instagram content in 8 simple steps