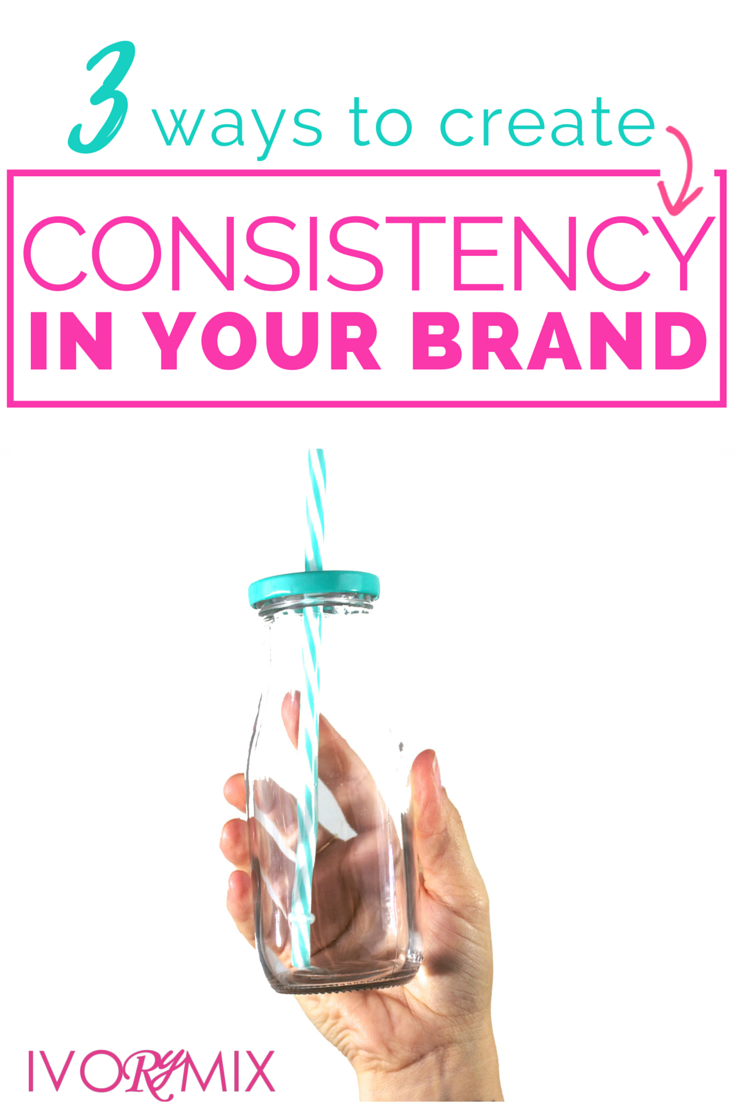 When you're in business, "branding" is something you hear about all the time. It's like the fad word of the biz world and for some, understanding branding and how to nail it within your business can be a bit overwhelming.
Without delving right into the nitty gritty of the importance of branding (you can learn all about this in my free back-to-basics branding ebook right here), today I'm going to cover one of the key tips to getting on track with your branding: consistency.
3 WAYS TO CREATE CONSISTENCY IN YOUR BRAND
1 – TEMPLATES
Templates are a gift for the busy, hustling biz-boss. Who really has time to come up with new layouts for graphics every time we need to post on social media or post to our blogs? Get yourself a template for all of your social collateral, this means Facebook posts, Instagram posts, Pinterest posts, blog posts and so on.
By using templates for your graphics on each of these platforms your audience will come to recognise your business and your brand. Building a business is all about building an audience that is connected and knows and loves what you do. By creating a consistent look across all of your socials your audience (and others) will come to recognise your work and your business will look reputable and professional! #winning
Quick tip: If you're not sure where to start with creating your own graphics you can contact a friendly designer (like me!), or use simple tools such as Adobe Illustrator/Indesign (you will need to buy these programs but they are definitely worth it if you plan to dabble regularly in creating graphics for your biz). If these two are still not for you, you can try using the most popular FREE online tool available to you right now which is Canva. It's super simple to use, I promise you'll love it!
 
2 – COLOR & FONTS
This tip relates really well to my last point about templates. Once you've had your logo developed you've probably worked out what your colour theme is. Don't neglect your colour theme, inject some life into what would usually be a drab old blog post or boring page header and use some colour! By using the colours already prominent within your branding you can easily create a consistent look across all of your material, and it will all tie in nicely with the look and feel of your business. Same goes for fonts.

It's easy to get a little carried away with the latest fonts (I should know, I LOVE typography!) but try to reign it in when it comes to creating a consistent look for your brand. Simple is never boring when it is executed properly. Remember when it comes to your blog and the text on your site the key is legibility! People need to be able to actually READ what you're posting about and nothing is more annoying than a nasty font that strains the eyes. Try to find some fonts that still reflect your creativity but are also professional-looking and legible and use them consistently.
Quick tip: When it comes to colours and fonts it's important to know some finer details about your chosen style. When it comes to colours you should know (or at least note down) the Hex codes and RGB/CMYK values of your colour theme so if you do eventually enlist the services of a designer you can let them know the exact colours of your brand and everything will look consistent. An awesome online tool for this is Adobe Colour Wheel.
When it comes to fonts, it's okay to have a bit of a "font collection" for your brand which can include your chosen font for documents and large bodies of text (i.e. blog posts) or fonts for headings and page titles.
3 – TONE OF VOICE
This may sound a bit strange but it can be common for some business people to adopt a persona on their socials (including their blogs) when talking to their audience and often, if the persona isn't a reflection of who they are it can come across as inauthentic. The most important thing when building a brand is to be true to YOU. You'll find when you're being yourself and speaking and writing like you would normally, creating content won't be difficult because being who you are comes naturally and don't be afraid of that.
If you prefer to be a more professional version of yourself when it comes to interacting with your audience ensure you keep this same level of professionalism in your tone of voice. Don't flip-flop from professional CEO-style blog posts to backyard slang – people won't know who you are or how to take you. Develop your own style that you feel comfortable with and keep it consistent across all of your biz material.
Quick tip: If you're a bit stuck on this whole "tone of voice" thing, check out Frank Body. This company is one of the best businesses I've come across who've adopted a great tone of voice and persona for their business that has been consistent from day one. They smash it when it comes to filtering in comedy and what their audience has come to expect from "Frank".
There you have it! Three so-darn-simple tips to creating consistency within your brand which you can implement pronto! If you want to learn a little more about branding you can grab your free copy of my ebook Understanding Branding: the basics for small business. I also hang out on my blog and share biz and branding tips on the regular.
See you there! x
---
Guest Author: Ellie Russell from Darling Design Co
Bio: Ellie Russell is a freelance graphic designer and the founder of The Darling Design Co, a creative studio for small businesses and startups specialising in branding design. Based in rural NSW Australia, Ellie has built her business on the notion you can have a successful and fulfilling business regardless of the location, even in outback Australia! She shares practical and actionable business tips and branding advice on her blog regularly and is crazy passionate about small business!
Connect with Ellie: Instagram, Pinterest, or Facebook