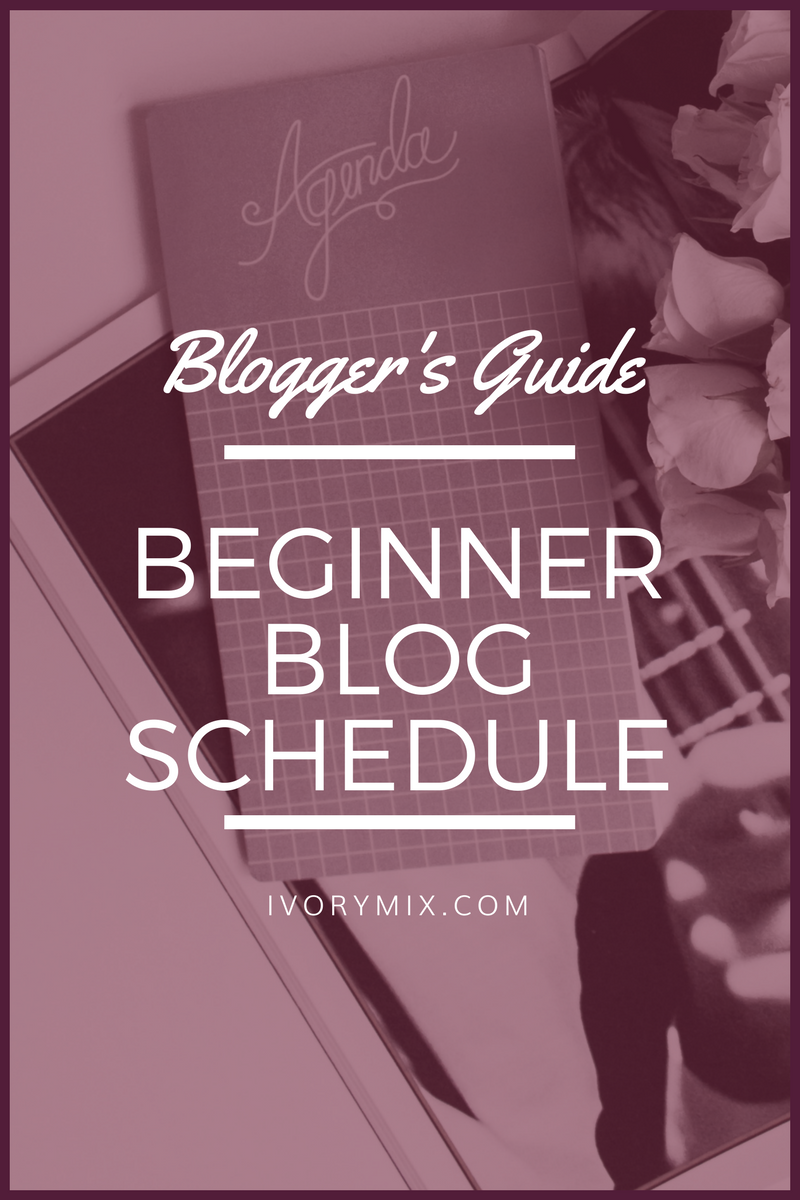 If you're a blogger, then you know how overwhelming it is to be new(ish) to blogging.
I've had a few blogs over the past 5 years and gave up each time due to no lack overwhelm, a lack of vision, and little results because of it. This time – oh yes – this time it has been completely different. Since starting Ivory Mix back in December of 2015, I've made blogging here part of my full-time self-employed job.
I had changed my outlook, read more from successful bloggers, and had a completely different motivation when I started this time.
I'll probably get into those motivations on another post, but what I have found most challenging each and every time is the scheduling of blogging as a beginner and keeping up with the program so that I can continue to grow my blog in content and followers.
Sound familiar?
Whether it is your job to blog, market your services, and products for others as an affiliate, or if you are marketing your own projects, time management is and will become, key. In fact, your ability to work and manage your time is directly related to how much money you make from your blog. The more you do (of the right things, the more money you should make.
Here's a snapshot of an old beginner blogging schedule that I used to use when I first started. Maybe it can be of help to you? Just right click and save it if you like…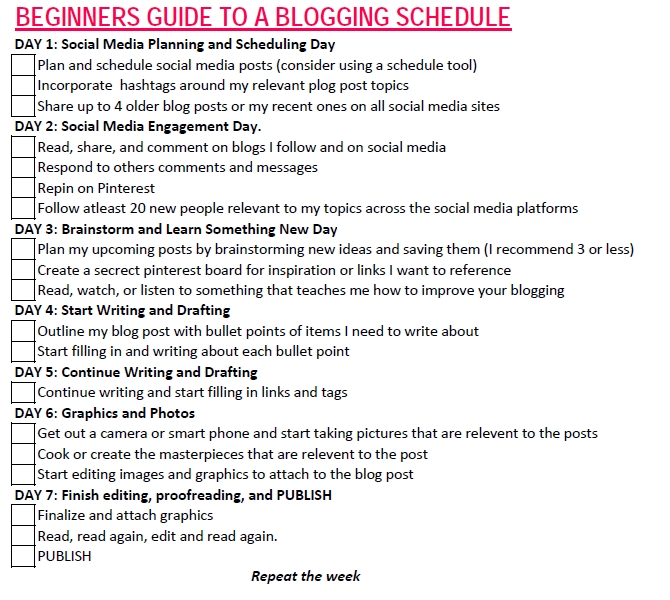 Since time management is an important component of becoming a successful and profitable blogger, you may wish to revamp the daily managing of your time.
If that is the case, continue reading on for some super simple and easy steps to get started.
Brainstorming – is important part of a blog schedule
Do not make the mistake of jumping right into writing and publishing blog posts or emails.
Instead, take the time to brainstorm and develop a list of tasks. Decide what you want to do for the day, week, and month.
How do you want to use your time? Do you want to update your website? Do you want to submit a guest blog post to another blogger's website? Do you want to buy a new tool to help you in another area of your blog?
If so, list these items on a scrap sheet of paper
Prioritize – what's on your blog schedule
You might assume that you are done after brainstorming your daily tasks, but you're really not.
Nest, you'll need to prioritize the things on your list that will make the biggest difference in the results you're hoping to get.
Create a to-do list or a detailed schedule.
To get started, prioritize. If working for yourself as a blogger, as opposed to client-based work or blogging, you have more freedom to decide.
It is best to start with marketing tactics that you know will work. Since there is less gamble, your work and the energy you put forth should pay off. For example, submitting a guest blog post is "has more potential" than using Twitter to generate clicks to your older blog posts. (new can generate buzz, which generates shares, clicks, followers, and fans)
Set Time Limits – on your blog schedule tasks
As previously mentioned, you can create a detailed schedule, but when doing so, use blocks of time.
For example, 9am to 10am can be used for writing and be submitting posts. This gives you one hour to do the task. Yes, it does apply pressure, but a time limit can also serve as a source of motivation to get the job done.
If you opt to create a detailed scheduled, set aside specific blocks of time to do so.  But, even if you don't do that, still create a time limit before you start each task. Then, create a goal time to have it complete.
Stay Organized – with your blog schedule
Those who are unorganized have the hardest time sticking to a schedule. Yet, those who are organized but don't manage their time well are in the same boat. So, improve the use of your time and get yourself organized. Make sure you are working in a clean environment that's free from distraction and clutter, even if only working from a laptop at your kitchen table.
Don't Waste Time – on your blog schedule
The biggest time waster when working as a blogger – is marketing. Yes, this seems ironic, but it is true. There are millions of things to do on the computer and online in our businesses. Therefore, it is easy to get distracted and waste time with something that is interesting right now, but wastful in retrospect. Set rules for yourself.
For example, no checking your email, when you're writing. No communication with friends on Facebook Messanger while writing emails related to your blog.