I'm new(ish) to blogging, are you? I've had a few blogs over the past 5 years and gave up each time due to lack of vision and little results. This time – oh yes – this time it's going to be different. I've changed my outlook, read more from successful bloggers, and have a completely different motivation. I'll probably get into those motivations on another post, but what I have found most challenging each and every time is the scheduling of blogging as a beginner and keeping up with the program so that I can continue to grow my blog in content and followers.
---
This blog started just under 30 days ago and I'd like to just take a moment to summarize .
What exactly I've done with my blog so far (in no particular order):
Bought my domain and hosting from Bluehost
Downloaded and installed wordpress
Designed a logo using the free design tool called inkscape. You can download yours free too! (not affiliated – just love it)
Chose a Free theme from wordpress and customized it to my colors and etc as much as I could (this took a few try's before I was happy)
Outlined and created my site pages and categories (at least 3 different times in the last 25 days because I am a perfectionist)
Filled in my site pages with content (and rewrote it at least 5 times)
registered my websites email address
Signed up for Google AdSense (I've made 70 cents in 25 days with 790 visitors to the blog)
Started a Mail Chip account (free) for newsletter
Set up the widgets in wordpress (newsletters, ads, etc)
Customized my menu and sidebars
Started social media accounts (Instagram, Twitter, Facebook page, Stumbleupon, reddit , Blogglovin' and google+)
Started a Zazzle account and create a few products for some blog posts and inspirations I had.
Installed plugins (Yoast SEO, Who Sees ads, Mailchimp Forms by mailmunch, Jquery Pin It button, etc)
Joined 4 different facebook blogging groups
Created a bunch of graphics
Cooked a little and took photos
Wrote 17 different blog posts
Grew my twitter other social media sites followings by engaging in conversation, sharing, etc.
PHEW! That was a lot to do in the last 25 days. I can see why beginner bloggers eventually burn out. It's a lot of work for little reward (at first). I haven't had a lot of traffic, I haven't made enough money to cover the initial expense from buying a domain and hosting it, but its okay! I've got a plan and this plan will continue to change and grow.
You see, there are pro-bloggers who share a lot of valuable content, workshops, courses, eBooks, and more, that are geared to help people like you and I. I've got a lot to learn and I will probably continue to utilize the skills and knowledge of other pro-bloggers who have found some success. One blogger who is a powerhouse business woman is Regina from by Regina. She's written a pretty useful post about starting a blogging schedule with checklists to help beginners with their daily, weekly, and monthly business tasks. I think its great, but YOWZA there's a lot to do on these check lists!
I think one day soon, you and I will be organized enough that we can get to all of these things, but maybe not in this order. Unlike some, I have a full time job, 3 kids and a husband. Just to get to this point, I've stayed up until 1 am a few nights and have locked myself in the bedroom to take blog photos and flat lay photos so that my 4 year old doesn't photo bomb every picture. This was a lesson I learned the hard way when I let her look on and I turned my head for just a second and she dumped out the confetti bottle I had out.
So, in order to follow Regina's advice, we've got to get more efficient. For now, I've development my own beginners guide to a blogging schedule that works for me. This schedule focuses on one key element of blogging each day. Social media and engagement on one day, writing on another, photos on another, and so on.. It's the only way I can feel sane and not completely overwhelmed by the blogging process. Download the PDF copy of this schedule here.
 I keep this  blogging schedule on an excel spread sheet document with these multiple tabs to organize myself:
a Blog Schedule Tab (Where I track my to-do's)
a Blog Post ideas Tab (Where I brainstorm blogging topics in an organized way
a Products and Service ideas Tab (for future brainstorming)
an Archived Tab (where I save old ideas and tasks I've completed)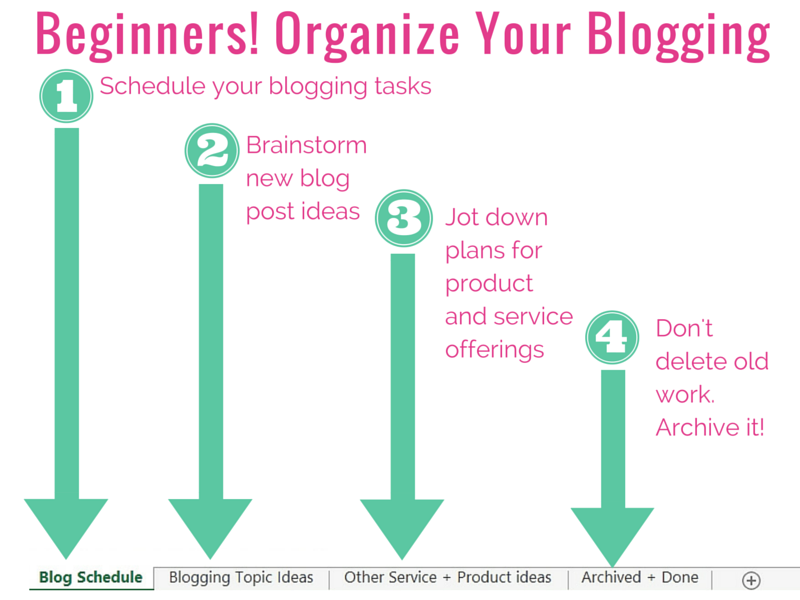 Have you started a new blog? What's your biggest challenge?
What techniques are you using as for setting up a blogging scheduling tool?
Want to learn more about making your own blog photos and backgrounds like mine, you can always read more about that here.