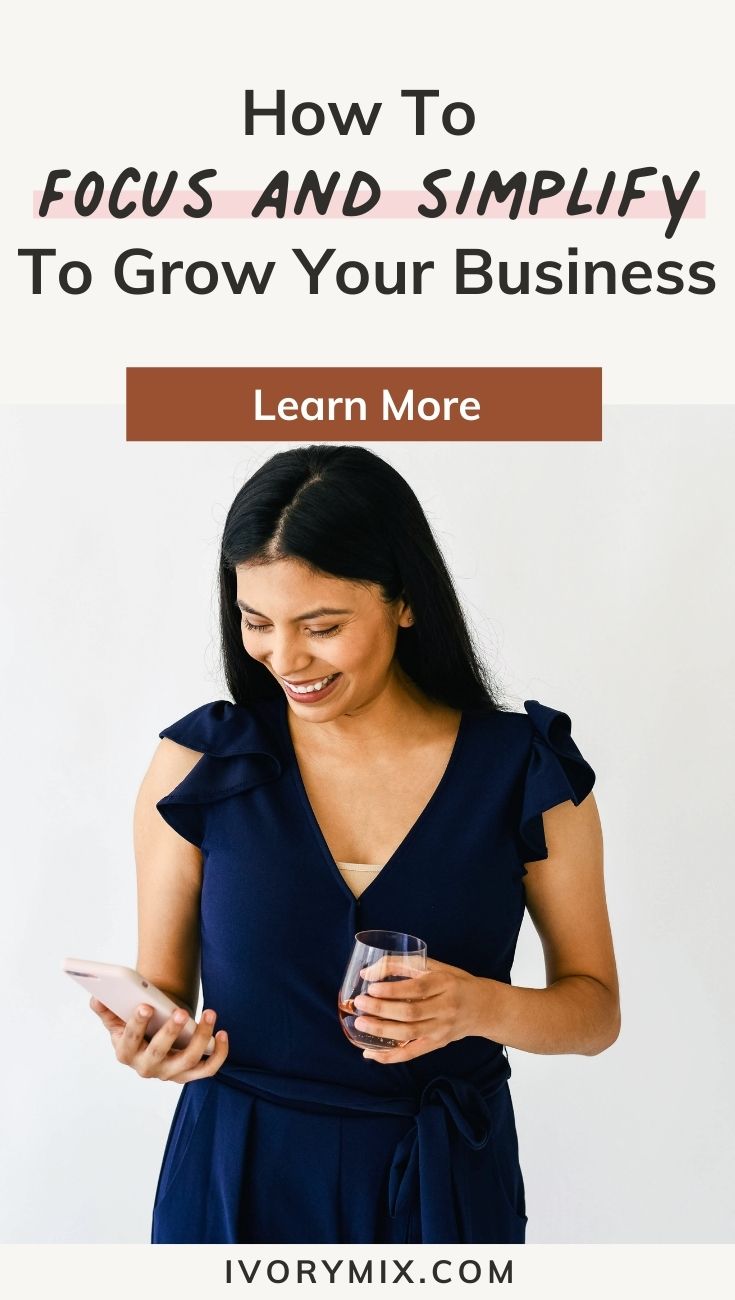 Clutter is everywhere. It's packed tightly into the corners of our closets, it's splashed all over our desktops, and it's crammed into our inboxes. 
As an entrepreneur, clutter can take on a whole new meaning for business operations. When you're up to your elbows in day-to-day tasks, clutter can seep in and leave you stranded in a place of breathless hustle with no chance to breathe. And that, my friend, is NOT okay!
What happened to the freedom that owning your own business was supposed to bring? 
What I know to be true is that by simplifying your business and focusing on the right tasks in your business you can experience rapid growth without becoming overwhelmed. 
In this post, I'm showing you eight ways you can focus and simplify to grow your biz. It's time to let go of the hustle and adopt minimalist practices so you can focus on the big picture instead of being chained to menial tasks that don't bring joy. 
1 — Set Clear Boundaries
You're a business owner, so it's your job to take initiative and set boundaries for your clients and your schedule. Without clear parameters, you'll never find a happy work/life balance, and you'll end up with major burnout. 
Client Boundaries

Decide from the start how you'll interact with your clients. Establish reasonable boundaries when it comes to your availability, including what your response time to their messages will be (I suggest at least 24 hours). 
Let them know when you will and won't be at arm's reach, and stick to it. If you say Saturday is family day, then don't answer your emails on Saturday! Your clients will usually end up following your lead. 
Time Boundaries

  Even when clients aren't involved, it's important to set up boundaries when it comes to balancing your work and your life. Try to carve out specific hours and create a physical space for work to take place.
When time's up, walk away from your workspace to make the transition from work to play. The physical act of walking away helps your mind and body transition to the next part of the day.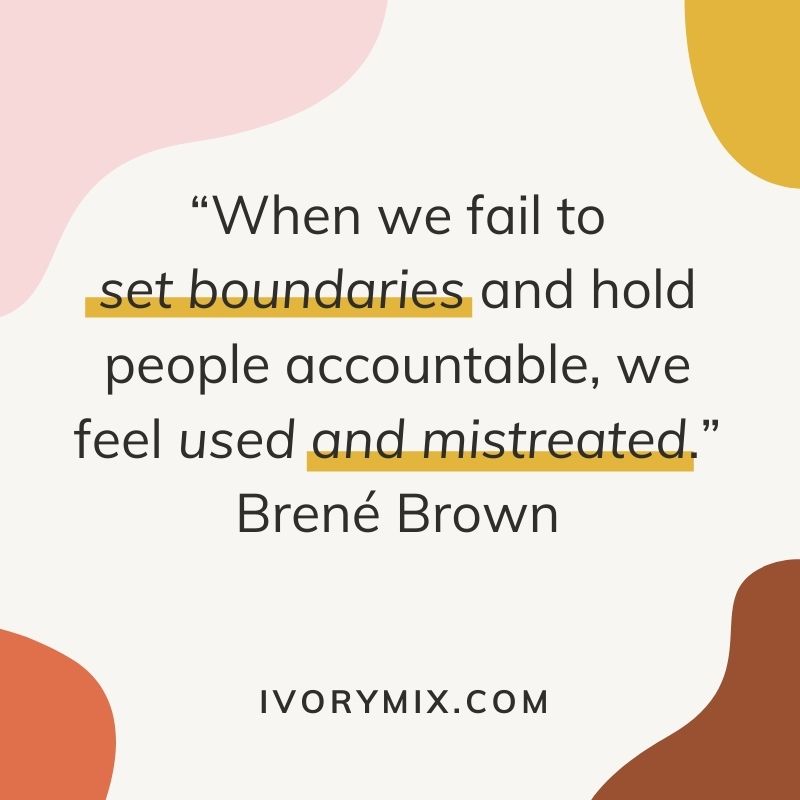 2 — Declutter Your Tools 
Nothing makes an entrepreneur's eyes light up like a new app or software. Hey, it's in our DNA! Yet many times, the apps and tools that are supposed to make life easier end up bogging us down and cluttering up our phones (and our brains) instead. Too many tools equal too many notifications and options, and they don't really help us save time. 
Instead, merge your tools into one or two that do it all. Invest in a paid tool like Kartra or Kajabi that combines several functions. This can be a big boost for streamlining your business and is worth the extra cost because you save valuable time. 
3 — Set Up Systems That Work for You
From responding to emails to on-boarding new clients to gathering testimonials, creating systems that work for your biz is always a smart way to simplify. 
There's no need to reinvent the wheel each time you need to perform a function for your business. Don't squander your precious time creating something you've already created in the past! A few systems you can create to save time are:
Workflows for tasks you perform often

Templates for emails you send frequently

Master copies of proposals you can easily tweak and send

Branded templates for creating social media graphics 

4 — Create an Idea Bank 
If you've been bitten by the entrepreneurial bug, you just may experience what I call "busy brain" 24/7. This means you're constantly thinking up new ideas for your business. 
You're an ideas person, and there's no shame in that! Your innovative ideas coupled with hard work and determination are what got you this far, but to move forward in your business, you have to learn to stay focused on the task at hand. 
One of the best ways to do this is to create an idea bank — a system for storing all your brilliant thoughts. This can be a Trello Board, an Asana board, a Google Doc, or even an old-fashioned notebook you keep on your desk. Whatever it is, use it to bank those ideas that pop into your head when you're knee-deep into a project. Revisit the ideas at a scheduled time each week when you can give them your full attention and consideration. 
5 — Narrow Your Social Media Focus
Most businesses have no need to be active on every single social media platform. If you're an entrepreneur who's trying to maximize productivity and cut the clutter from your routine, performing an audit of your social channels is a smart move. 
Take a good look at how much traffic you get from each platform and ask questions like:
Is Twitter worth the effort you put into it? 
Is LinkedIn a waste of time for your specific goals? 
Where does your target audience hang out online?
Where do I have the most engaged audience?
Be honest, and don't be afraid to cut the social clutter that isn't working for you. Choose 1-2 platforms and go all in, focusing your energy where you'll get the best return on your efforts. 
6 — Create an Image and Content Library 
Images

. Creating an image library to pull from for blog posts, social posts, and promotional material is a HUGE time saver. This strategy will ensure all your images are on brand and are working together to promote your specific mission and vibe.

Store these images in a file on your computer or in Dropbox if others, like your VA, will need to access them.
The Ivory Mix membership has over 5,000 images, Canva templates, and captions to help you quickly create social media content for your audience and have content ideas at your fingertips.

Content

. Save content from past social media posts in a spreadsheet, Trello board, or in Airtable with the date and platform it was published on. This way you'll have easy access to all of your past posts, and you can choose what content is ready to be recycled. It can be as simple as a copy/paste/tweak and schedule!
7 — Outsource Tasks
It's time for a reality check — there just aren't enough hours in the day for you to do all the things on your own. Trying to do everything yourself will ultimately slow your operations down and make you less productive. 
Outsourcing releases you from the day-to-day activities that keep you too busy in your business, so you can concentrate on the bigger picture (what makes the money!) 
Even with the upfront costs, outsourcing saves big money in the long run because it allows tasks to get done in an efficient and low-cost way. Just think about the things you could accomplish if the small tasks were taken care of by someone else!
8 – Focus your sales activities and marketing on one product at a time
When it comes to focusing and simplifying your business its key to look at what products and services you are offering to your client at any given time. Yes, you may have a product suite and variety of ways to serve your audience, but marketing and selling these all at the same time can easily confuse your messaging and your audience and make it HARDER to close sales.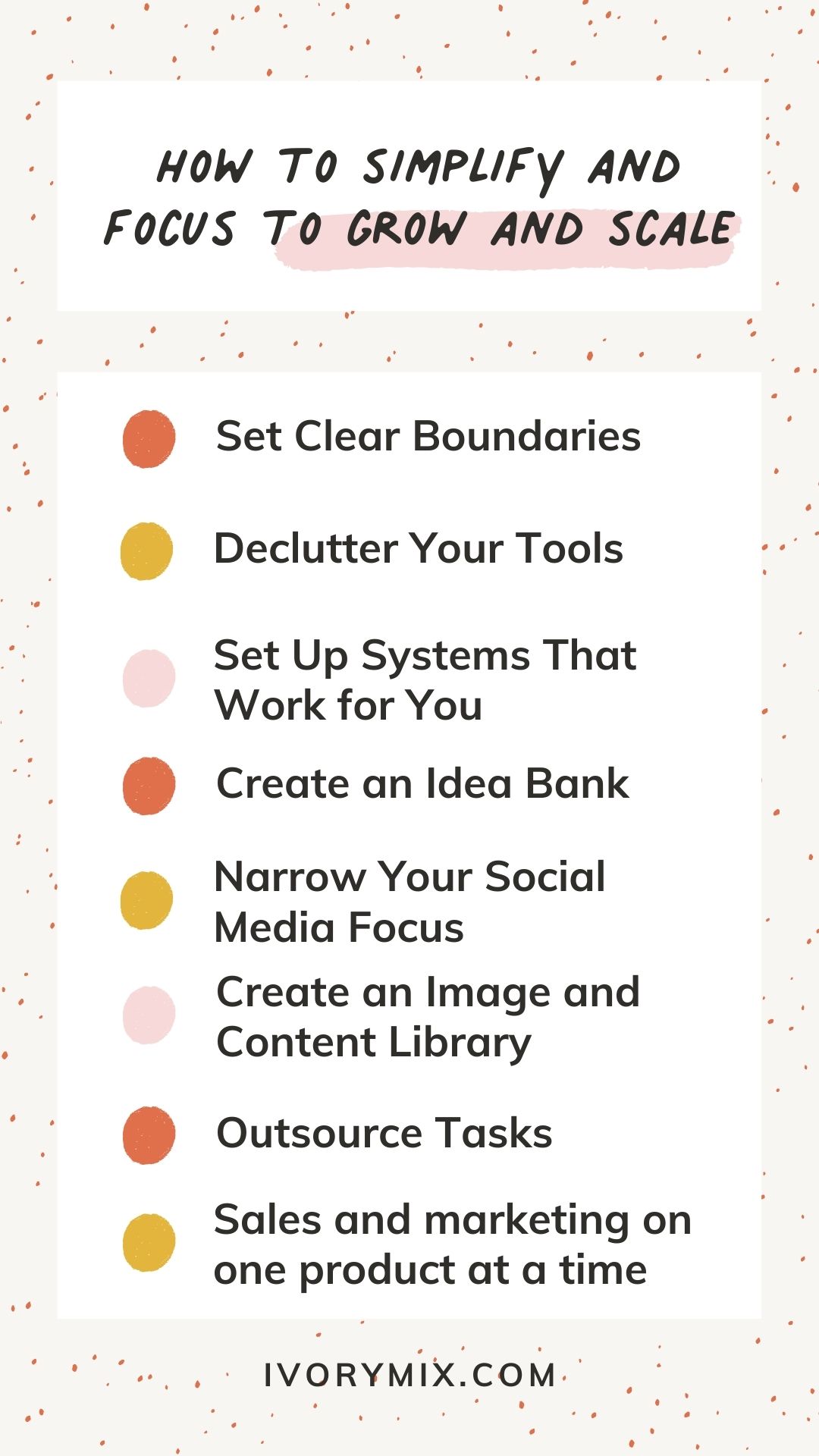 Instead focus on one product or service you are selling that month/ quarter. This focus will help you create content that speaks to your ideal client, help you close more sales, and make running your business operations easier. 
Simplifying your business is essential for creating a life you love. After all, what is the point of all of this if you're so busy doing all of the things, you can't enjoy the fruits of your labor? 
If you're ready to say goodbye to the hustle and streamline your business, putting these seven steps into practice will help you let go of the clutter that can steal your joy and keep you focused on the big picture of your business instead. Join the wait list for the level-up launch accelerator