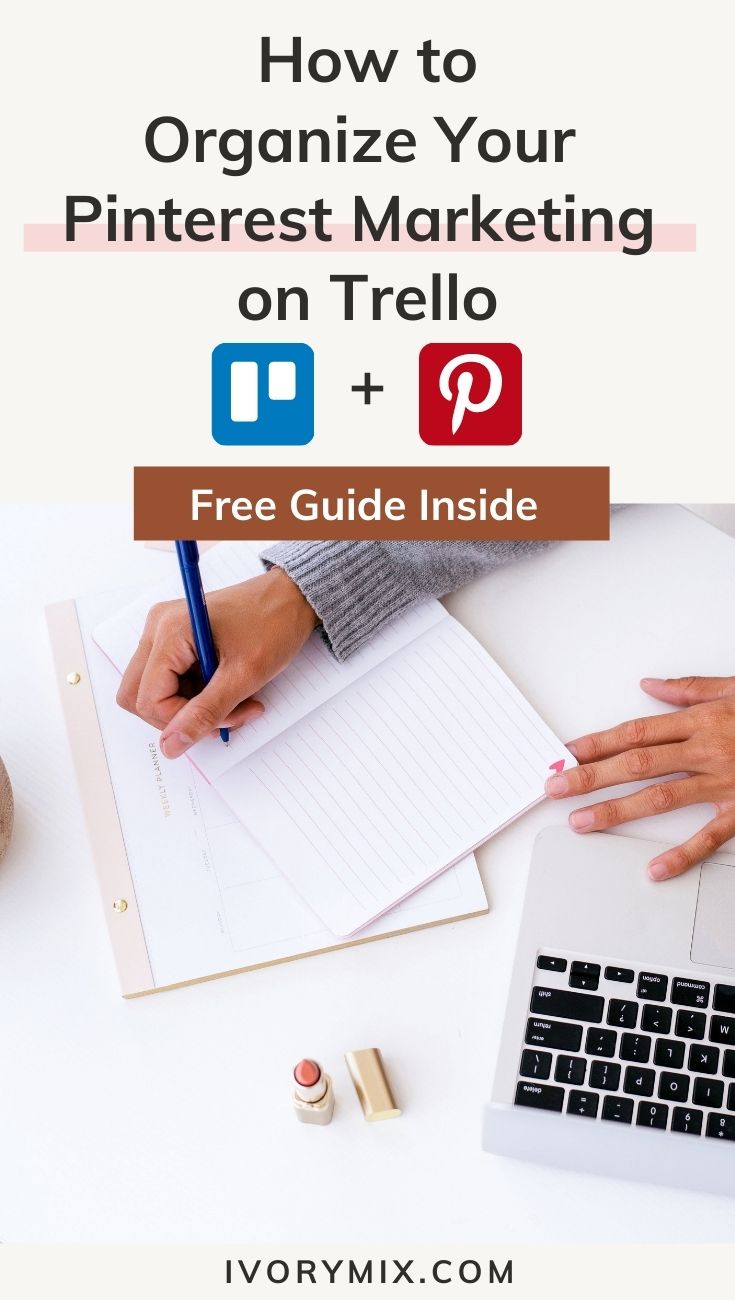 Want to create a Pinterest marketing plan via a project management software? Wish you had a better organization of your content calendar?
Using Trello can make both happen.
Here's how…
What is Trello?
Trello is a visual tool for organizing your work and life. It is perfect for planning a project. You can also easily customize it to suit your needs. How is it different from other project management software? Trello is a card-based organization tool and mimics real-life boards to manage a project! You can add images to cards. This is great especially if you are a visual person. 📌
Ready to get started?
Let's set up a few things first.
Sign up for a Trello account here: https://trello.com/signup
Create a board. Add a title for your board. This is the name of your project or Pinterest marketing plan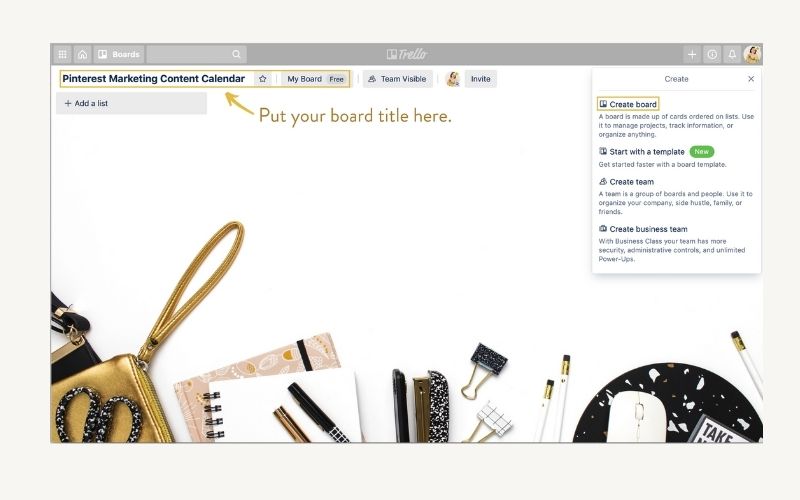 Add lists. You can put here the workflow of your Pinterest marketing plan.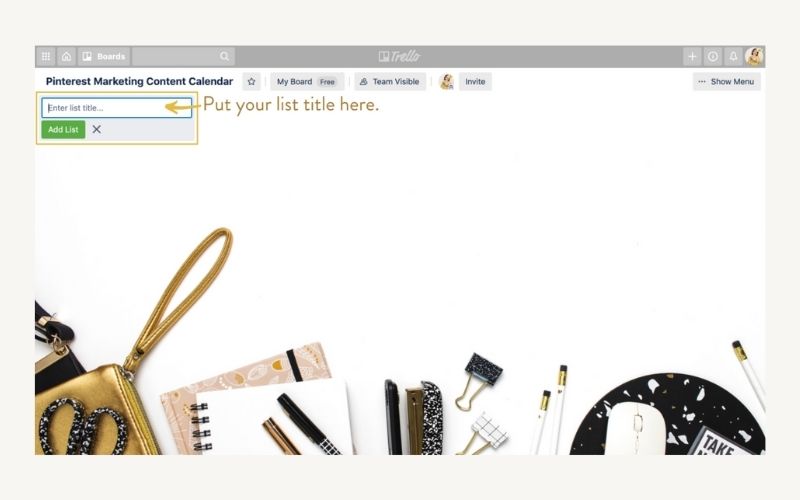 Lists keep cards and they represent the different stages of your workflow.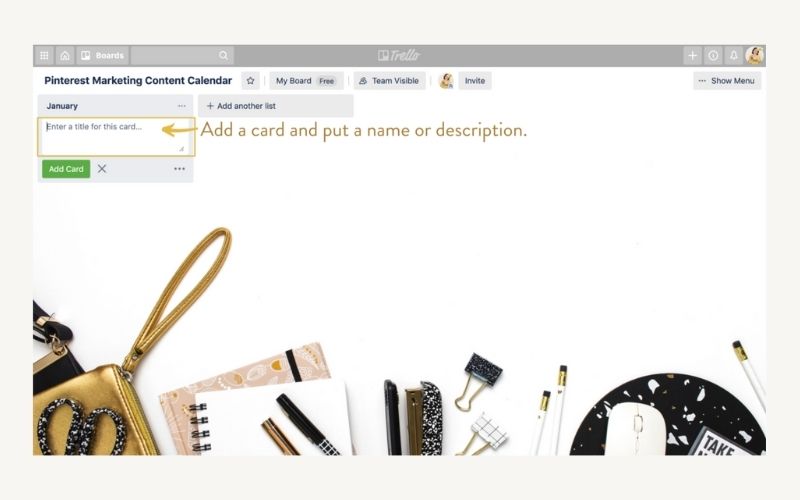 You can put the things that you need to get done for your Pinterest account or ideas that you want to work on.
There is no limit to the number of lists that you can add to a board and cards that you can add to your lists. You can also arrange them however you like.
Check out the menu on the right side of your Trello board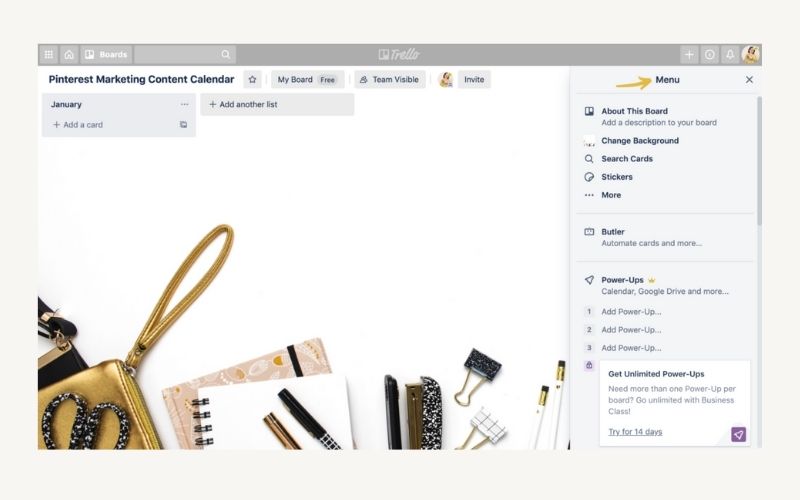 You can manage members (if you have invited people such as your Virtual Assistants to access your Trello), control settings, filter cards, and enable Power-Ups. You can also see all of the activity that has taken place on a board in the menu's activity feed.
Once you are finished setting this up, let's proceed with what to put in your Trello board. One of the problems that I have encountered in Pinterest marketing is how to be organized and keep up with what's happening in your Pinterest account and website. It can be confusing sometimes especially if you have so many content ideas and at the same time, you are doing other things for your business. There is also the question of what to pin daily and how many. You want to be able to get the most out of your content so you can get traffic from Pinterest and give value to your audience consistently. That's why it's so important to have a content calendar. It'll save you time, helps you plan, and produce content consistently. You don't need to come up with last-minute brainstorming to make a blog post. You will have a system that you follow every month and gives you peace of mind.
Here are my suggestions on what to put to your Pinterest Marketing Content Calendar:
Create a list for every month
Putting together an idea for a new blog post or what to share on Pinterest can take a lot of time and effort especially if you do not know how to go about it yet. People come to Pinterest with a dream or plan. They want to discover new things, save ideas that they want to do, and feel inspired.
That's why you need to have a guide so you can keep up with what your target audience wants. Having lists via your Trello board that represents each month can help you determine what you would pin every month to Pinterest. You would have time to prepare and be consistent. You also need to pay attention to the trends on Pinterest. What do people search for lately? More people than ever before are turning to Pinterest for wellbeing and self-care recently because of the pandemic. Use the Pinterest search bar to look for relevant keyword combinations about your niche or industry.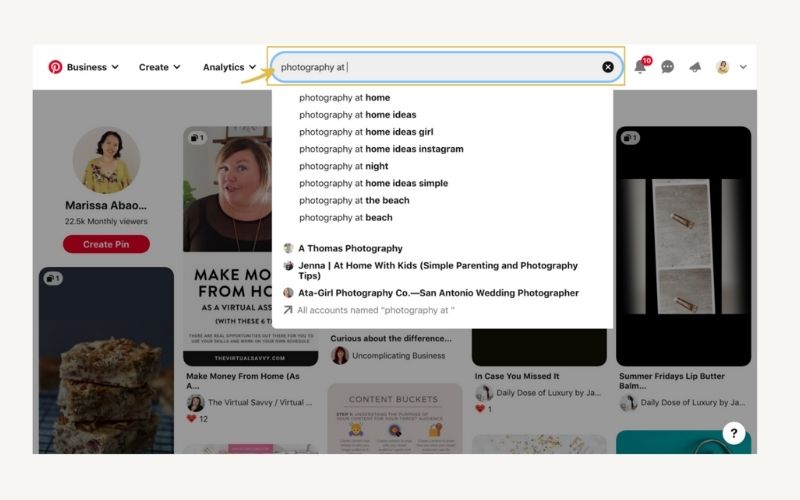 Add cards that represent the step-by-step process of your content creation per week
The foundation of Pinterest marketing success is creating blog posts or product listings and sharing them on Pinterest consistently.
Here is the outline of tasks that you can do every week. You can also add a card where you can put a time frame/deadline below each task.
Set Pinterest marketing goals
How much Pinterest traffic do you want to get every month?
Brainstorm content ideas
Put here the topics that you want to write about for a particular month. Think about what your target audience is looking for on Pinterest.
Here is another tip to get related keyword suggestions on what you are looking for. Install the Chrome extension called, "Keywords Everywhere." It is a browser add-on for Chrome and Firefox that shows search volume, CPC, and competition on multiple websites.
Write and publish new blog posts
Make sure to add here the titles and links of your new blog posts per week.
Reshare popular Pins
Do not forget to add and reshare your popular Pins. Check your Google Analytics. Find out which Pins are driving traffic to your website consistently. This can be a good opportunity to gather information about what resonates with your target audience and do more of that.
For example, if your blog post is about, "20 Photography Projects You Can Do at Home." You can probably create blog posts about…
How to create a photography studio on a budget
Photography challenges to do at home
Self-isolation photography ideas
Photography ideas at home with a phone
Things to photograph indoors
Photo ideas at home for Instagram
and so on…
The possibilities are endless!
Repurpose old blog posts
Your other blog posts that are not so popular can still be relevant. Update the content if necessary. For example, if you have a blog post about Photoshop tips that you published in 2017, you might want to add some new tips. It'll also help your target audience to be updated.
Pinning schedule
Incorporate the blog posts that you have added above to your pinning schedule. Determine how many Pins you want to pin daily based on how many new blog posts, popular Pins, and repurposed/updated old blog posts that you want to promote for weeks 1, 2, 3, and 4. You also need to think about how many Pin images you would create for each blog post.
Here is an example:
2 Pins for new blog posts
4 Pins for resharing popular Pins
4 Pins for repurposed/updated old blog posts
It is a total of 10 Pins daily. It will be a total of 70 new Pin images weekly.
You should have a variety of what you pin daily to ensure that you are sharing different topics to your target audience every day. This would be great so you can get the most out for your content and distribute them as much as you can. You can add cards that would represent each day of the week under each Pinning schedule card. If you want to be more organized, you can also add what Board you plan to pin each of your Pin.
Performance
After a couple of months, it would be beneficial to check the results that you got. For example, you can review your Pinterest and Google Analytics for January in April. Then, put the information that you have gathered to the "Performance" card for January. You will find out insights such as what Pins performed well, how much traffic you got, what Boards got more engagement, and so on. You would know what you need to improve.
Here is what it looks like:
How do you organize your Pinterest marketing content calendar?
I would love to know! Share your ideas in the comments below. You can also connect with me on Facebook and Instagram.
Want to learn more tips?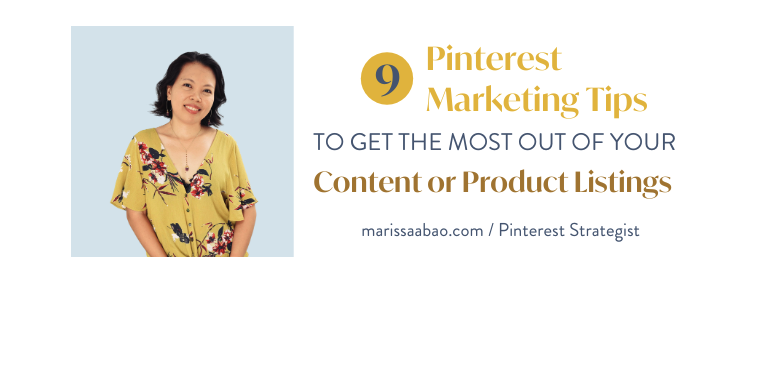 Grab a copy of my PDF guide about 9 Pinterest Marketing Tips to Get the Most Out of Your Content or Product Listings here.
Marissa Abao is a blogger and Virtual Assistant who specializes in Pinterest Marketing at marissaabao.com. She loves working with established online entrepreneurs whose passion is creating content to solve their target audience's problems and sharing it on Pinterest. She helps them by managing their Pinterest accounts and designing Pin images so they can get the most out of their content, be organized, and enjoy doing other things for their business. Her top three favorite business tools are Canva, Google Doc, and Tailwind. When she is not hanging out on Pinterest land, she cooks pasta at least twice a day and of course eats it.