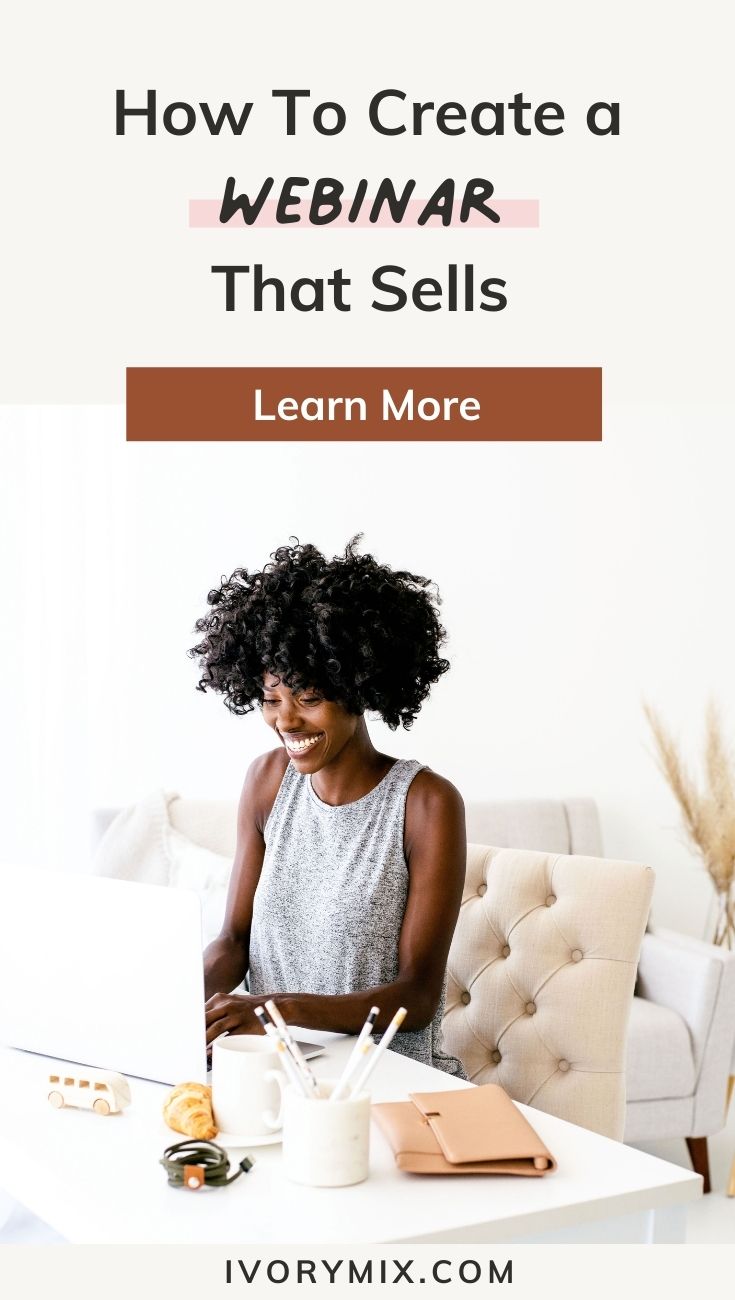 Are you feeling disconnected from your audience?
Experiencing a lack of sales through social media and email alone?
If you're ready to scale up your profits and capture new leads for your products, webinars are the perfect addition to your sales funnel. They provide an opportunity to engage live with your audience and can be repurposed and automated to continue capturing sales for months to come. 
If you're ready to launch your signature offer and bring in revenue on repeat, come join me inside the level-up launch accelerator
Need to be more consistent with marketing and growing your audience and impact, come join us inside the Ivory Mix VIP content membership.
Why should we use webinars?
Webinars demonstrate your value and expertise upfront. They have a powerful effect because the audience is looking at YOU, face to face, as you teach and guide them

Webinars build energy and momentum because they create a shared-group experience 

Webinars allow you to foster a sense of urgency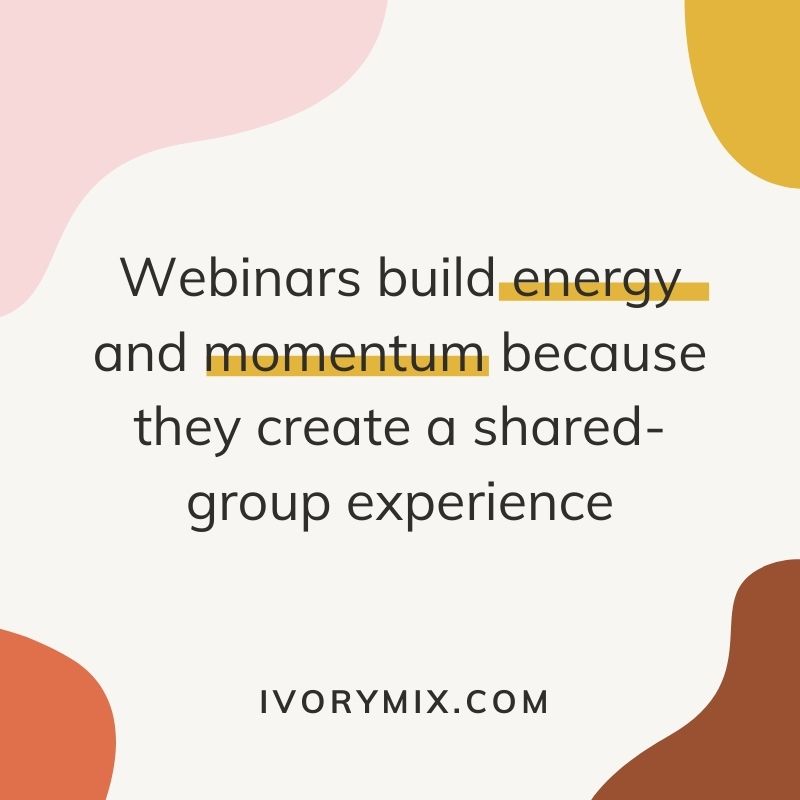 Webinars aren't necessary for every product. They work best for higher-end offers such as one-on-one services, coaching, digitals products over a few hundred dollars, and other high-ticket items like a membership or mastermind.
When I began hosting webinars for my business, I was exhausting myself doing live launches every few months. After recording a couple live webinars for those launches, I decided to take one and set it up as a no-stress, automated webinar in my funnel.
And guess what happened? That evergreen webinar continued to sell for me and bringing in revenue every day.
If you're ready to move from stressful launches to dependable income sources like I did, listen up, because today I'm going to show you how to build an automated webinar that will scale your business.
The 3 Phases of Webinar Creation
The Creation Phase
1. Choose a topic and title that will hook your audience and get them to register.
To do this, create urgency by highlighting a time constraint + a big result. 
Need an example? Let's use the topic at hand to illustrate how to do this:
"Five Steps to Create a Webinar in 30 Minutes that Sells."
Another way to hook your audience is to bust out a major objection and sprinkle in a desired result. Here's what I mean:
"Fill Up Your Webinar in One Week…Even With a Tiny Email List"
2. Create a rough webinar outline. Ask these questions to get going:
What will the webinar demonstrate?

What type of client is this webinar for?

What problems or objections does this solve?

What three things do people need to know to get results?

Why does this matter?

What clients have already seen these results?
3. Structure your webinar with details. 
Phase 1: Build Trust. At the beginning, introduce the topic and show the audience you're the right person to help them get results. Hit on their pain points, share your own story, and give social proof to prove your method works. 
Bring your best energy! Recording a webinar takes a lot of focus, so keep your webinar-recording day free of stress, so you can be at your best and not be stressed out. 
Phase 2: Teaching. This phase where the magic happens. Outline your curriculum and provide a LOT of value. Teach the topic with your own signature process and expertise. 
Phase 3: Close the Sale. Remind your audience of their current position. Address their objections and paint a picture showing them why YOUR solution gives them the best results. Then give them a call to action and convert them into paying customers.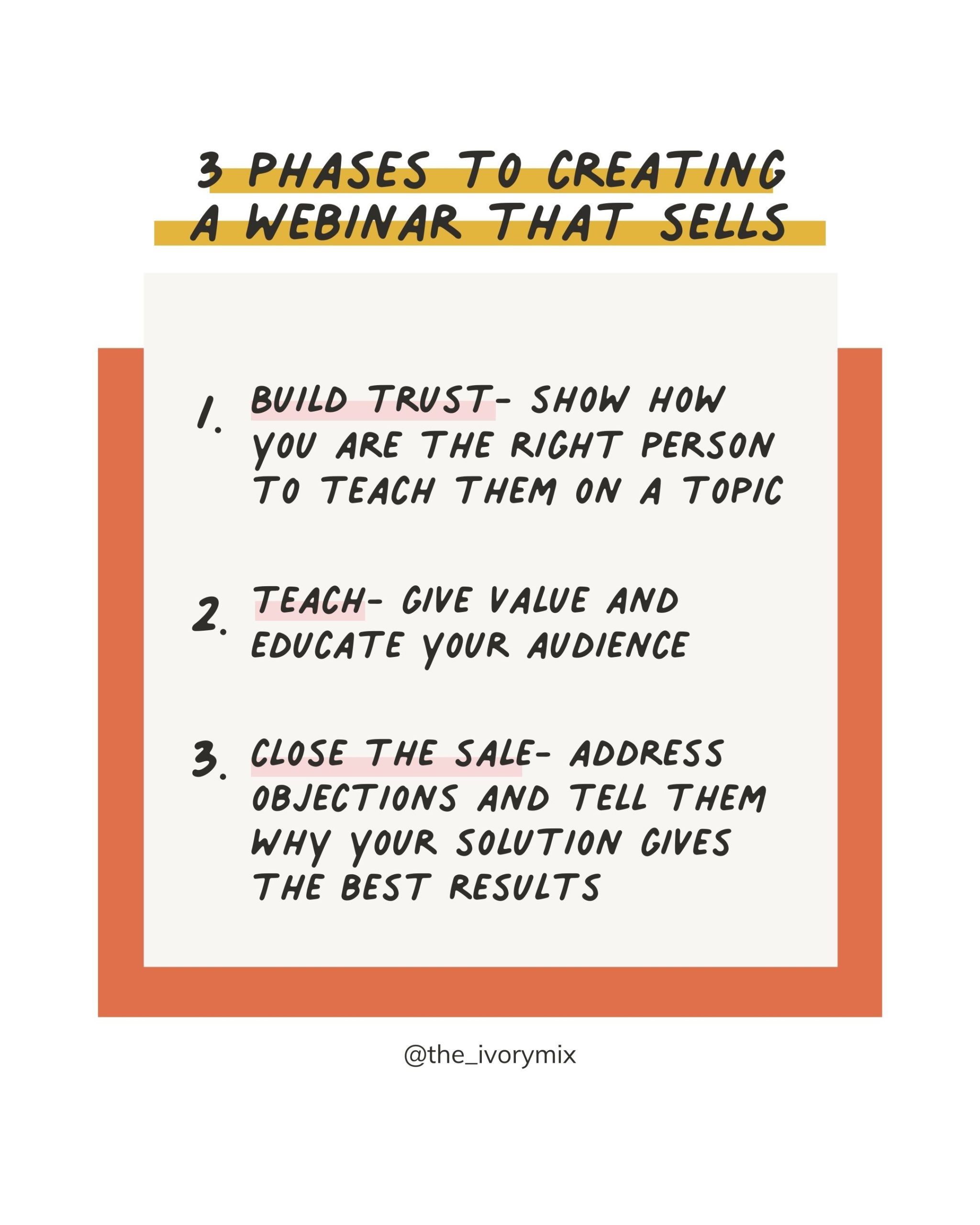 4. Design your webinar slides.
My one piece of advice — keep it simple! Start with our Canva Presentations available inside the Ivory Mix membership.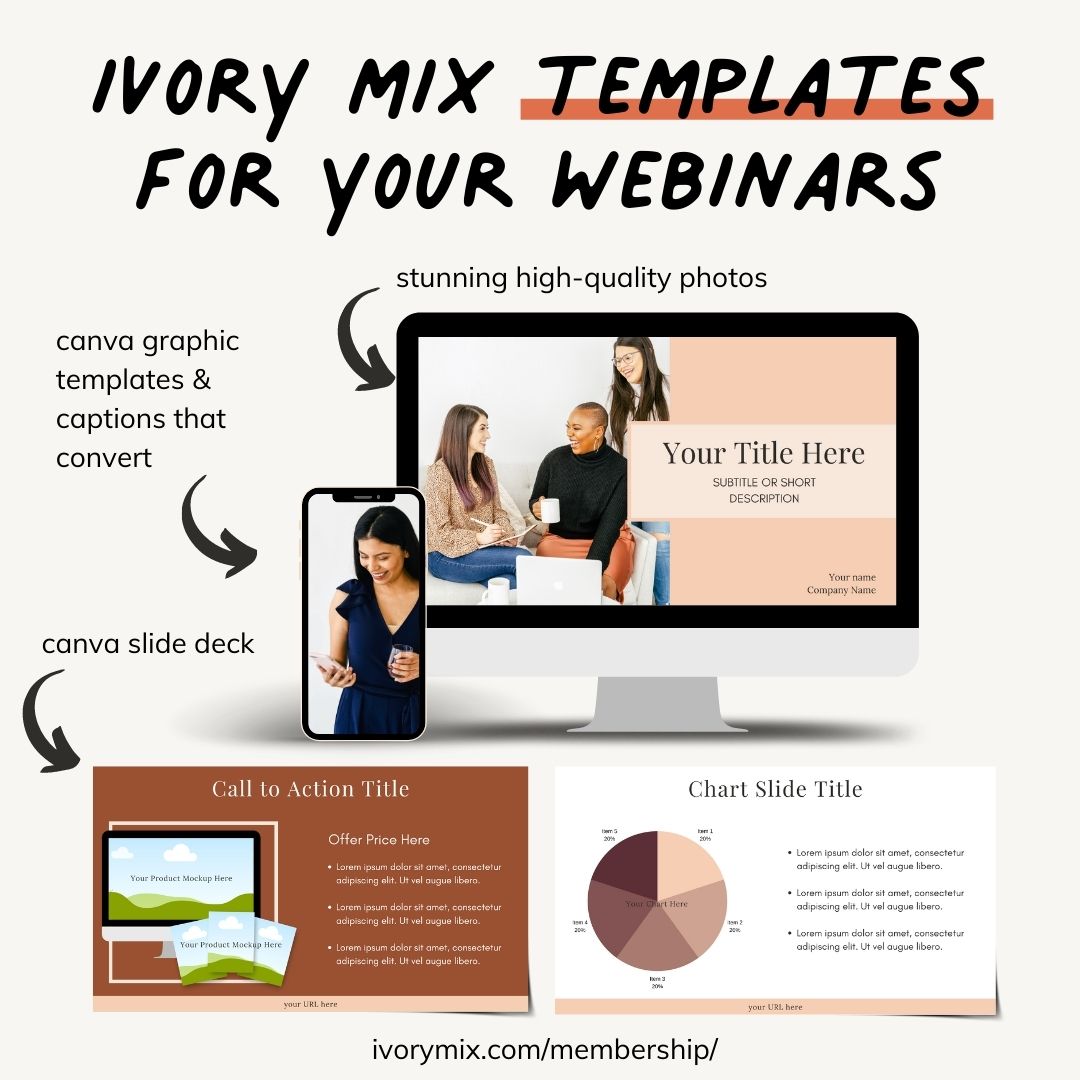 5. Create your registration and delivery method.
Set your webinar date and time with your webinar host. (Look into Zoom, EasyWebinar, GoToWebinar, and EverWebinar if you haven't chosen one yet.)
Set up a form to capture your audience

Set up a thank you page for those who register

Set up a sales/checkout page

Test! Be sure to test your registration, test all of your tech (your audio, video, mic, lighting, etc.), and test your purchase process
The Promotion Phase
Start promoting your webinar about 7 to 14 days before it's scheduled. Here's the timeline I like to use: 

Day 1: Start running an ad

Every day: Post to social media

Every few days: Send email invites to your list
Create a fast-action bonus to create urgency

This is a special bonus that offers one-on-one support or another high-touch add on

These bonuses are usually only offered to those who purchase during the first 24 hours after viewing the webinar
The Follow Up Phase
Send follow up emails for 2-7 days after your webinar until your cart closes. Here's a good blueprint:

Email 1: Send the replay

Email 2: Send Social proof through testimonials

Email 3: Reminder that the bonuses are expiring

Email 4: Reminder that the doors are closing soon

Email 5: Reminder that the cart closes TODAY; it's their last chance!
Make Your Webinar Evergreen & Automated
Now it's time to put your webinar on evergreen!
Choose one of the three options below that will work best for your business and target audience. 

Tools you can use to automate your webinar include:
Once you've chosen the option that works best for you, start creating evergreen content that sends your audience to register for your evergreen webinar. 
Types of content to create can include:
Blog Posts

Pinterest Pins

YouTube videos

Podcasts

A Link in Your Instagram Bio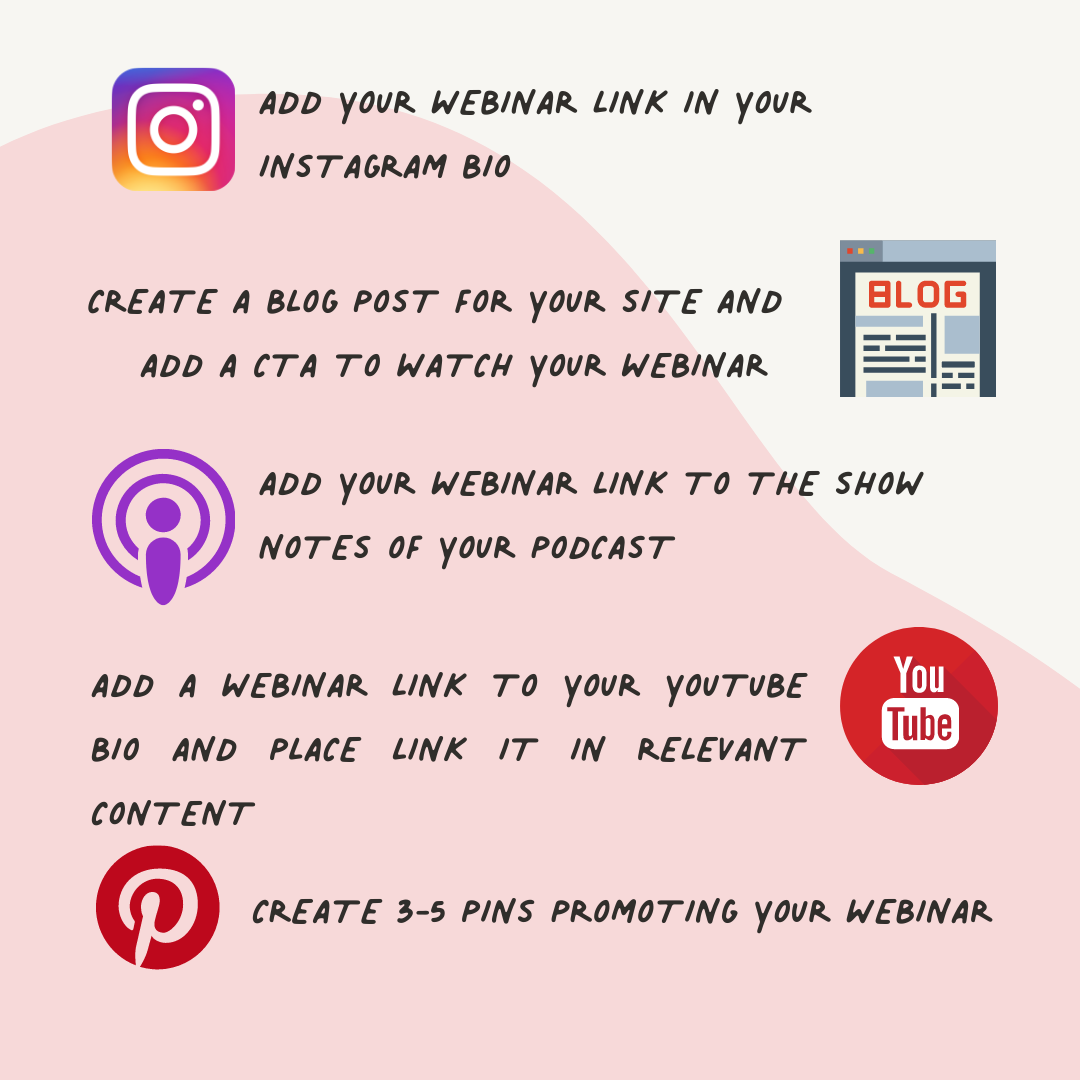 Even though a webinar is evergreen, you can still create momentum and scale your influence by continuing to create valuable content that points to your webinar. Consider using new mediums and exploring different ways to reach new customers. This will help you to keep building leads and capturing more sales day after day, month after month.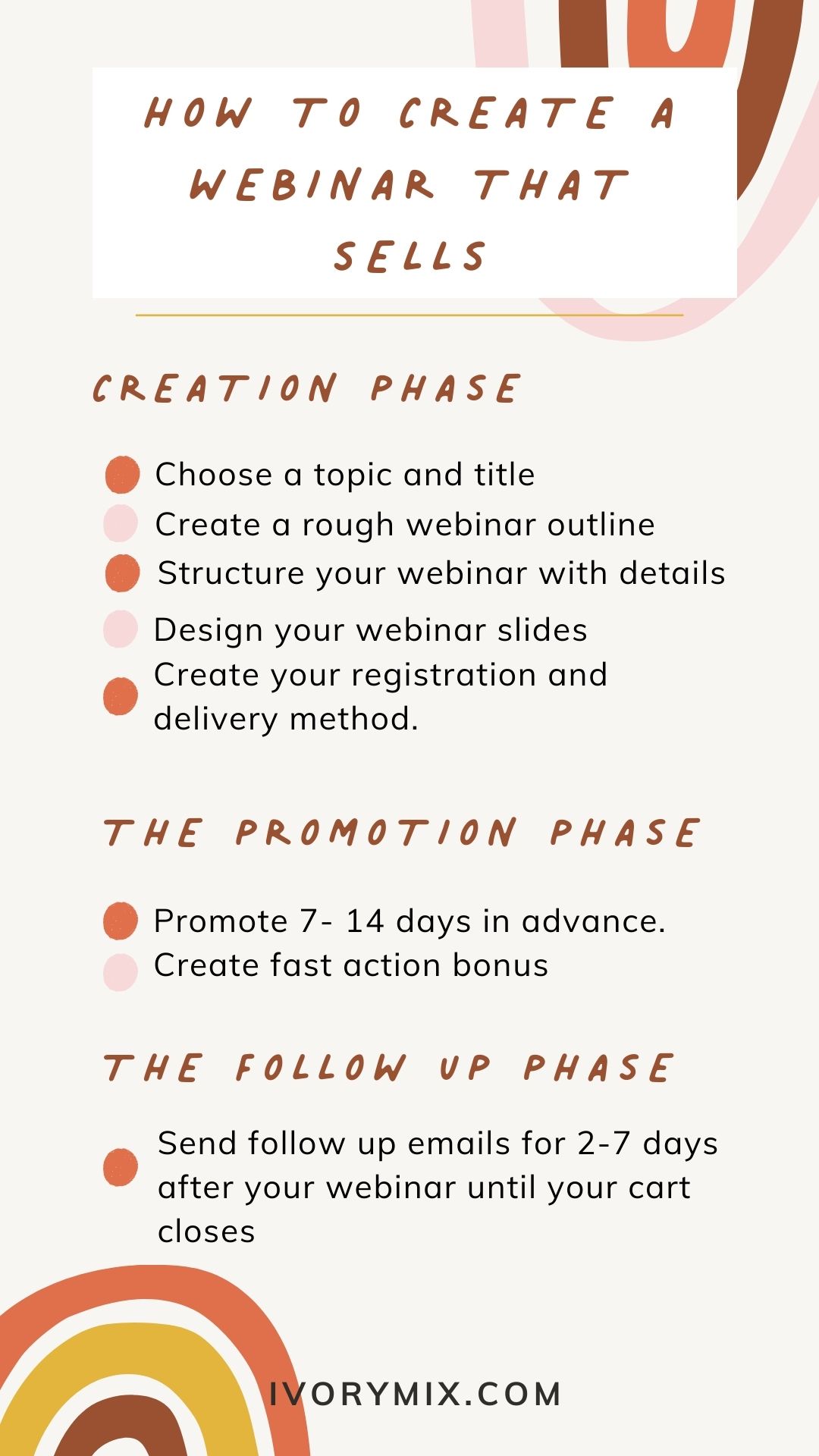 Ready to launch your signature program?
Want to launch with a guide and without crazy amounts of stress? If you're ready to launch your signature offer and bring in revenue on repeat, come join me inside the level-up launch accelerator