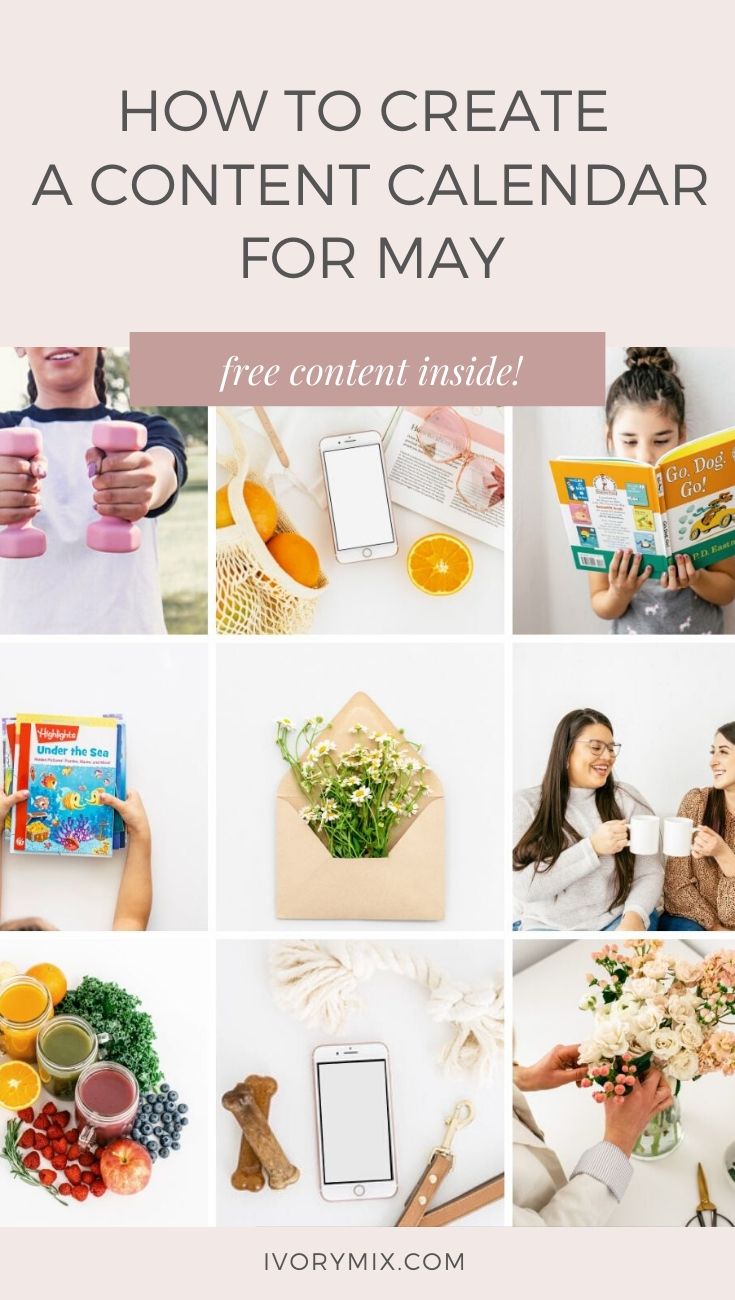 Creating content to stay engaged daily on social media can be a chore, especially when you're growing your business. If you're not careful, the task can overtake your calendar and consume you.
But you know what? This important task doesn't have to break you. I've done the time-consuming research and compiled this collection of organized content ideas for the month of May, saving you precious time.
In order to maximize engagement, choose content topics from this post that will engage and delight your specific audience. Browse through the following social media post ideas, highlight areas that will speak to your followers, and tweak them to vibe with your brand.  
THE MONTH OF MAY
Ahhh…Glorious May! For content creators, May is a month that holds lots of opportunities for fun engagement.
If you're struggling to stay relevant and consistent with your May content creation, I'm here to help.  
GENERAL THEMES FOR MAY
April showers bring May flowers, so it's fitting that May is a month known for flowers, gardening, and spending time outdoors. 
A few general monthly theme ideas for May include: 
Mothers and Parenting

Flowers, Plants, and Gardening

Healthy Eating and Nutrition

Exercise and Sports

The Great Outdoors and Camping

Weather
May is filled with relevant month-long observances you can highlight to connect with your audience around a particular cause, to provide motivation, and to offer encouragement. These include:
American Bike Month

Asparagus Month

Asthma and Allergy Awareness Month

Celiac Awareness Month

Children's Book Week

Date Your Mate Month

Get Caught Reading Month

Flower Month

Mental Health Awareness Month

National BBQ Month

National Foster Care Month

National Pet Month

National Physical Fitness and Sports

National Strawberry Month
MAY WEEKLY THEMES 
These weekly observances can help you create a set of engaging posts:
Small Business Week (May 3-9)

National Pet Week (May 3-9)

National Wild Flower Week (May 3-9)

Screen-Free Week (May 4-8)

Teacher Appreciation Week (May 4-8)

Nurses Week (May 6-12)

National Hospital Week (May 10-16)

National Police Week (May 10-16)

National EMS Week (May 17-23)

Safe Swimming Week (May 18-24)

National Backyard Games Week (May 25-June 1)
Here are just a few examples of images that can be found in the Ivory Mix membership which can be used for the holidays listed above. Click here to learn more about the Ivory Mix membership and join the VIP waitlist.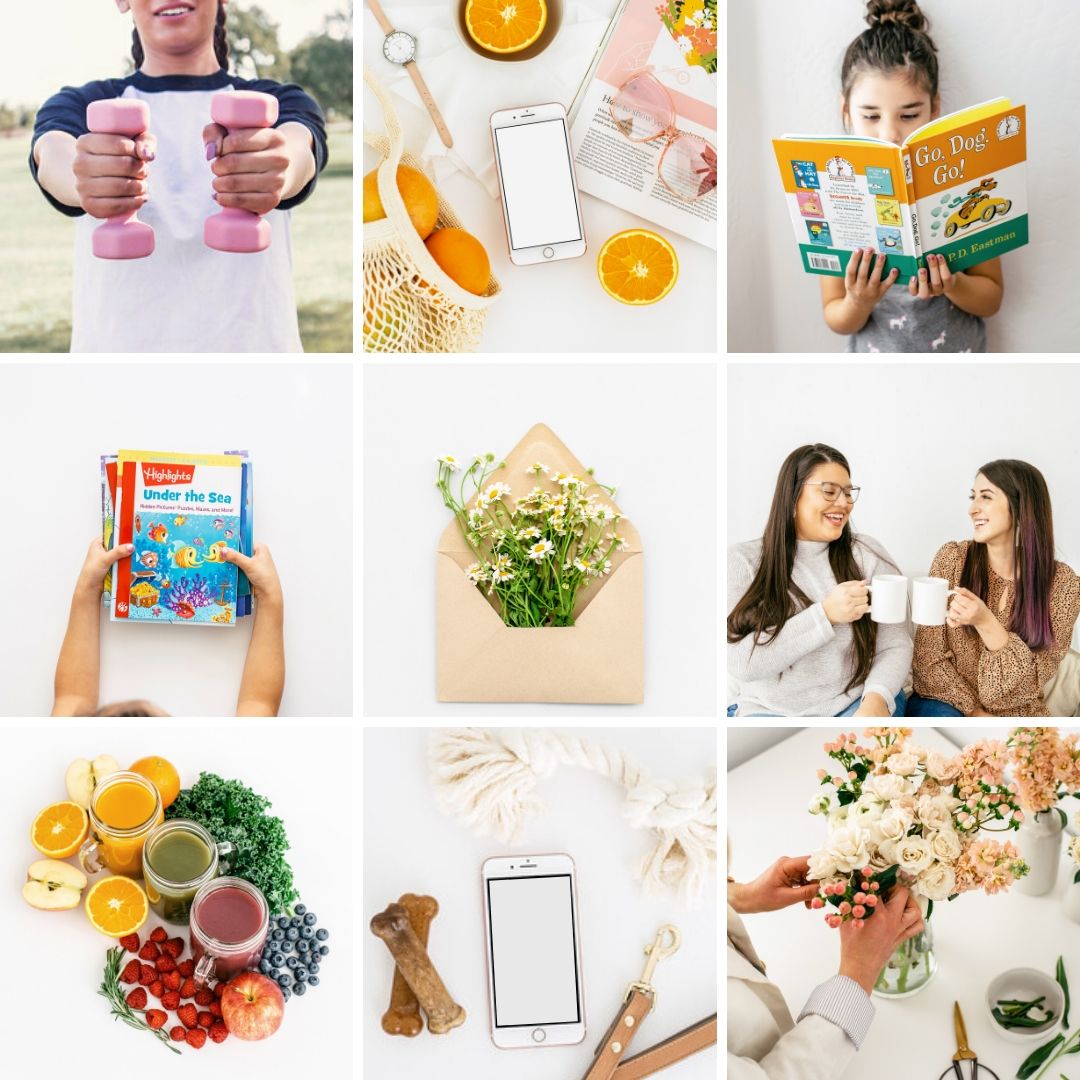 MAY DAILY HOLIDAYS AND HASHTAGS
The month of May is overflowing with fun holidays and observances to highlight — from the serious and reverent to the silly and obscure. Since it's a good possibility a large portion of your audience is in quarantine due to the COVID-19 pandemic, these observances can offer families and individuals hope, inspiration, and fun as they deal with current challenges.
Use this complete list of May 2020 days to customize your social content calendar (and be sure to add some engaging, relevant hashtags to your posts as well!). 
May Day (4) 
#MayDay #mayday #may #divamayday
Star Wars Day (4)
#StarWarsDay #starwars #maythe4thbewithyou  #maythe4th #jedi #starwarsfan #babyyoda #starwarsmemes #stormtrooper #starwarsnerd #theriseofskywalker
Cinco de Mayo (5)
#CincoDeMayo #cincodemayo #cincodemayobaby #cincodemayo2020 #mexico #margarita #cocktails #tequila #cocktail #friendship #cocktailsofinstagram #lime
Thank a Teacher Day (5) 
#ThankATeacher #thankateacher #instagood #engagestudents #empowerstudents #studentsuccess #courage  #discoverhope #strength #inspirehope
World Asthma Day (5) 
#WorldAsthmaDay #asthma #allergies #health #chronicillness #invisibleillness #lungs #asthmaawareness #airpurifier #asthmasucks 
National Nurses Day (10) 
#NursesDay #nursesday #nurseday2020 #nurses #nursesweek #nursestudent #nursesrule #nurseryinspiration #nurseslife #stayhome
Mother's Day (12) 
#MothersDay #mothersday #mothersday2020 #mom #love #mother #mothersdaygifts #handmade #motherhood #happymothersday #mama 
National Receptionist Day (13)
#NationalReceptionistDay #nationalreceptionistday #receptionistday #ourgirls 
International Day of Families (15) 
#FamilyDay #familyday #family #familytime #love #familyfun #familyfirst #teambuilding #familylife #familyphoto #happyfamily #sundayfunday #familygoals 
National Bike to Work Day (15)
#BTWD #nationalbiketoworkday #biketoworkday #follow #biketowork #like #bike #bikeatworkday
Love a Tree Day (16)
#LoveATreeDay #loveatreeday #nationalloveatreeday #hugatree #inspiration #treehugger #nature #outdoorspaces #treeart #treeartist #natureart 
National Memo Day (21) 
#NationalMemoDay
Memorial Day (25)
#MemorialDay #memorialday #memorialdayweekend #memorialdaysale #memorial #usa #peace #america #love #redwhiteblue #redwhiteandblue
Hamburger Day (28)
#NationalHamburgerDay #nationalhamburgerday #burger #foodporn #burgerandfries #foodie #yum #delicious #food #burgermania #greatfood #burgerme #cravings #goodfood #goodvibes #hamburgergourmet 
Paperclip Day (29)
#PaperclipDay #paperclipdayswag #paperclip #stickynotes #paperclips #planwithme
Here are just a few examples of images that can be found in the Ivory Mix membership which can be used for the holidays listed above. Click here to learn more about the Ivory Mix membership and join the VIP waitlist.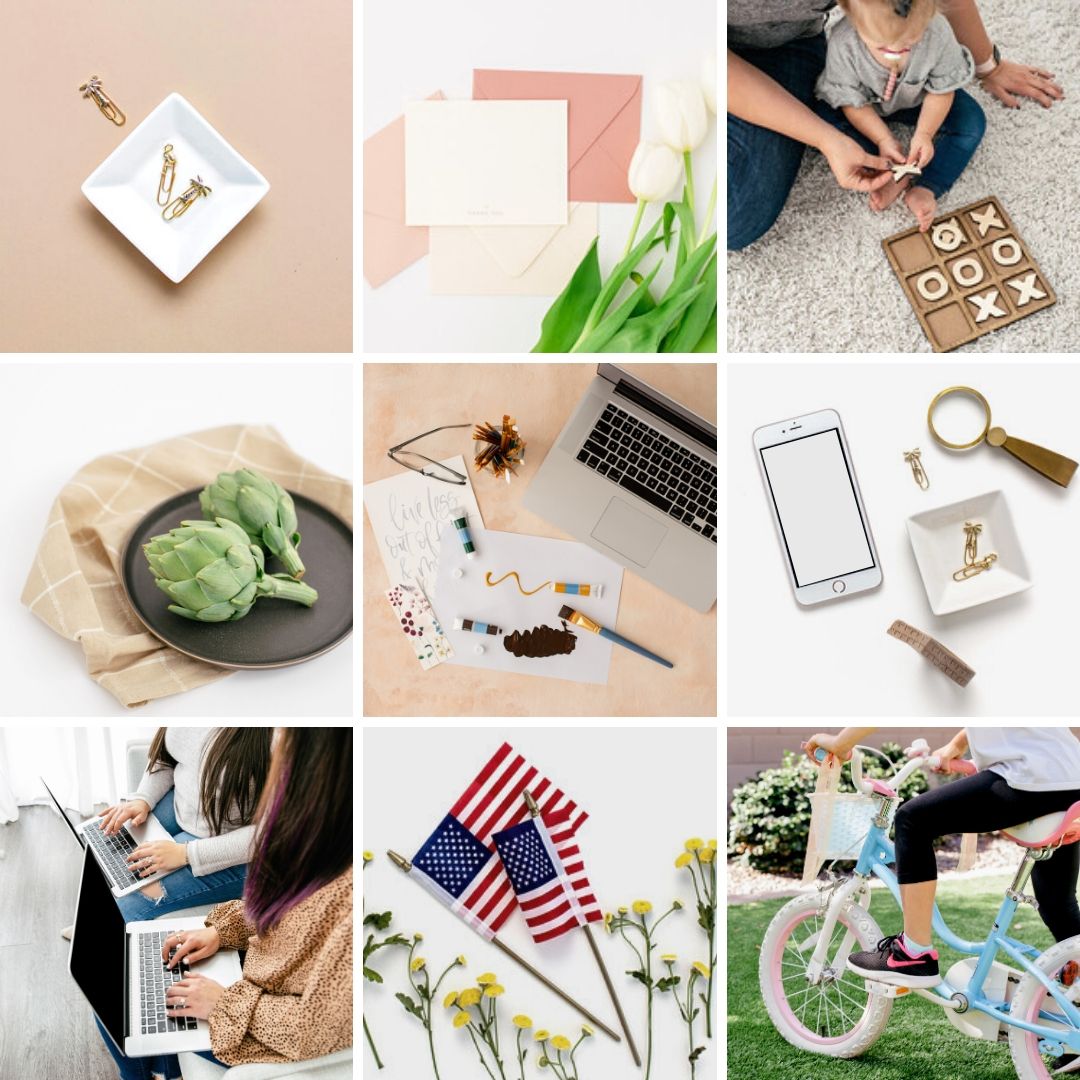 May is a month of new beginnings and beautiful opportunities to engage with your audience, so show up and BE VISIBLE in their feeds. Let them know you're with them during these crazy times. As you continue to post fun, relevant content, you'll give your audience a sense of constancy in the midst of uncertainty. 
USE THE IVORY MIX EASY MARKETING PLANNER TO CONTENT 10X FASTER
Imagine what it would feel like to have 12 months of content ideas and the captions ready for you to create a new high-converting post each day.
The Easy Marketing Planner allows you to do this quickly and easily.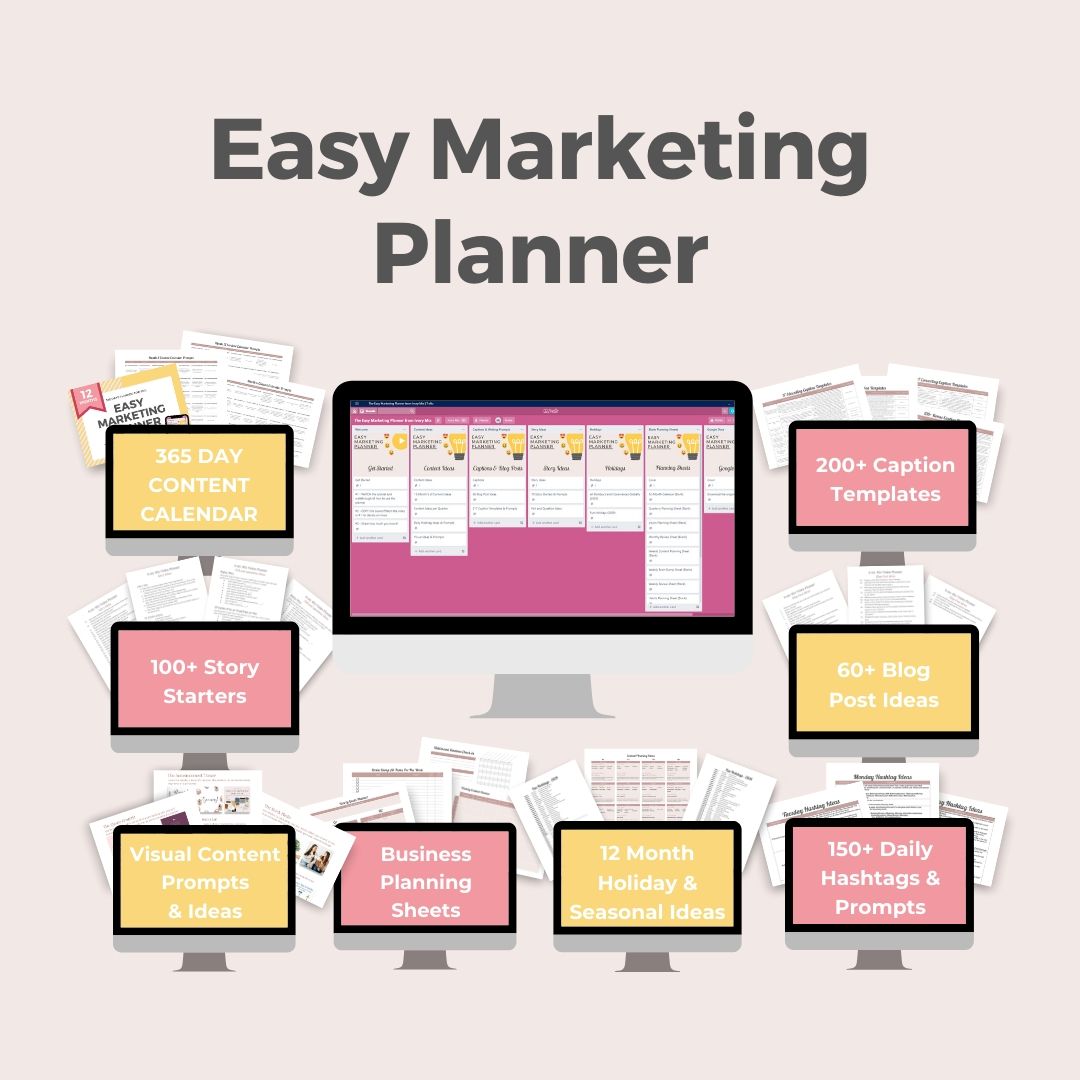 Want exclusive access to our Stunning Styled Stock Photos and Easy-to-Customize Canva templates? 
If you're a VIP member at the Ivory Mix, you get access to these pre-formatted and styled templates for your business! Simply place styled stock images from the Ivory Mix library into the template, change the text, and create eye-catching social media images in a matter of minutes. Click here to learn more about the Ivory Mix membership and join the VIP waitlist.