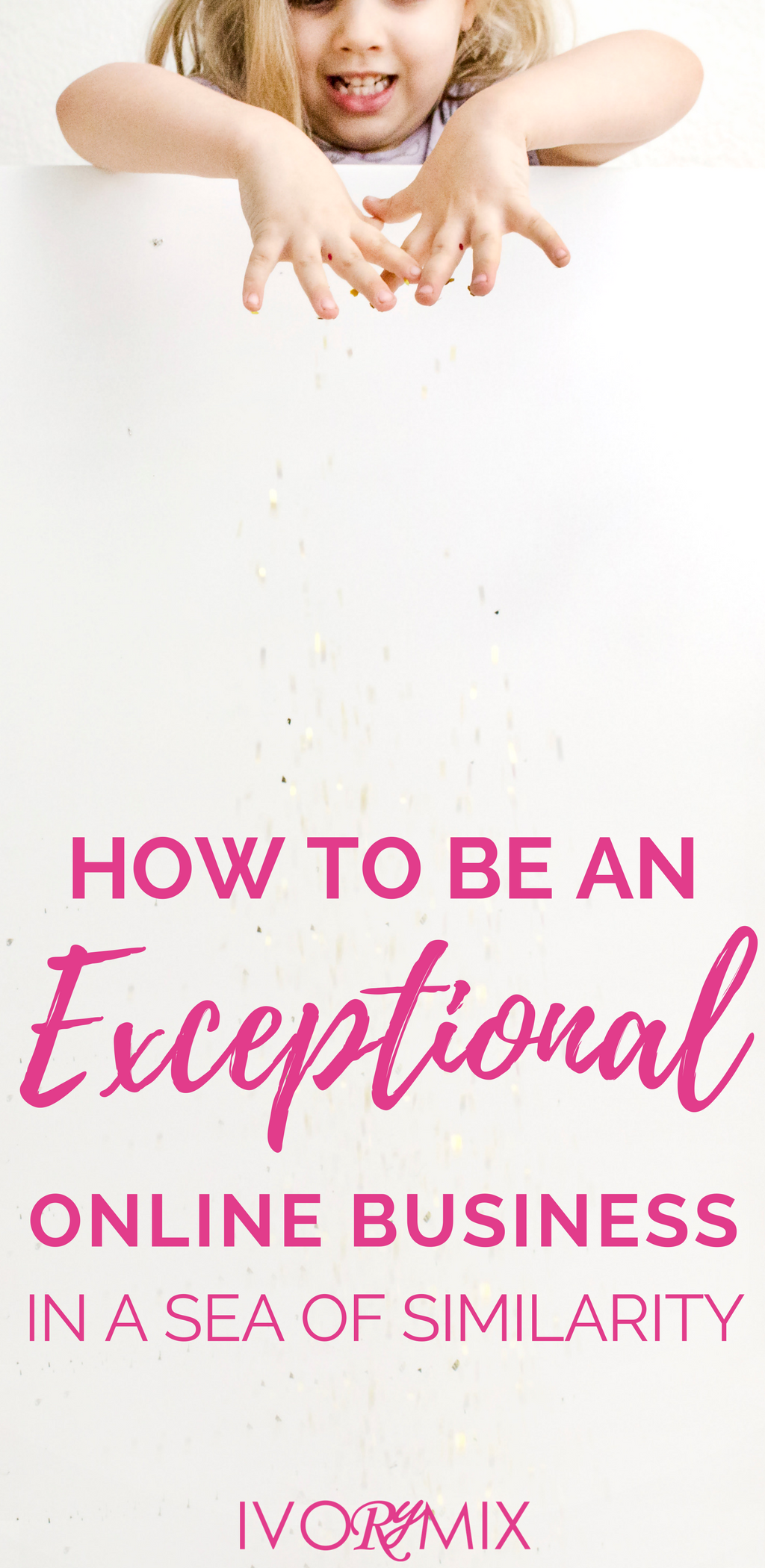 "Being unique is better than being perfect"
There's not much you aren't capable of.
Come on, don't be shy. Look at you. You're unique, with a valuable point of view, interesting life lessons to share, blossoming ideas, a business loaded with value . . . . .  but for some reason you keep finding yourself comparing what you've got to others. You're not alone.
No really, you're not alone because I'll be honest, it's a rare day when I don't find another new business exactly like mine. Rare. indeed. None of us are alone in business. I mean, how many Pinterest graphics do you have on your pin boards that say "10 feminine stock photo sites" ? It's probable that my business is listed amongst those 10 sites.
That doesn't stop me from just doing my thing and it certainly shouldn't stop you. I think it would help if we talk about some hugely valuable, but easy, ways you can take action and truly be exceptional in a sea of similar businesses.
At the very least, invest some of your personality into your business
There's no "one-size-fits-all" approach to business. Yes, you can buy a book on how to run a business but there's only one thing your business has over the rest of the similar businesses in your niche.
You.
We recently talked about becoming a brand and acting like a celebrity. However, don't put on an act and be someone or something you're not in your effort to stand out in a crowd. What is more peerless is being authentic and creating things that ooze your personality.
For instance, stock photos are great (obviously), but why not include some genuine photos of yourself or something from "behind the scenes" in your next blog posts? Don't save that stuff for your social media. Put it in a blog post and give your regular readers a way to get to know you a little better. One of the most compelling and high traffic posts I've got includes behind the scenes photos I took with my phone in seconds. The photos don't need to be flawless, they just need to be somewhat raw and real.
Stop the selling and start entertaining
People want to see something unique and will share that over something they think they've read before. So, stretch your writing and avoid copying ideas. Even if it's slightly similar, find a way to throw your own touch on it. In fact, have you thought about using video's for this?
Video is one of the top engaging pieces of content there is on the internet. Video must be a key for memorable content, since my daughter is just 5 years old and already wants to be a youtube star. Yes, she is pretty impressionable at this stage, but below here is this little glimpse on what happened when I started taking her video on a 10 second Instagram story. . . . . she went straight for the YouTuber approach by starting her video with "hi guys!". Hysterical but also meaningful.
The lesson here is that people enjoy being entertained. They also like to pick up and repeat signature things only you do or say. So, don't just go out and make a boring video outlining your next ebook . Do something kind of interesting, possibly hilarious, but at least somewhat entertaining and infused with your signature personality.
Don't stage it. Be as natural as possible, and yes, make it somewhat relevant to your audience. For every 10 videos you try to take, you might end up with 1 good one to share. Here's a glimpse at all the outtake footage from a "Welcome" video created for the recent course released.
Remember that your 1 video (out of 10 outtakes) could be pure gold. But, you won't know if it works and drives traffic and engagement unless you try it- right?
Making everything just "a little bit better" goes a long way
Make your product, services, blog, graphics, and general business strategy "just a little bit better" than yesterday and the competition.
Everyone has "competition" and it's okay to identify who your competition is. We've already established that you're not alone – It's just how business works. I am all for community over competition, but let's be honest and state the obvious. As businesses and bloggers, we want to be noticed.
"For goodness sake, if your products and services are the same as someone else's, you're not really making it easy for anyone to choose – are you?"
Make the choice easy for your clients, readers, and customers. Be different and show how your "little bit of difference" is better.
Use what your mama gave you (that smart & business minded brain) and identify a few things that you are doing that some of your competition is doing, and one-up yourself. You don't have to do better than them, but you must do better than yourself .
"Goal = to be better than I was yesterday"
Take and share your own photography
Have you heard? Pinterest is the new google and Instagram is one of the top social media heavy hitters.
These two things have one thing in common and its photography. The one thing I've tapped into for my own business is photography, and that's because images simply get more clicks, more traffic, and eyes on our products.
Having your own images that can't be found anywhere else is a very clear and easy way to stand out in a crowd. No one can replicate something you shot. They can try, but unlike copying your words (which is far too easy these days), they won't be able to completely copy your photos.
Ivorymix gets about 70% of its traffic from Pinterest and another 10% from Instagram. That's because these are places where my target audience are, and  because of the crisp and clean graphics and photos I use to catch their attention.
I hear from bloggers a lot that they struggle with finding new and unique photos, so that's why I started to share 30% of my photos for free with subscribers. However, that's not enough for me to help other bloggers and business owners. Just like how I write these articles and share tips and tricks, I thought there should be another way to help businesses grow and make a mark in their niche. That's why I put together this massive photography course for the tool you already have. Your phone.

This is NOT a course to learn about flat lay photography. Yes, we'll talk about it, but it's actually a full blown photography course, full of 7 lessons, 10 modules, and 14 different videos put together to teach you how to wield your phone like the massive image and optics creation tool it is.
This course is written and filmed in a way that you can use it most of it with your a DSLR or another point and shoot camera too.
The existing photo collection's on Ivorymix  help support website branding for over 3400 members today, but what I've really wanted to do is help people with something I can't necessarily give away or sell. I suppose, you could hire me to take your product and brand photos for you. However, much like the rest of your audience, I want to see your brand from your unique perspective. From your lens on your camera or phone.
Having and taking your own photography is something no one can take from your blog and brand. It's your camera, your perspective, and your visions. No one can copy that.
What can you take away from this?
⇒ Be yourself
⇒ Show us how cute, funny, and entertaining you and your brand are and can be
⇒ Make everything just a bit better than the rest
⇒ Try your hand at using some of your own photos
How will you stand out in a sea of similarity and sameness?