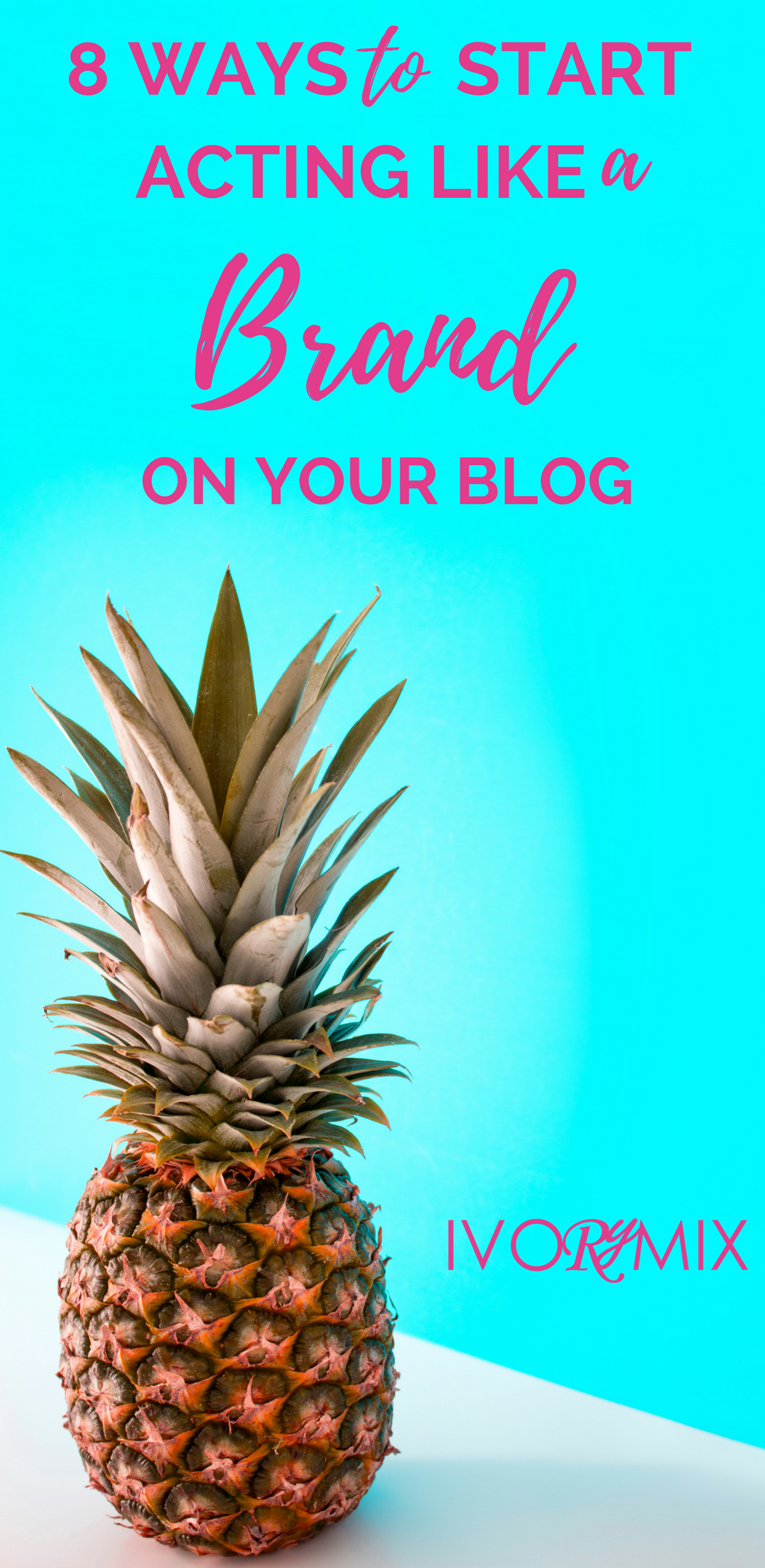 One of the biggest mistakes I ever made when starting my first blog 5 years ago was not considering the branding.
When I think about it now, branding is everything I do. It's a living and breathing thing that evolves over time. It's not stagnant. It changes with my readers and I. It grows as I grow, just like how a new blogger grows and one day realizes they need to start thinking about their brand.
So, what is involved in branding and how can a blogger start acting more like a brand?
Branding is in your headshot, your email signature, in the way you write, the words you use, and the types of content you share on your Twitter feed. For me, it's how I want you to feel after you've read one of my blog posts too. Besides these things, I wanted to share some unique ways you can start acting like a brand today:
Decide Where You Are Going
---
First and foremost, no matter how obvious it may seem, in order to start acting like a brand and turn your blog into a business, you've got to set some goals. Goals are going to tell you where you are going and how you are going to get there. 
These goals should be specific, measurable, attainable, relevant, and time bound. Sound familiar?
Yes, I am suggesting you actually make S.M.A.R.T. goals. Making specific goals related to your blog is one way you can begin to act more like a brand and a business because, let's face it, up until now you may have been just following the crowd or publishing blog posts that you thought of and wrote just yesterday.
Part of blogging like a brand and creating a business means creating a content calendar and understanding how that content will generate income. The goals you make today will help to keep you accountable tomorrow. Making a very specific list of things you want to do, with dates associated, will help you create that brand you want in an organized way that you can measure and adjust as you test different  
Brand Like a Celebrity
---
This sounds totally ridiculous. I mean it's never been one of my goals to be a celebrity or to be famous because of my blog. However, branding yourself like a celebrity would is one way I've seen blogs grow their business and turn their small blog into a strong and memorable brand.
So what does it mean to blog and brand like a celebrity?
Well, if you think about it, a celebrity really starts out as a product themselves. They are usually actors on TV or in movies, but in order to fill the gap between the projects they're working on and to continue making income, they usually partner with other brands or create products themselves. (perfume, hair care products, underwear…)
So, partnering with others who target a similar audience as you is one way you can brand like a celeb. The other is to create products and merchandise that your audience will love and find useful – like the shop I eventually opened on Ivorymix.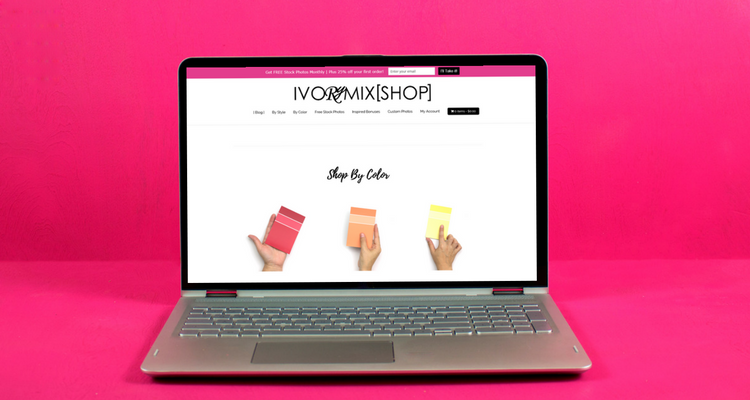 Be Humorous & Have Fun
---
Something that a blogger can do in order to act more like a brand is simply to have fun. Having fun sounds easy, but the key to branding your blog and finding your own voice that speaks to your targeted audience is to be yourself and have fun with what you're doing. You don't realize how important it will become to have fun with what you're doing until you stop having fun. Don't force anything. As soon as you start forcing something you think you should be doing, your whole goal with your blog goes out the window. So, have fun but, be purposeful, and stay inspired and inspiring.
In fact, why not infuse some humor into your blog. It's known that humorous and funny content on the internet tends to be more shareable and likeable in general.
So, it doesn't hurt to stretch your funny bone now and then. Plus, it helps to build trust and a report with your audience, which eventually leads people to following through on purchases of your products.

Dominate One Social Media
---
We're consistently trying to up our blogging game, aren't we? This can sometimes mean trying new things and paying lots of attention to new social media tactics.
However, each social media is different and works well for some niches and poorly for others. It can be a common trap to think that you are spending time on something worthwhile, like tweeting all day, everyday. Have you checked if you are being productive lately? Have you checked how many referrals you are getting from all your social media activity?
Instead of spending time on every social media (Facebook, Twitter, and Instagram all at once) it could be a better use of your time to become an expert at just one of those. Become known for being the king or queen at Instagram, or grow your Facebook Page referrals from 5 a day to 100 a day BEFORE you move on to dominate another social media platform.
This strategy will ensure you are being productive with your time and becoming an expert at one thing at a time. This will help your brand grow strength on that social media before you move on.
Imagine if you grew a solid and active fan base on twitter and then one day you ask them to start following you on Facebook? I'd think many of them might follow you there too – don't you? You can see that establishing a solid following on one social media may be way more productive when you decide to take on another social media. Simply asking your existing followers to come over to Facebook is way easier than trying to grow both at the same time, organically.

Redefine Your Target Audience
---
Take a look at the readers you love. Are they loyal? This next part is all about focusing on and attracting the people you like to work with. write for. and who like you in return.
If you're like me, the blog you have today is nothing like the blog you started with. Five years ago, I had a blog all about crafts and recipes. As I continued on my journey, I discovered that what I liked most about blogging was photography and the creative process behind content, and so did a lot of my readers. But, not all of them.
So, as I learned more about myself, my readers, and my blog, I learned that I was attracting a few different types of readers. In order to do a lot more of what I enjoyed, and start teaching more about blogging and the creative process, I had to switch things up and focus more on the readers who enjoyed that.
While I changed my blog content, I also had to change who I was targeting. Turning your blog into a strong brand means redefining your target audience and aligning the content you're creating with those people you're attracting.
Rebrand Yourself
---
Another thing you can consider when you want to brand your blog, is you and your own personal brand.
How easy is it for your reader to follow you on social media? Can they connect with you on LinkedIn? Consider how accessible and easy it is to find you and how well you are portraying your brand's message to your readers in all areas of your life.
You should also make it easy enough for readers to send you an email if they have questions or want to work with you. Don't forget to make sure that your email address is not a personal one, and that it is relevant to your website and recognizable with your brand.
Does your headshot and the photos of you on your website look and feel like the brand you want to create? Consider hiring a photographer or learning how to make your own brand headshots.

Rethink Your Reader's Experience
---
When turning your blog into a brand you should be thinking about your website, your colors, the icons you use, and so on and so forth. Not only does it mean thinking about those items, but you should also be considering the experience each of your targeted audience has when visiting.
What types of invoices do they get when they order something in your shop? Do you send them to a thank you page when they subscribe? What does your email header look like? Is it easy to download free items from your website? What does your free resource library look like?
These experiences  are  just the tip of the iceberg for things that you should be considering when branding your blog and your readers experience.

Reboot Your Visuals
---
When you're ready to brand your blog, it's okay to go back through old content and update your older visuals.
This could go as far as updating your logo, or taking brand new photos for a blog post you wrote a year ago and so on. These types of things are important to update because a lot of content on your website might be what is called Evergreen. Meaning, it may be relevant from now to 10 years from now. So, making sure that your visuals are current with your brand will be important in the long run.
Love this? 
Want more to keep you going?
Here's What You Can Do Next:
---
To help you on your branding journey, I've included a free download of our 7 page Brand-Know-How workbook, complete with checklists. This workbook is from the Brand Know-How course and will guide you through many of the necessary steps you should take when branding your blog.