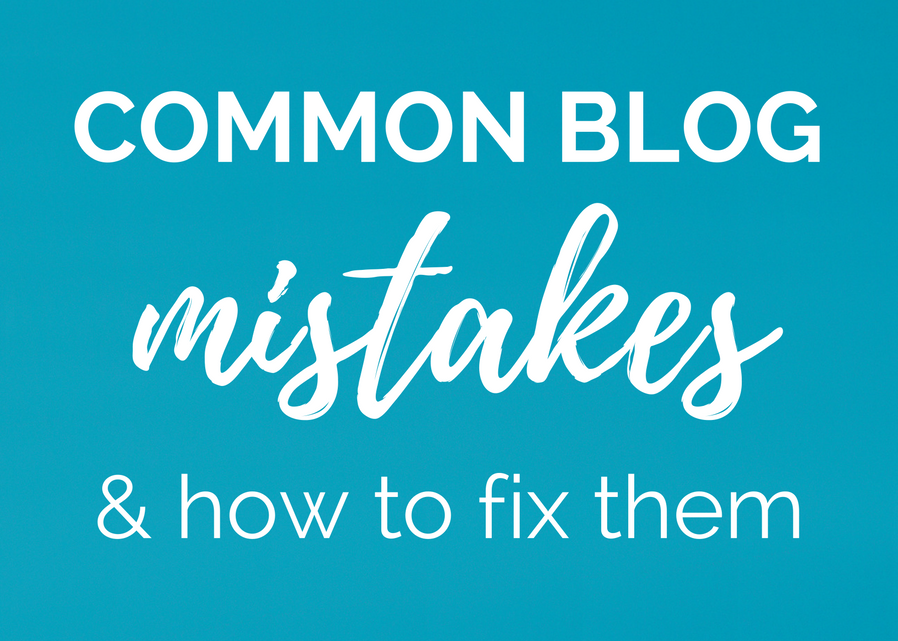 If you are a blogger who is lacking followers, engaged readers and very few subscribers to your blog, there's probably a good reason this could be happening to you. There may actually be a few reasons! It's not uncommon for bloggers to hit a bump in the road that makes them second guess why they started their blog in the first place. It's what you do after that point that makes all the difference. Will you get serious about fixing some of your mistakes OR are you the type to give up completely?
I definitely don't recommend giving up. In fact, I wrote a whole article about that here. However, today we're going to dive deeper into what the most common blogger mistakes are and how exactly you should fix them instead of giving up.
You talk about yourself . . .  a lot
The reality is that your target audience, like most readers, don't necessarily want to hear about you and your personal story. What they are truly looking for is relatable content for their lives – not to hear about your difficult day at work or the presents you received for your anniversary.
What your target audience wants and craves is validation, information, helpful tips, and yes, some stories. The do want stories that can easily relate back to their lives but that teach them something. Make them go "hmm" or "awww".
Give your audience the feels and stop talking about yourself and start talking to your audience.
I definitely understand that this may be a little difficult for some lifestyle bloggers, or mommy bloggers, but my number one tip for avoiding this common mistake is asking yourself before you start to write:
"How will this affect my readers and what is in it for them?"
---
You don't know who your audience really is
You may think you know who your audience is, but truthfully, do you really know them? Do you know what they're interested in, what they want most in life? Their habits and education level? How about what they want to be doing in 5 years? 10 years? What are their goals and their life dreams?
It's pretty common for bloggers to create content specifically hoping to reach a large audience, but what you should really be focused on is writing for a single person because it forces you to be specific, goal oriented with your writing and it helps you appeal to the exact reader you want to attract.
So, the next time you're writing another blog posts, imagine that you're writing for a very specific person. It's what I do and in fact, this person even has a name 😉
---
You're tackling too many topics
How can a blogger write for one specific person if the topics covered on their blog are all over the place. Is it truly possible for one person to be interested in each one of those topics?
…and if you're sitting there saying "yes", then are there ten people, a hundred people, or how about a thousand?
Narrowing down your Niche allows you to focus on better content that will attract a specific type of person. This type of focus is known for getting a higher rate of subscribers, comments, and general engagement because with more focused content, your audience will have a better chance of understanding who you are and what your blog is all about, making it easier to like and relate to.
---
You take the last photo on your phone and post it on Instagram,  then call it "social media marketing"
If you breath then it's no real secret. Instagram is a great marketing tool for inspiring new readers and gaining general awareness and exposure for your blog and brand.
However, if you think you can just post whatever picture you last took on your phone, onto Instagram , then you might be making a huge mistake.
Consider taking the time to schedule your Instagram posts. With free stock photo sites available to you, like ours here, you've got a plethora of options for photos to use on your Instagram. Not only that, you have very affordable means to visually PLANN it out to. You can actually read this list of super inexpensive tools that cost as much as a fast food meal that will help you take your Instagram (and other things) to the next level.
For that matter, consider scheduling all other social media posts while you're at it! 😉
---
You completely ignore keywords for the sake of funny / inspiring blog titles
So, let me ask you a question. How do you find new information for anything you need in life? Do you Google it? Do you search Pinterest ? Are you asking for help in a Facebook group?  
Looks like you might get lots of information straight from the internet like me! As a blogger who naturally wants people to read their content, understanding that keywords is how you'll get found, by people looking for information, should be top of your list!
You should be considering that search engine optimization and keywords related to your blog and your posts are one of the best ways to expose your blog and brand to new people everywhere. 
Don't neglect your keywords for the sake of a "cute / funny / inspiring" headlines. Instead, do your research, read a few blog posts on SEO and start using those keywords to get found.  
It's okay once in a while to be cute, but it shouldn't be your frequent way of blogging.
---
You're not 100% committed to the process of blogging
There are far too many bloggers who get romanced into blogging by the thought that it's easy to make tons of money. I mean, how many income reports have you been reading? (That was me too at one time)
But, seriously, all you need is to throw up a quick website, add a few affiliate links up and call it a million dollar day, right? Eh. Not so much.
To gain some followers and make a decent amount of money and go full time blogger, you truly must put in some hard work. At first you might need to solely write a few blog posts every week and pump out the content like crazy. At one time in the beginning of my journey, I was posting 3 – 4 times a week. This helped me get content out there and establish myself on google and on Pinterest. But, it wasn't until I fully committed to building a true business and getting serious about my branding that things really took traction.
Writing a bunch of blog posts might sound difficult now. Wait until you finally try to brand and build a business. You'll be editing and rebranding so much content that you'll wish you would have gotten serious much sooner.
---
Isn't it time you fixed your blogging mistakes and got serious?
I know when I started blogging, I wanted to go from zero to 100 as quickly as possible. But, it wasn't until I got serious about my blogging and branding that my blog and business really started taking traction. I was finally receiving engaged subscribers and it all began to make sense.
If you are lacking followers, engaged commenters, and subscribers to your blog, there's a good reason this could be happening to you.
It's probably not you, but your branding could be a total mess. That's why I put together this pretty thorough course for bloggers and creative types to start creating a cohesive and confident brand on their own.
The course covers multiple topics from creating a brand story to making an "on brand" email signature. Actually, here's the complete course curriculum list:
Introduction to branding
Case studies of successful brands
Establishing your target audience
Case studies of brands and their target audience
Creating a Brand Story for your blog and business 
Examples of brand stories in business
Establishing your brand personality and tone of voice
Examples of brand personalities
Learning what makes a great and successful logo
How to pair your own fonts and create a successful logo
Creating a successful brand color scheme that matches my goals
Establishing my brands images and graphics
Examples of brand photos and images
Creating your own brand style guide and mood board
Complete branding checklist review and implementation
The places your brand:
 Instagram and all Social Media
You Website
Your email, email signature, and newsletter
Your Pinterest
Plus, you'll receive exclusive $20 credit for the brand photo shop.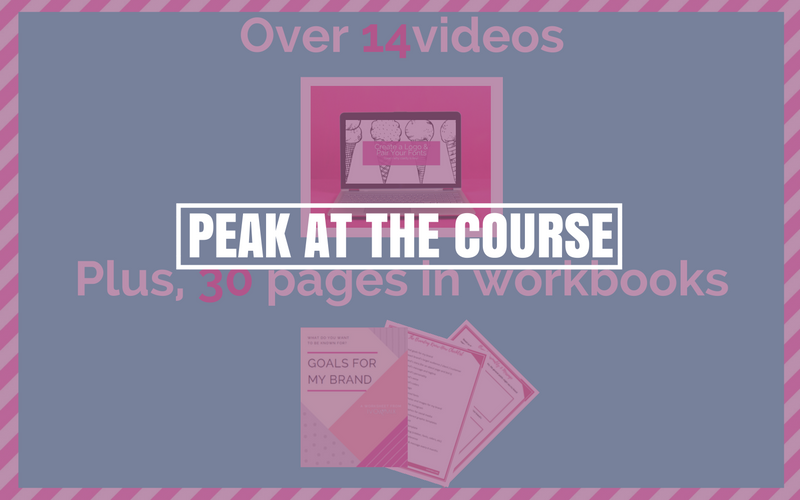 This course was honestly a labor of love created to help bloggers, like you, do some deeper discovery into what your blog and brand is all about. During this multi-step course, students will discover what it means to create a brand experience, establish a clear brand message, and how to create the brand they love and that their target audience will adore! By enrolling in the Brand Know-How course, you're not only getting more clarity with your brand, you'll also be getting life-time access to all the updates made in this course, and an added bonus with some special offers from the Ivorymix [shop].
If you think it's about time you got serious, check out the very first course in our Ivorymix [School] here.