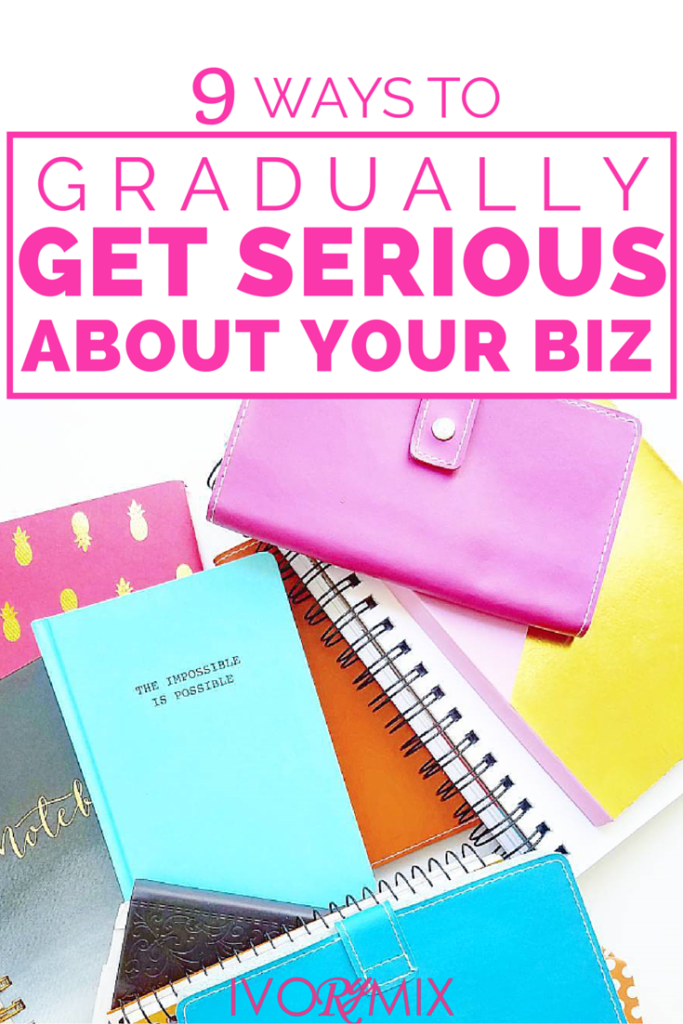 Did you know that most new businesses fail? It's some staggering number like 80%.
In fact, many fail within the first 6  to 12 months, and many times, the reason the businesses fail is because of a lack of planning and a lack of time. New business owners just aren't giving themselves enough cushion for time and money and they end up feeling overwhelmed without a back-up plan.
Understand that it takes time to grow
Many years ago, before kids, my husband (then boyfriend) and I started a comic book shop. It was a brick and mortar store before we had kids. It lasted about a year and failed because of a lack of proper planning. We jumped in too quickly without establishing some of the fundamentals first. Although we had a business plan, we lacked a clear marketing plan. We thought, if we built it, that they would come. We were so wrong and still to this day, my garage is full of stuff from that store. Great for my kids because Pokémon is back, but not so great for that original business. 
So, understand that building a business takes time is key. You should plan to do lots of research, create a marketing plan, know who your target audience is, what the future  and outlook of the industry is, and so on.
---
Tell your family your plan /  get support
Something I struggle with is telling people about my plans. I just don't like criticism or other people's opinions about my work. I personally like to be very creative and some people just don't understand and when people don't understand they tend to share their opinions, even when you don't ask for the.
Although I hate that, it's part of the business planning process to get people's opinions on your products and services. You need a sounding board for all of your ideas.
Reach out to the people you trust the most who get what you're trying to do, but don't get too comfortable. Surrounding yourself with people who constantly tell you "yes, that's a great idea" is not what you need.
You need family and friends who can be brutally honest. You may even need to reach out to potential customers and offer the service or product sample for free, then ask their opinion and feedback.
---
Do your research and establish your business plan
Like I said before, having a business plan before you start your business is something you should do.
You might read from a lot of bloggers that they just sort of started their business and it was magically successful. Wow, wouldn't that be great. It's not true and should be considered the exception and not the rule. Building a business from a blog is not magic.
Having a plan and creating your map to business success will not only take the guess work out of it for you, but it will also make it easier to see the future, plan for potential market changes, and understand where your customers are.
Knowing these things and making them part of the business plan will help you know what type of content you should be creating, how much income you can possibly make, and allow you to swerve when things don't go your way.
Doing your research prior to establishing your business plan is just plain smart.
---
Repurpose old blog posts to be relevant with your goals
Chances are that when you started your blog, you had no idea what you were doing. So, as a result, you have old content and blog posts that don't match your future business goals.
Don't delete your old blog posts until you've attempted to repurpose them.
By repurposed , I mean using the same blog post (link and all), but redoing the content and graphics within it. You'll keep the same URL and Link but will change the published date too. You can do this in your blog posts by editing this box on the right of your wordpress posts: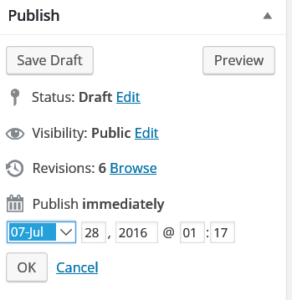 This type of reposing works well if the blog post is at least somewhat related to your future business.
As an example, let's say you used to blog about your family recipes  and now you want to start a business for coaching other bloggers. You can take your old recipe posts (with a link that is something like yourblog.com/glutenfreepasta)  and redate and repurpose the content to be geared more towards coaching tips for foodbloggers. You would change up the graphics and the content so that it aligns with something your target audience (like food bloggers?) might be searching for.
It takes some creativity, but you'll thank yourself for not deleting old blog posts so that your website and blog feels more established and your links don't get broken.
---
Register the business, track money, and pay taxes
Once you establish your business plan and website, you should establish and register a business name, track your income and your expenses, and pay your taxes .
This is key to any business and if you want to be legal and legit, you should make sure you do your proper research on what's required in your state. It doesn't cost very much and it's a fairly easy process…  you've just got to dive in and do it.
---
Create that cohesive brand experience
If you want to see success in your business, establishing a cohesive brand that people engage with and understand is going to be key. You'll want to create a brand and a brand experience.
Part of that is establishing your target audience, but it's also about having a logo, creating a mood board, using consistent colors, imagery, having a brand story on your about page, a brand message , so on and so forth. There is quite a lot to it, but taking it one thing at a time will make it easier.
Come August 6th and 7th, I'll be doing a Facebook LIVE event for our Facebook group showing the process behind creating branded images. If you'd like to join us, you can join the list here and a link to our Facebook group will be sent to you.
To go an extra step and help you DIY and build a small business even further, I am in the middle of creating an in-depth and thorough learning experience all about how YOU-CAN-DO branding. It's going to be available come late August and will certainly help any new blogger build and establish their own branding plan.  
By signing up for our list and joining our Facebook group, you'll certainly get all the details on this course. (plus, a head start with hundreds of free styled stock photos).
---
Know what you're good at and outsource the rest
New businesses are often a one-person show, and if you're lucky, you might have a partner that you can trust like a spouse or friend, but sometimes those don't go all that well.
So, chances are you're a solo business owner / entrepreneur. That's all good, but you're can't really do it all, right?
What every solo entrepreneur needs to figure out is what they're good at and what they're not good at! If you're not good at writing for your blog, you may want out source a lot of that, and perhaps to a virtual assistant.
Other items you may want outsourced are images for your marketing by hiring a photographer or subscribing to a stock photo service, like mine. 
Nevertheless, figure out what you're good at, what you have time and passion for, and then outsource the rest.
---
Get the proper tools for business blogging and growth
Starting an online business and being successful means spending money and investing in your business. It's important to realize that consistently trying to look for all the free options out there is only going to be a distraction.
Do your research and purchase tools that are going to help you grow, and grow properly. You can read a short list of mine highly suggested tools from other bloggers I polled, here. It's not going to help you grow a business if you keep bouncing from one free product or trial to another free product that only gets you halfway there.
If it helps, go ahead and focus on one item at a time.
For instance, if you think your target audience is on Instagram, go ahead and upgrade your plan by getting an Instagram scheduling tool, or outsource your photos, and start paying for those tools that are going to help you grow your business where your target audience is.
Figure out what tools you need to grow, that other successful business are using for success, and start investing in those tools. Established the areas that you need to grow in and know that the best tools are probably not free.
Even though they may not be free, they might also not be expensive. You can always read my recent blog post about some of the cheapest tools that have the biggest impact.
Here's a list of investments I've made in the past few months, that could help you too.
---
Network and establish a presence in your niche
I've said it before and I'll say it again:
Facebook groups for small businesses and bloggers is the best!
Networking is a key to business and brick and mortar business owners do it all the time. However, they do it in person and blogging is an online experience. So, you have to find people online to network with. The good news is that your network just got a whole lot bigger than any brick and mortar business because the people you're going to network with in a Facebook group, in some type of a forum, or on social media are across the country or across the world.
---
Now that we've covered nine different ways you can gradually get serious about your side business, where are you going to start?