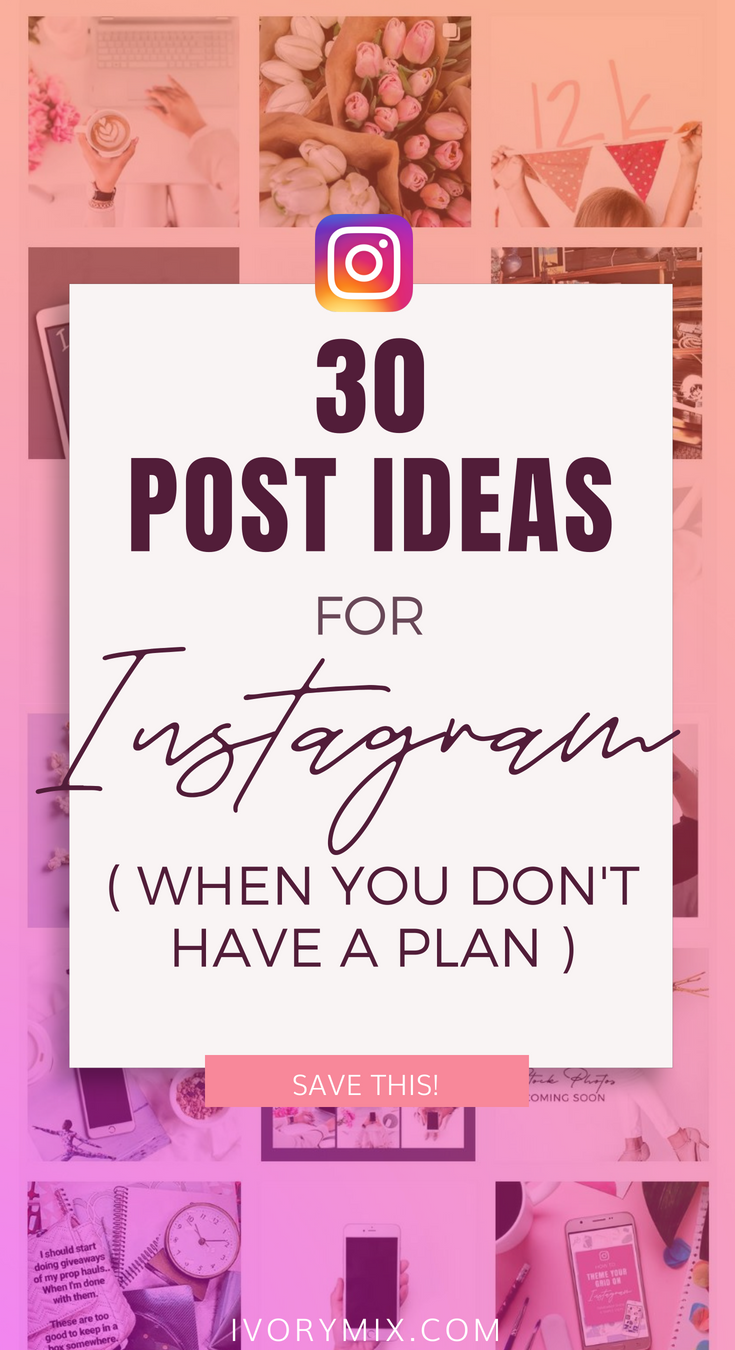 We've all been at a loss for words, ideas, and a plan for Instagram and it's really not fair. We can't be expected to always be "on" and capable of the best most amazing content every day, can we?
Unfortunately, if there's one thing I've learned about Instagram, it's that consistent daily content (sometimes up to 3 posts a day) is the only proper way to grow an engaged and thriving account. I have months where I gain 1,000 followers on Instagram and then there are other months where I gain half that and it's always in direct correlation with how many posts I've put up that month. I also have no excuse as a photographer and someone who has thousands of photos available (which you can access too in my free stock photo library here).
But, most people don't have as many photos as I have, so I don't blame you at all if you find it hard to come up with ideas of things to post.
This is why I've got 30 ideas of things you can post on Instagram today and every day for a month without even trying or creating a real "plan" at all. All you have to do is bookmark or save this blog post on Pinterest for reference. Go ahead, and pin the photo above for later – I'll wait 🙂
30 ideas of things you can post on Instagram today(without a plan):
1 // Anything in your brand colors
If you're looking to create a theme on your Instagram but don't have anything planned, just take a photo of something that is in your brand colors. Literally, anything that fits your theme will do for one day. You could practice doing this once a week and it may serve your Instagram grid well!
2 // a Graphic or quote
Some of the best performing and highest reaching post types on Instagram happen to be quotes. Combine a good graphic or quote with the right hashtags to match the message and you'll have a great piece of content perfect for your grid.
3 // Your adorable pet(s)
Speaking of the highest reaching types of posts, who doesn't love a cute puppy face? Or, if you have a cat, a pig, a horse… snap a cute pic and share a little personal info about you and your pet with your audience.
4 // Your desk and workspace
If there's one thing you see most, it's probably your desk. So, why not share that space with your following. Messy or not, people love to see process photos and where you make the magic.
Related: How to get bright white photos for Instagram (without photoshop)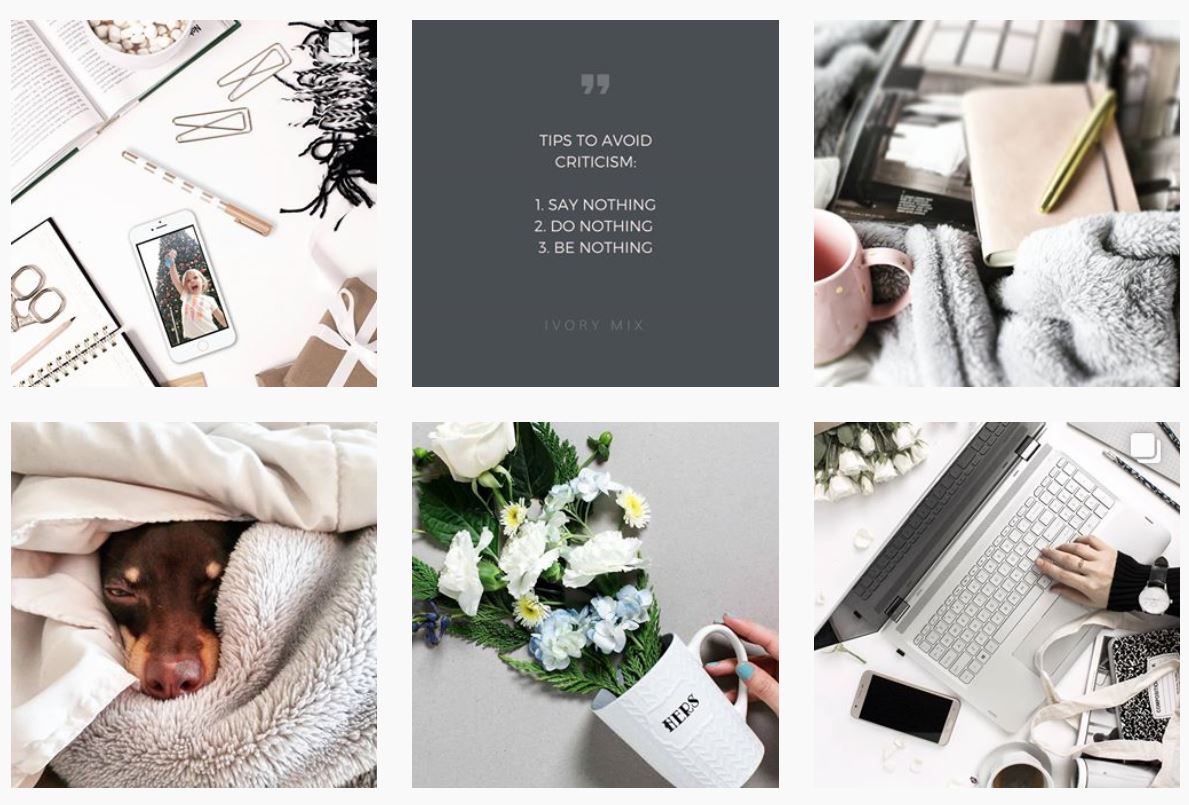 5 // Flowers
I gravitate towards flowers and can't help myself. I try and try to hold back a bit but flowers just have a way of always looking lovely on camera. Head outside or to the shop and grab yourself a lovely bouquet. Then, share a lovely flower photo. In fact, why not take multiple photos of this bouquet and save them for future use!
6 // Your outfit
Looking your best today? Why not share. Looking and feeling your best should be celebrated and some people really dig knowing where you might have gotten your shoes or your bag or your blouse.
7 // A recent win of yours / something to celebrate
When you reach a milestone, why not share that victory with your audience? Particularly if you're in a niche and have an audience that seeks encouragement from people like you who may be doing something they want to do one day. (like blogging, running marathons, writing books.. etc)
Related: Theme your Instagram with this 5-minute strategy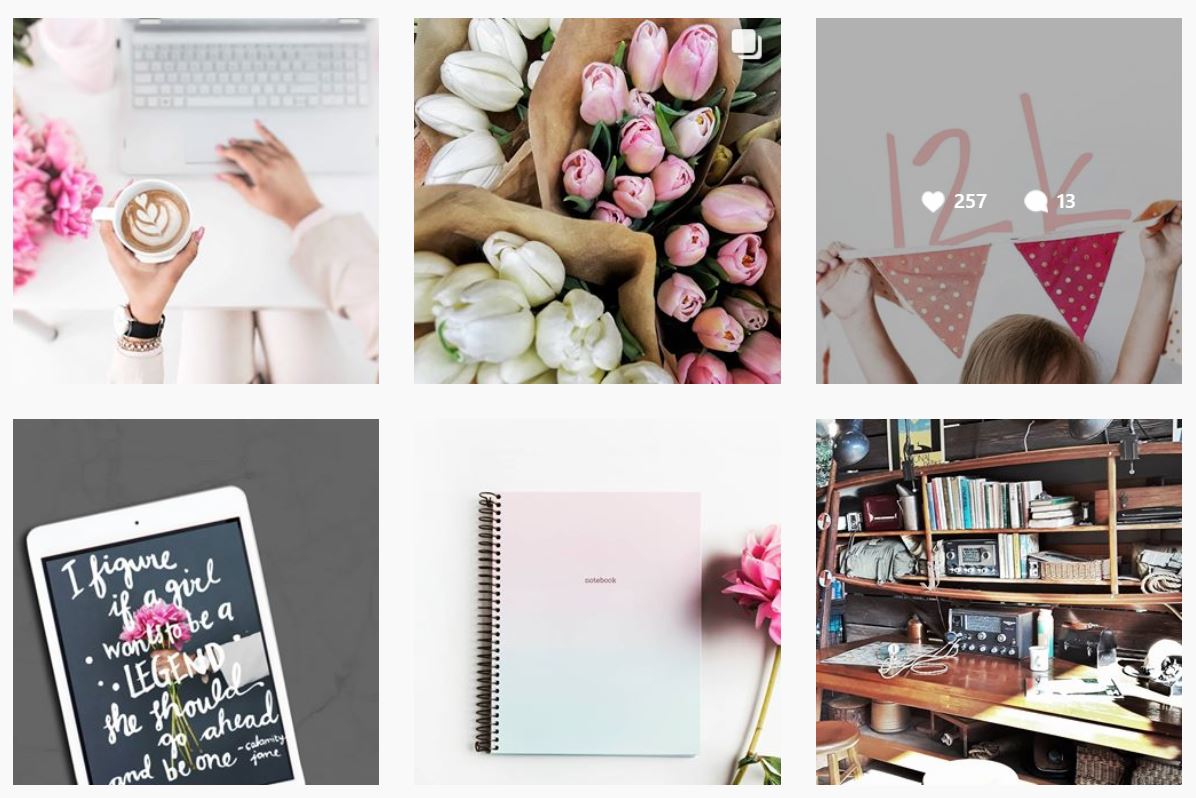 8 // A throwback photo
#throwbackthursday #flashbackfriday – use these hashtags weekly if you like! Don't forget to pair them with a photo from the past. Even if the photo is only a week old.
9 // What you're currently reading
Have a stack of books or blogs you're into right now? Snap a pic and share what you love most about them. Don't forget to tag the creators of those books or blogs too. This will help support them and spread the love.
10 // Your favorite food 
Food pics on Instagram? Who would have thought! (this is sarcasm at it's finest) Of course, you should take a photo of your fancy mothers day brunch or your simple waffle breakfast. Put that meal towards the best lit window in your home and don't forget to embelish the background of your photo with a linen and a glass of orange juice. Have fun with food pics when the inspiration strikes!
11 // Mention a freebie / remind them to join your email list
You may think your audience has already heard enough about your freebies or email list, but a reminder of what you have to offer is never a bad idea.
12 // Your favorite outdoor spot
Whether it's on your front porch or on the beach, don't forget to take a photo so that when you're Instagram plan is lacking, you'll have something to share with your audience about your favorite spot outdoors and why.
13 // Make a recommendation / Share a favorite resource
If you have a resource that has been life-changing, share it and change the lives of your followers in the process.
14 // Your morning routine
Make a quick list of everything you do to prepare for your day. What time do you wake up? Do you go to the gym first or check your emails? Inquiring minds want to know!
15 // A selfie with an introduction
Don't forget to introduce yourself to your audience every now and again. Some instagram accounts practice doing this weekly with hashtags like #fridayintroductions. Just like a weekly email to your subscribers, a weekly post on Instagram is a great way to gain consistant engagement. This also helps new Instagram followers get to know more about you reletively quickly after they hit follow.

16 // A this or that question
People love to share their opinions. So, take a photo or make a graphic asking your audience the question "this or that".
17 // Share why you do what you do
What's your why? How did you get started? Share a bit about yourself and your why.
18 // What's in your bag?
I love these types of Instagram posts because I love to see what people deem good enough to carry in their purse or bag.
19 // Show how you stay healthy/active/fit
Are you a runner? Do you make a daily morning smoothy? Even if it isn't relative to your niche, a post on Instagram about how you care for yourself is something inspiring that your followers can get behind.
20 // Give a sneak peek
Are you creating something new? Share a sneak peek to help tease it's launch!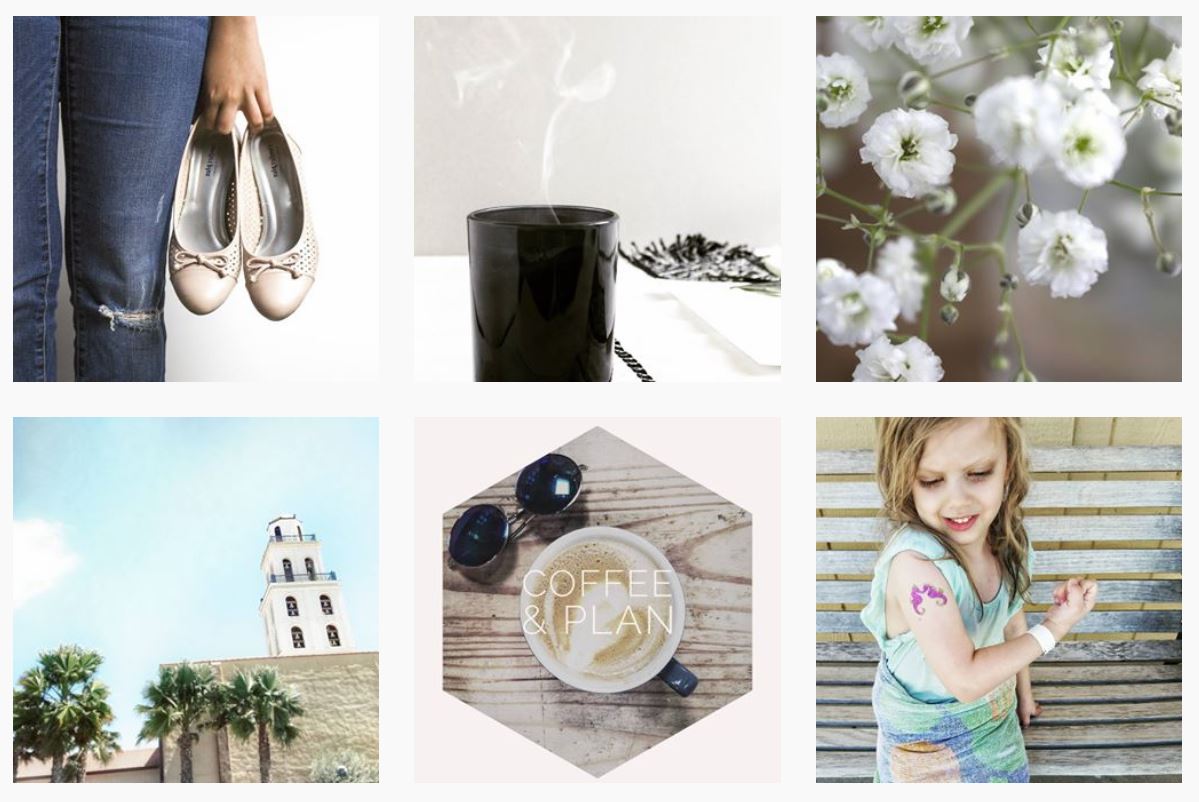 21 // A shot of your favorite store/shop
When you're out and about at your favorite spots, grab a photo of it for sharing on Instagram. Perhaps it is a small store in your town and you can pair the photo with the hashtag #shopsmall in support of small businesses.
22 // Shout out to someone who inspires you
Does someone inspire you to be a better person? Maybe you have a business coach or fitness coach who encourages the best from you. Share that with your followers. Sharing is caring.
23 // A flat lay shot with a theme of objects (similar objects, similar colors, etc)
Gather together as many similar objects as you can find and lay them out haphassardly or in a structured grid and take a photo. It could be any theme of objects based on topic or color. Like, groups of toys, or all of your red pens, markers, and pencils.
Having an interesting photo to share is usually half the battle. You'll definitely create an interesting photo with this tecnique.

24 // Share an outing with a friend 
Friends are great because they'll usually indulge in a fun Instagram photo or video – so why not take full advantage of that friend level! They'll usually be glad to help if you ask nicely OR offer them a coffee in exchange. haha
25 // Encourage your audience to learn more about your favorite cause/charity
Giving back is a noble thing to do and if you support a chartity that's near and dear to your heart, then why not share a bit of information with your audience too.
26 // Share a client testimonial/story/finished product
Have you received a kind word from a recent client? Put it out there for everyone to see. A little brag is just fine everynow and then.
27 // Sunrise or Sunset
These happen twice a day – every day – in most parts of the world. So, head outdoors at the right time and snap a pic to share. Heck, why not make it a theme to do this every Friday night as the "work week" comes to an end or every Monday Morning when the "work week" is starting again. 😉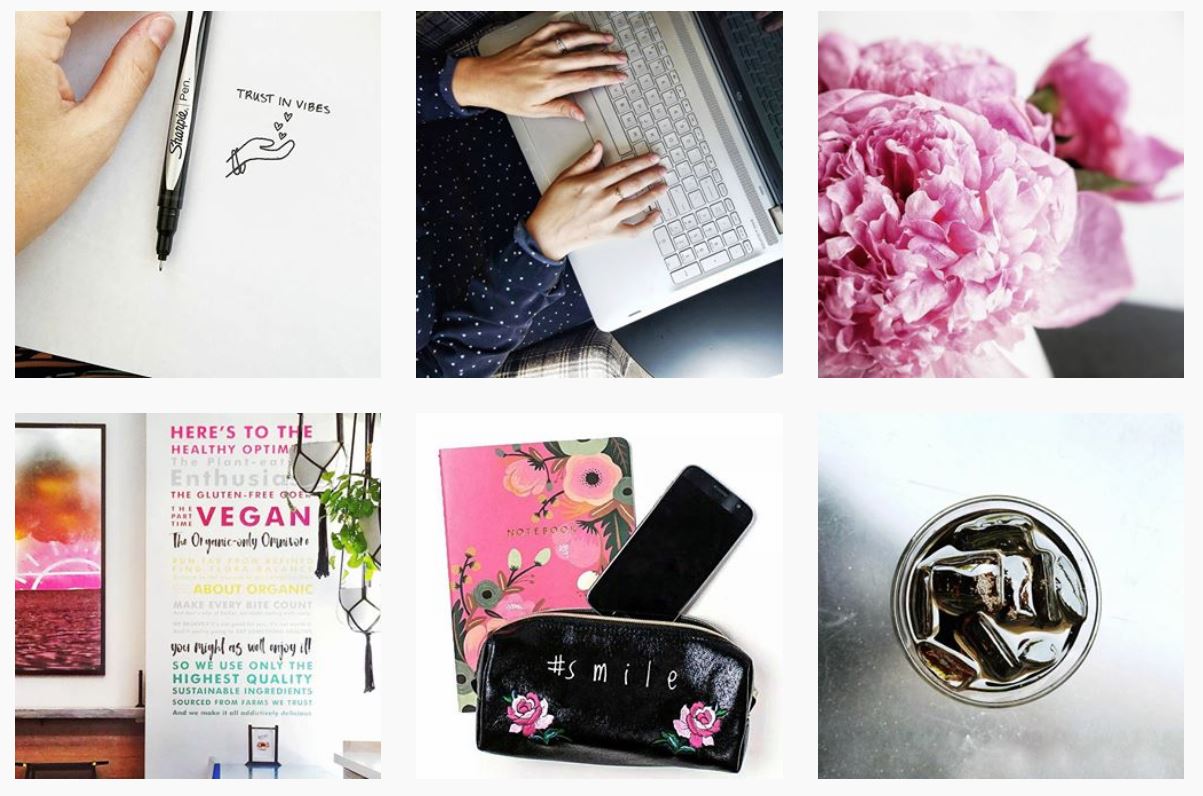 28 // Share something you've recently learned
We've talked about how sharing resources could be a good post for Instagram, but why not also share something you've learned too? A good and short tip or trick even.
29 // Your favorite drink
Share a snap of you with your favorite drink? If you're like me, it's coffee and it's around all the time anyway, which makes this photo easy!
30 // Share how your audience contact you
This may seem strange, but it's possible your followers only stumbled upon your Instagram account and have no idea you also have a Facebook page, an etsy shop, and a website. Be sure to occasionally remind your audience how else they can contact you.
WANT TO GET STARTED CREATING YOUR NEXT MONTH OF INSTAGRAM CONTENT AHEAD OF TIME?
Click here to browse our collections of styled stock photos and graphics.
Be sure to check out the affordable membership where I deliver over 100 stock photos every month in various color schemes and niches.
LOOKING FOR MORE INSTAGRAM TIPS AND TRICKS? HERE ARE SOME OF OUR FAVORITES:

First, make sure you read this blog post about creating 30 days worth of Instagram content here and learn how to create a colorful month of content in as little as 5 minutes.
Plus, check out these Instagram tips: