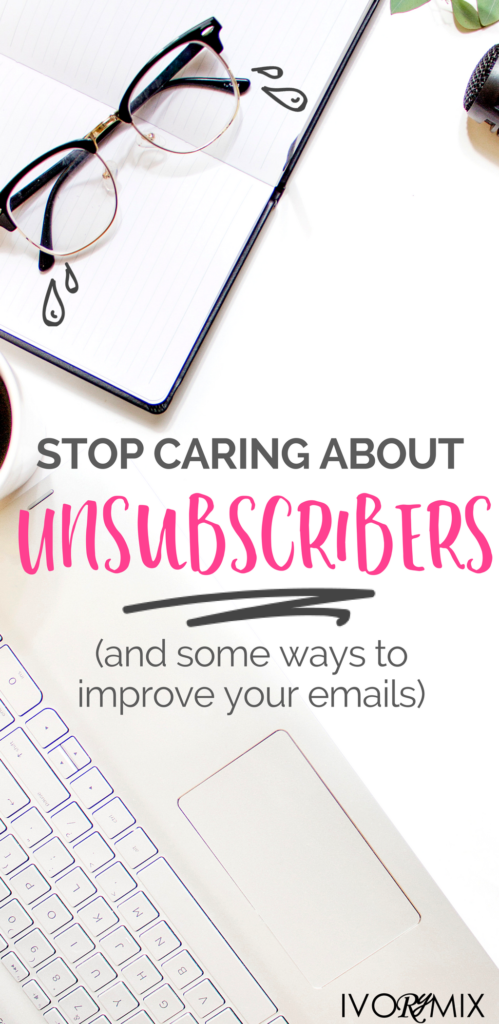 Let's face it. Having an email list as a blogger is your safeguard so that when your favorite social media platform goes belly up, you've still got a link to your people. But, sometimes those people unsubscribe. It could be that your unsubsceiber ended up on your list only because you've offered them a lot of free information and they will never truly be interested in paying for higher quality or more in depth content. . . no matter what you do.
They'll hit you up for a "favor" or ask for advice, but to pay for any of that is off their list. Once you stop offering free advice, those people will fall off your list.
Now, you could spend a lot of energy working on your content to convert this type of unsubsceiber, but if they unsubscribe before then, you may have just saved yourself a ton of unnecessary energy.
Don't sweat it, they're saving you money
Once you get to a certain point in your blogging, you're going to pay for your email provider. Whether it's because you've grown your list to a few thousand followers, or you need a certain frequency of emails and some automated strategies.
Either way, one thing is for sure. Having fewer subscribers that "aren't that into you" will save you some money in the long run.
They were probably not that interested anyway
Being that they've unsubscribed, they may not have been an ideal subscriber anyway.
An ideal subscriber is someone who fits your target audience mold. They are interested in the products, services, or information you provide and are willing and able (or at least pretty close to willing with a gentle nudge) to read more frequently about it and possibly pay for your more indepth products and services.
Desire a happy and healthy email list
Sweating the unsubscribers isn't doing you any good. The best thing you can do is learn from it, work harder, put your energy in the right places, find your perfect audience, and move on.
Here is a quick video containing two tips for how to improve your emails and content to your subscribers and how to stop caring so much.
Related Post: The secrets to attract email subscribers
Here are some statistics from mailchimp about unsubscriber rates within different businesses and industries.
What else can you do?
Improve your email subject lines
Improving your email subjectlines will help to get more people to open your emails.
Great examples of email subject lines:
Evoke curiosity with a subject such as:
"Here's your private Invitation . . ."
Promote your subscribers self interest with a subject line such as:
"How to get seats filled in your next webinar….."
Use a subject with a limited time offer to create urgency such as:
"Download this freebie before it's gone…"
Subject lines that leads to a personal story are good too, like this one :
"Well, that didn't go as planned. I'm sorry . . "
Ask your subscribers to "Whitelist" your email address.
This means they mark you as good email from someone they know, so your future emails don't get sent to SPAM. This is important to note because even my husband (another team member here at Ivorymix) received my email in his spam folder. Now that should never happen!
So, here are the steps for whitelisting you can send to your subscribers:
1 > Open a message from the desired sender.
2 > Go to the Actions option in the top tool bar.
3 > Select Junk E-mail from the drop down menu.
4 > Select the Add Sender to Safe Senders List option.
Only gather email subscribers authentically and with offers of content they will enjoy.
Don't offer the same content to all of your subscribers if you cover different subjects for different types of readers or customers. You'll get fewer unsubscribes if you narrow down who you are sending emails to and when. This can be done by creating segmented lists or separate email lists.
Don't email them as often.
It's possible that you are emailing your subscribers too much and if there is one thing that turns people off, it's a barrage of emails. A good strategy is to email your new subscribers a few times over the first 2 weeks, then slow it down a little. You don't want them to forget you, but you don't want to annoy them either.
Set expectations with your email list subscribers.
As soon as someone subscribes, make sure they know how frequently you'll be in contact with them and what you might talk about and share. This sets their expectations right from the beginning.