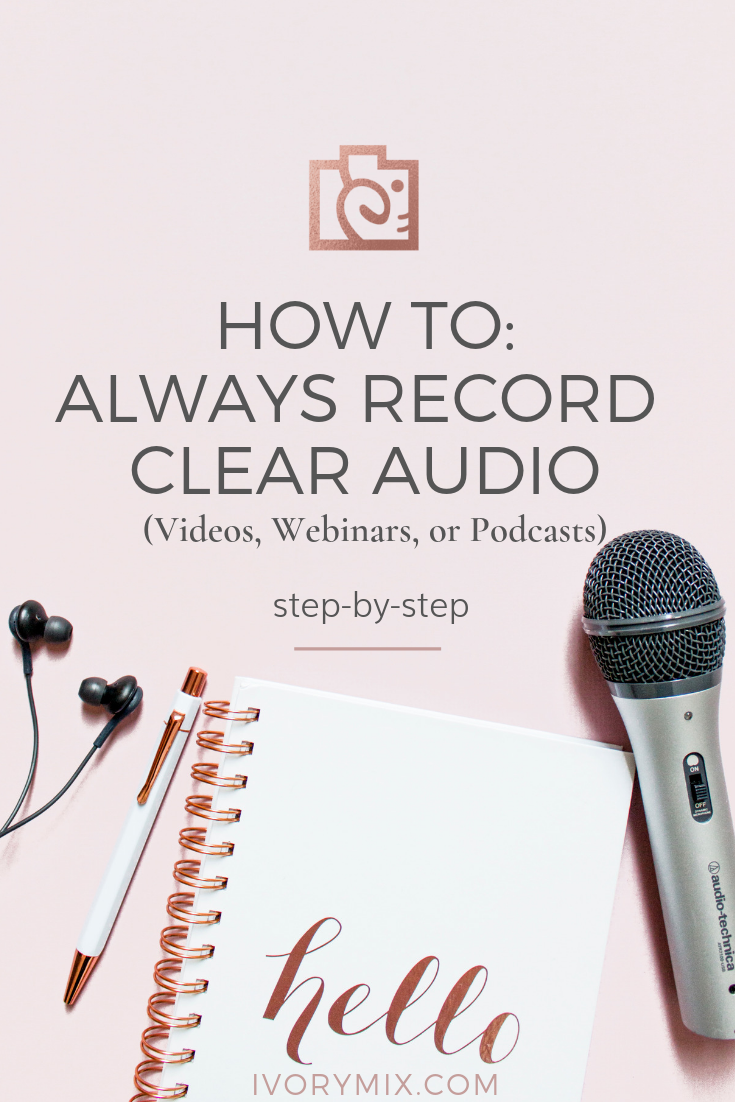 Photography is more up my alley and in my wheel-house than video ever was, and to top that it all off, audio has its own unique challenges. But, I had a goal to start creating videos, webinars, and online courses a while ago – which meant figuring out exactly how I was going to record clear audio that I was happy with.
Videos, in general, are still a work-in-progress for me. But, since making the decision to record video's, I've tried multiple types of microphones, tools, and recording equipment and have found one set up that allows me to record perfect audio and in record time without any editing or adjustments.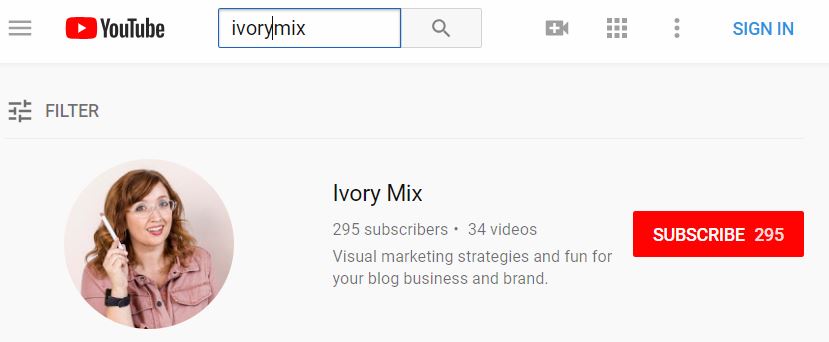 But, before I dive into my favorite no-fail clear audio strategy, you should know that I recorded a video walk-through. This video explains the 3 types of recording I do (on my phone, my DSLR, and my webcam) and why/how each one has it's own set of tools and recording equipment for clear audio.
Watch The Video:
Recording Gear I Use:
This step-by-step tutorial is all about my webcam/audio set up. I use it to record most of the online courses, webinars, and YouTube videos. The reason I use this setup instead of using my DSLR is that recording with my webcam is incredibly fast. I can go from having an idea for a video to recording it in a matter of sixty seconds.
I don't use my laptop's built-in webcam though. Instead, I use a USB webcam that I bought from Amazon. I bought it because it had a higher quality that was more comparable to the quality of my DSLR. Plus, it has an attachment for my tripod!
The next common question is usually, " what software do you use to record and share your screen?".
For recording software, I use screencast-o-matic. It's a very affordable program that also backs up my recordings on their servers. I use this software for the education side of our business multiple times per week!. It comes in so handy for simple audio screen capture recordings that I don't necessarily need my webcam for.
The complete video recording kit: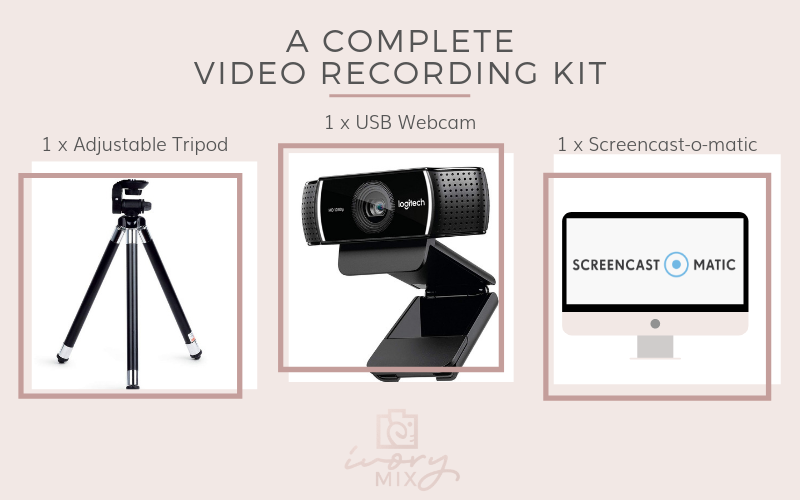 I also don't record my audio with the built-in microphone on my laptop or webcam either. Instead, I upgraded to a USB microphone that I also bought from Amazon.
Both the webcam and microphone are always ready at my desk for me to record at any moment. The webcam is on an adjustable tripod that sits to the side of my desk and the Microphone sits on an adjustable arm that is clamped to my desk. The arm allows me to move the mic in and out of the way when I need to.
The complete audio recording kit:
The Whole Kit (Mic, Arm, and Filter included)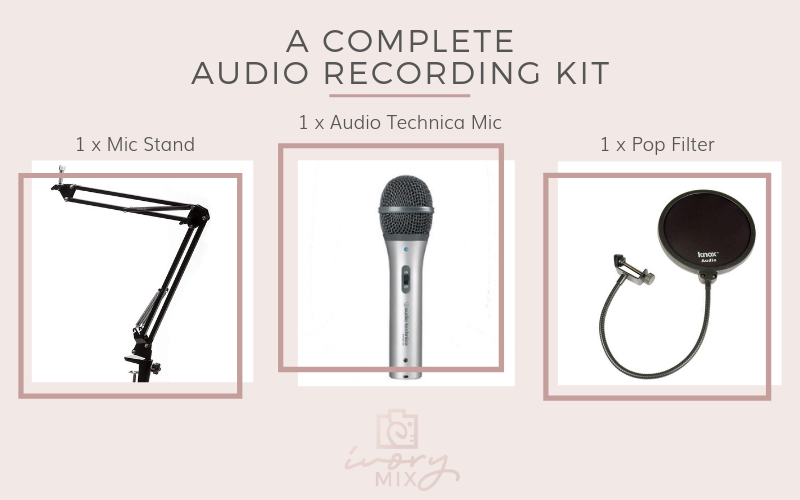 Having these quick, no fuss, and high-quality recording tools ready to go have been a major workflow improvement, to say the least.
When I started out recording videos for my courses and even Youtube, I tried recording everything using my DSLR but quickly found that the process to go from idea to record took a lot of time. Plus, the most common type of recording I wanted to do was a mix of screen sharing and "talking-head" types of videos. That's why this desktop camera/audio set up is my go-to.
Related Post:  4 types of digital products you can create
What Next?
I know first hand that getting started is the hardest part. Just know that you don't have to have this equipment to do that.  You could use earbuds with a microphone feature and your smartphone to start.
But,  if your anxious to get started with recording audio/video for your blog or business, then your next step is to simply get started. Remember, you can get the entire audio the Whole Kit (Mic, Arm, and Filter included) here.
You can also enter our giveaway of the complete audio kit here. It's running until 11:55 pm PST on Monday, September 3rd, 2018.