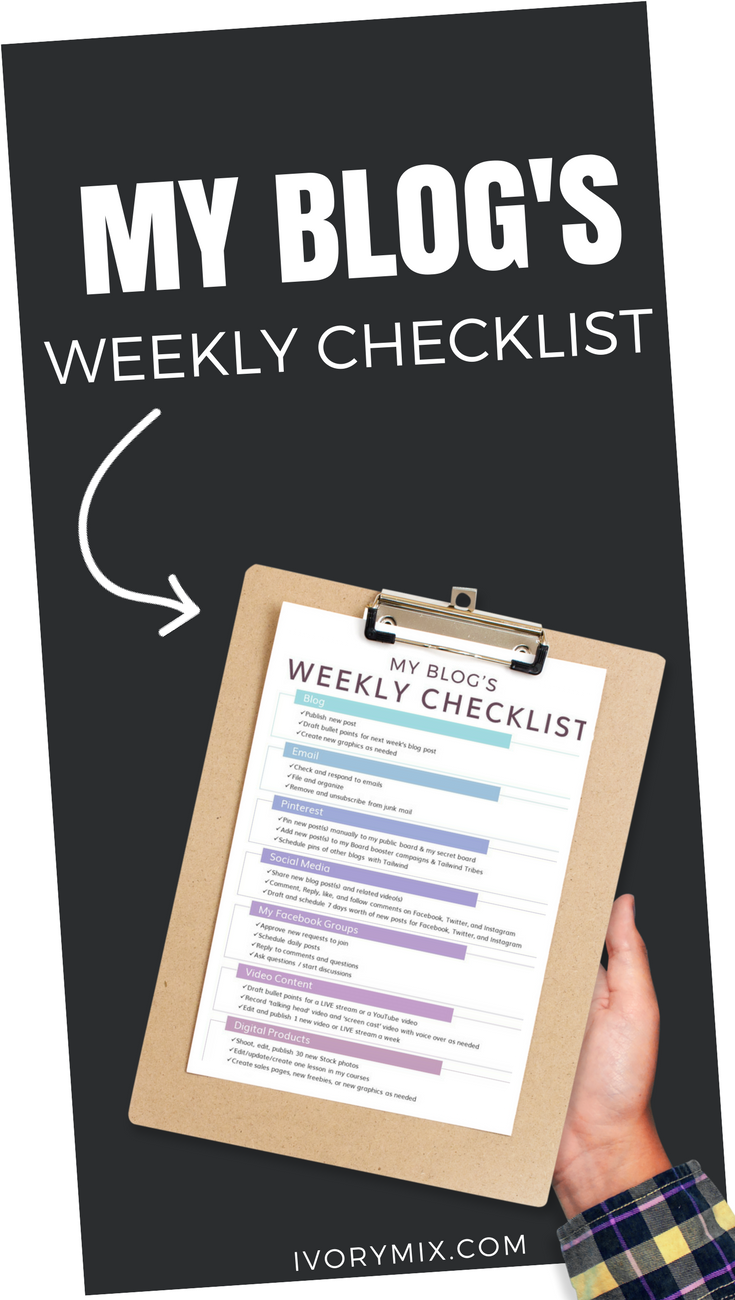 I'm a sucker for a good checklist and when I started blogging, I struggled to find examples of what other blogger's did on a daily basis. Even though I've since taken my blog and turned it into my full-time business, the checklist of things I do on a weekly basis hasn't really changed!
The things that have changed are the tools I use to accomplish these tasks and the amount of outsourcing I do. I've also been able to have the fortune of creating my own digital products from Stock Photos, eBooks, and Online Courses.
All things considered, I'm surprised that my daily and weekly blogging tasks haven't really changed. It's just a matter of tracking and responding to my audience and what works. The tasks haven't changed but where I put my focus has.
Just right click over the image and save a copy OR click here and I'll email you a copy of this list of resources below and free access to my stock photo library of over 300 stock photos.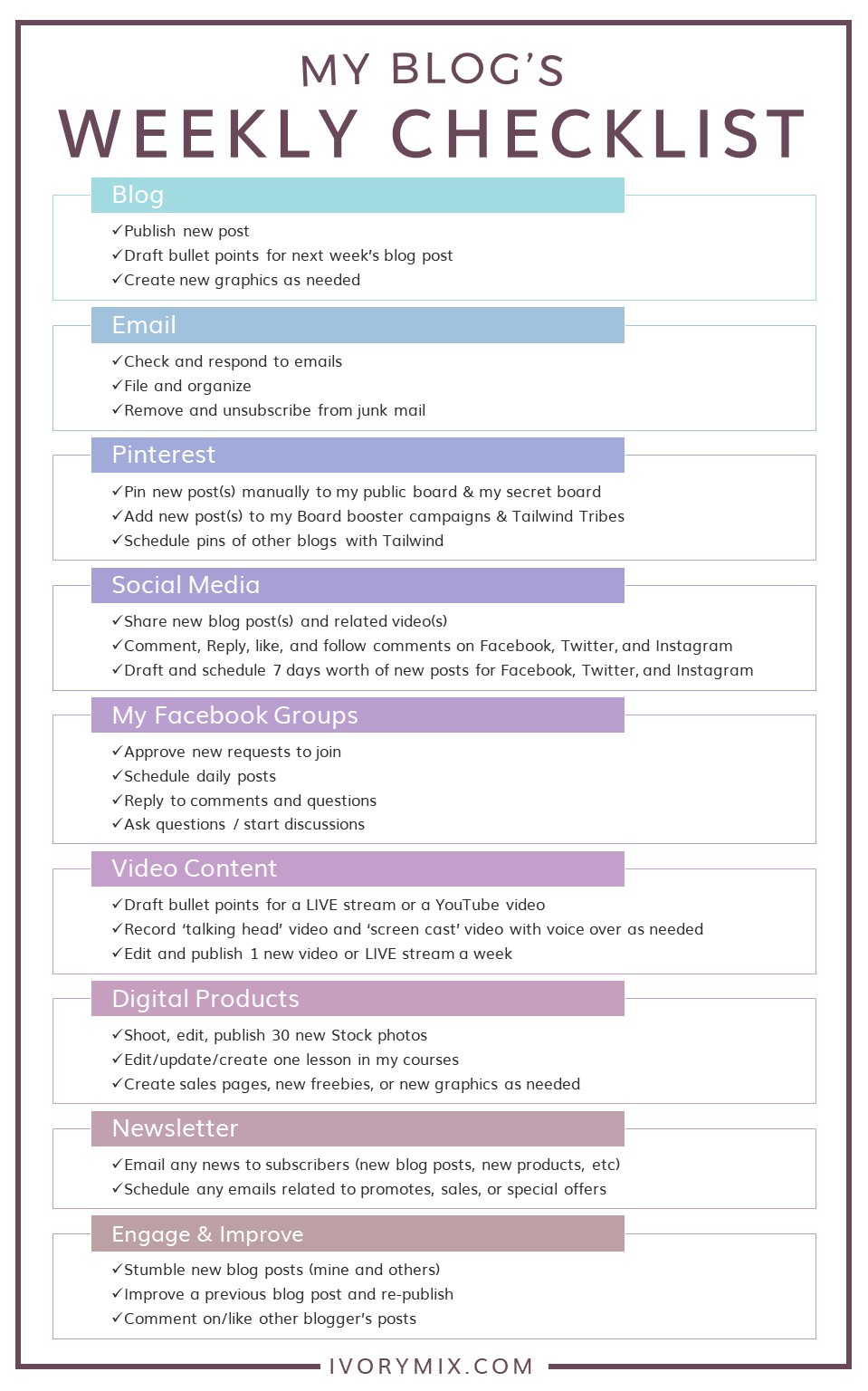 This post contains referral links
This checklist includes the mention of quite a few tasks that wouldn't be possible without certain tools that I've grown to love. I've been testing new tools for many years and these one's are the keepers. So, I thought I should summarize that list of tools and resources here:
The Resource List That Runs My Blog and My Week:
Task Management:
To manage my tasks, I use Trello
Social Media Scheduling:
For Pinterest and Instagram Scheduling, I use Tailwind
For Pinterest scheduling and automation I use Board Booster
For Instagram scheduling, I use the Later app and the Plann that app
For Facebook and Twitter automated scheduling of older posts, I use a plugin called Revive Old Post
For scheduling new posts to misc social media, I use Hootsuite ( many also use buffer)
To automate certain share tasks, I use IFTTT and Zapier
If I want to run a contest on Social Media, I use Rewards fuel and Wishpond
Email:
I manage my custom domain email using the GSuite Gmail
Newsletter / Email Service Provider:
I manage my subscriber list with ConvertKit
I collect email subscribers  with ConvertKit
I also collect email subscribers using MailMunch plugin
Online Courses:
I host my online courses on Teachable
Tools for selling products:
I mostly use WooCommerce to sell products in my shop
Occasionally I use SendOwl for Joint Venture products
I collect payments using PayPal
I also collect payments with Stripe
Graphics:
I create graphics using PicMonkey
I create graphics using Canva for work for less than $13 a month
I get free graphics assets from Creative Market and Hungry JPEG
I use Adobe Photoshop / Lightroom to edit my photos and create graphics too
Stock Photos:
Styled Stock Photo Shop
Styled Stock Photo Membership
I create my stock photos with this canon camera
(people are always surprised I still use this)
I edit my stock photos with Photoshop / lightroom for $10 a month through adobe creative cloud
Freebies:
I regularly update my Free Stock Photo Library for bloggers (it currently has over 300 photos!)
I have these free guides and eBooks
Shop:
I sell my photos in my Stock Photo Shop
I also have an affordable Styled Stock Photo Membership for bloggers
I sell my photos and products in my shop on Creative Market
I sell my photos and products in my shop on Hungry JPEG
Website / Sales Pages:
I have a Genesis theme that was customized for my brand
I use Thrive Architect for my sales pages
I use the Sumo Plugin for my social sharing buttons
Videos / Sound:
I use Screencast-o-matic to record my screen capture videos
I use this microphone that has a simple USB connection that I bought on Amazon for my voice overs (best purchase ever)
I use this microphone and attach it to my camera when I do talking head videos