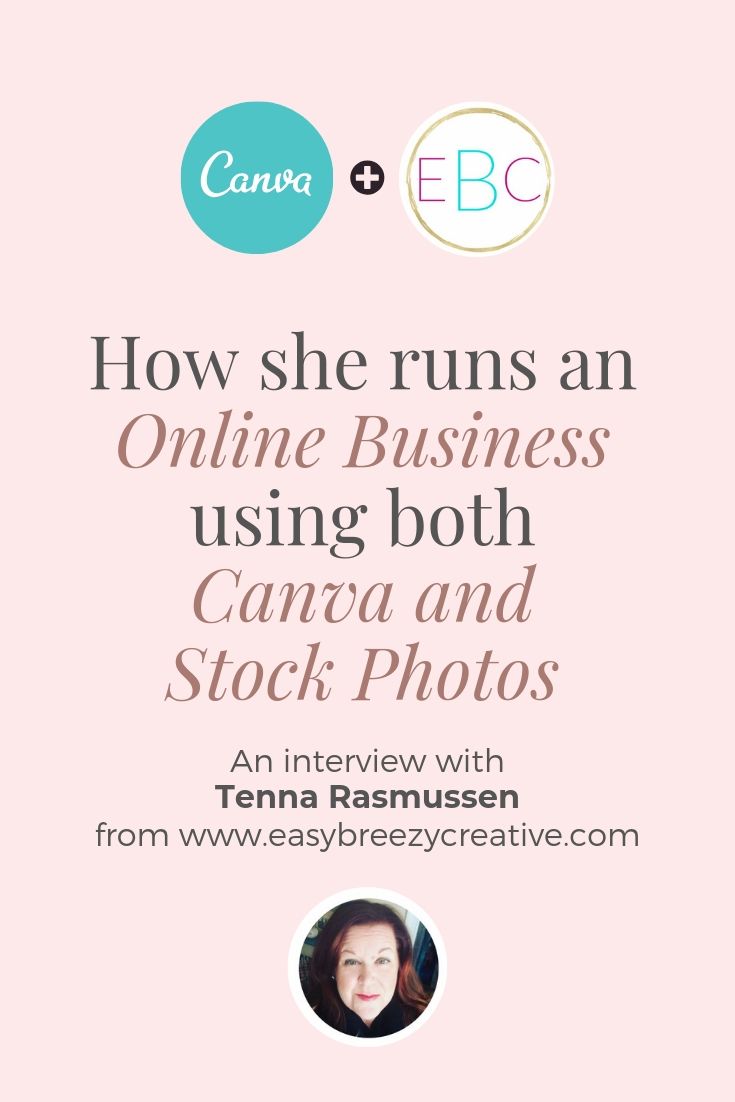 Tenna Rasmussen is the owner and designer of Easy Breezy Creative. The unique thing about Tenna is that she uses Canva and stock photos to run much of her online business and help her clients. Today, we're picking her brain and asking her all the things.
Tenna, Tell us about you… the real you.
I'm a So Cal girl who now lives in beautiful Charlotte, North Carolina. I'm a football fanatic foodie and failing crafter who constantly has glitter stuck to the floorboards of her home. When I'm not creating visuals and content for my clients I'm usually organizing something, snuggling my rescue dog and imagining myself as a backup singer for Taylor Swift.
How did you get started on Canva, what capital or experience was required?
The first time I experienced Canva was an attempt to create a gift certificate almost 4 years ago. I wish it still existed because I'd love to see how bad it was!
I got overwhelmed pretty quickly with it and didn't get back to it for another year when it became an absolute necessity to have cohesive, branded graphics on social media. I don't have formal design training but I've always loved bringing branding and content together. In a former life, I was an advertising agency strategist and learned a great deal about marketing to specific audiences. I was always fascinated by how a particular image could attract someone to a product and encouraged them to spend money.
I started with the free version of Canva and then quickly upgraded to Canva For Work (which is now Canva Pro). Other than that it was mostly sweat equity spent on Youtube and Facebook learning more about the program and design.
View this post on Instagram
What is the biggest struggle with Canva that you've experienced yourself?
I don't even have to give this one any thought: perfectionism. I'm sure this is something a lot of us Type A entrepreneurs struggle with (or at least I tell myself that so I can sleep at night). I'm pretty hard on myself which I'm actively working on every day. I'm really embracing the idea that "done is better than perfect!" and have started to set time limits on how long I spend looking at my own designs before posting. I'll get there.
What advice can you give those just starting out Canva?
If you are just starting out in Canva, start.with.the.templates! They are there for you to customize with your own branding (and Ivory Mix photos) and there is no shame in using them. They help establish the look and feel of your graphics and make your life so much easier.
Other then that, it's just practice. The more time you spend in the program, the better you'll get.
View this post on Instagram
Do you have a team that supports you with your business? 
I operate a pretty mean and lean operation and with the exception of my accountant sister who does my books, it's just me. That has its pros and cons. My clients know they are getting 1:1 service and my work is very consistent. For the control freak in me, that's super important. But, it also means I generally have tons of balls in the air and I can get burnt out. This is something I'm exploring this year as I'm getting to the point where it just may simply not be maintainable.
What's your favorite tip/trick in Canva?
Oh, it's hard to pick just one favorite tip/trick/tool for Canva. One element I come back to all the time are the grids. They are such a simple but effective way to create a professional-looking graphic with zero design experience. All you need to know is your brand colors and some stock photos. For a more in-depth look at grids, check out the tutorial video I created.
How do stock photos improve Canva graphic Design? 
The right stock photo= instant graphic glow up. Stock photos are a powerful part of your branding and are essential for social media. And Canva and stock photos? Well, that's just a match made in heaven.
Stock photos and Canva take the guesswork out of graphic design and empower you to streamline your visuals. Between the templates (start there!) or uploading the photos and adding your personal touch in the form of text or a call to action, stock photos are available to make your life easier!
I hear from a lot of clients that they get overwhelmed trying to find stock photos to fit their content. Here's my trick: reverse the process! Find a stock photo that matches your branding and that appeals to you and your audience THEN write your content around the photo.
Here's a Youtube Video that walks you through it:
Everyone needs a little motivation sometimes, can you share your favorite motivational quote?
"My service is a gift to this world and I feel compelled to share it." I have this pinned to my inspiration board which is just a quick glance up from my computer. I repeat it to myself often.
View this post on Instagram
Do you have a mentor? If so, what's that relationship like, and how did you find them?
Yes, my business coach, Geralin Thomas. She is a well known professional organizer (you might recognize her from being on Hoarders) and is who I hired to originally help me with my other business. She's the kick in the booty I need when I'm suffocated by fear and the one who tells me like it is with a great deal of kindness. (She is also the one responsible for getting me addicted to Tony's Chocolonely) After all, she's the one who gave me the idea for Easy Breezy Creative even when I laughed at her when she made the suggestion)
What's the biggest obstacle with Canva that you've had to face? How did you overcome that and what advice would you give to others?
The time it took to really harness the power of Canva. There's SO MUCH you can do within the program and because patience is not my virtue I would get frustrated when I didn't know how to do all the things. The solution was really simple: time and experimentation. I would encourage people to start with the basics and build from there. Watch tutorials, read blogs and see what other people are creating to be inspired. Try new things!
Where can we learn more?
You can learn about our Canva and Design services at www.easybreezycreative.com or say hi and get more social on Instagram  @easybreezycreative