Have you ever seen those collage or puzzle type themes on Instagram that cover the profile edge to edge? They've been around for a few years now and you'll find many designers offering photoshop templates to make it easy for you to achieve this result.
That said, not every blogger or business owner uses photoshop. That's why today, I want to show you how you can achieve this puzzle Instagram grid look on your account and content without photoshop in just 2 simple steps. (you don't need Photoshop or paid tools)
To show you some examples, check out some of these other Instagrammers who are already using this type of theme.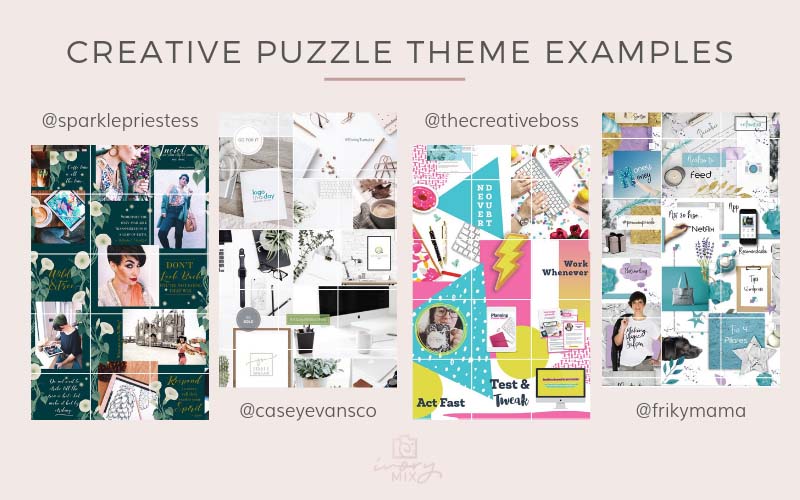 Skip the read and watch the puzzle Instagram theme tutorial:
If you want to skip the read of this tutorial and get down to it with a video walkthrough, check out this video tutorial here too:
Let's get started at creating Instagram content!
Related Workshop: 4 Reasons why you're not making money on Instagram
Step 1. Create a Collage in Canva or PicMonkey
This may just be listed in one step, but it's really the most creative one. In this step, you'll simply create one single collage image that will be sliced into multiple Instagram posts in the next step.
For a square puzzle, use the dimensions of 3240 x 3240 pixels. This will give you a puzzle that includes 9 squares.
For a tall puzzle. use the dimensions of 3240 x 4320. This will give you a puzzle that includes 12 squares.
For a short puzzle, you can use 3240 x 1080. This will give you a puzzle that includes 3 squares.
Using these dimensions gives you individual squares in your puzzle that end up being 1080 pixels by 1080 pixels, each. This is an important step to avoid blurry images on Instagram.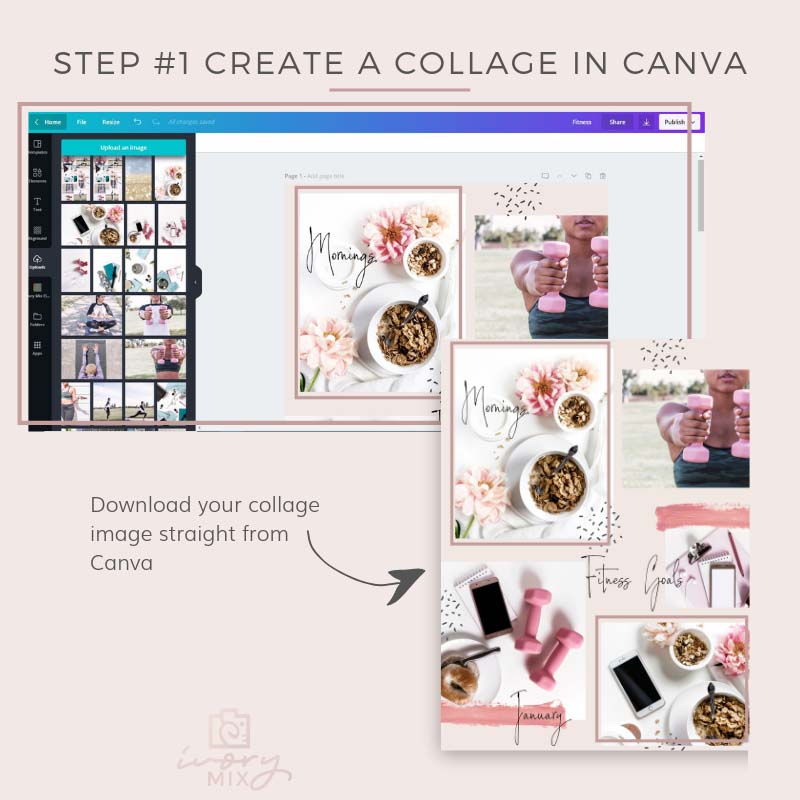 As you may know, Canva is a free option for creating graphics and editing photos. It comes as a free APP and links to your online account too. You can get Canva on iTunes and google play store as well!
Click here for Canva on desktop
Click here to get the Canva App
But, if you're a PicMonkey advocate, this can be achieved on their platform as well. The good news is, they have a mobile app too!
Click here for Picmonkey on desktop
Click here for Picmonkey in an APP
When designing your own collage, you can use your own brand's photos, colors, fonts, and graphics. This will help bring continuity to your brand and help you stand out even more. To grab photos for your collage, you can head to our free-stock photo library by clicking here.
Don't want to start from scratch? I figured you might need a starting point. So, you can go ahead and grab this free puzzle template made for you in Canva, just click here for instant access.

Step 2. Use an image splitting app of choice
Once you've created and finalized your Puzzle theme, download it to your phone and upload it to your chose APP. The one featured here is called 9Square. Whether you have an iPhone or an Android, there are a number of apps that will take a single image and split them into the perfect Instagram grid for you.
Grab 9Square for Android here.
Click here for a more extensive list of APP's for iPhones and Androids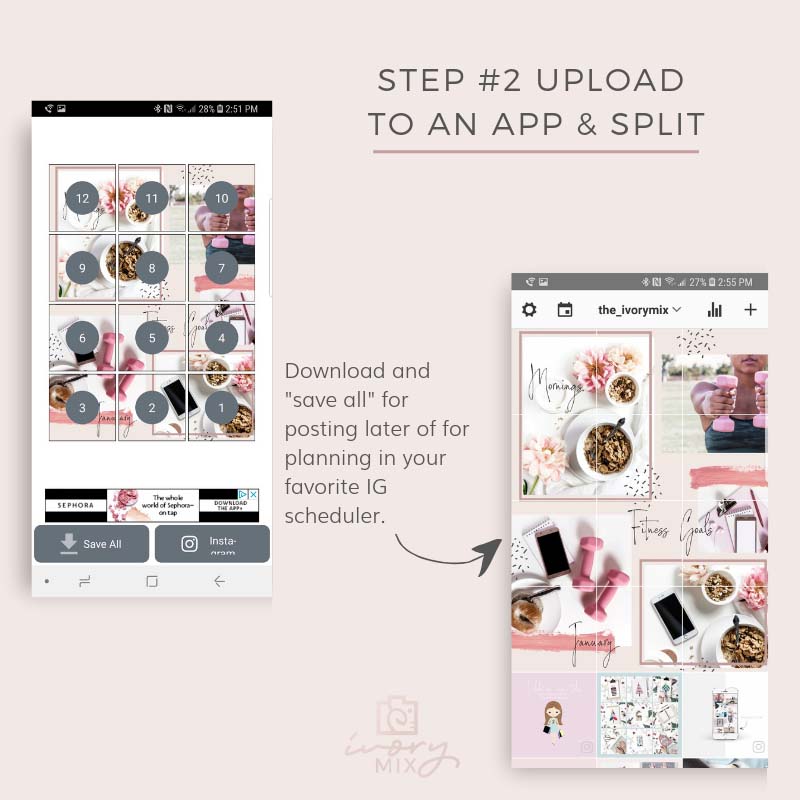 Things to remember when creating a Puzzle theme for Instagram:
Don't be afraid to get creative. You can and should add your brand's own fonts, hand lettering, illustrations, colors, and more.
When posting these to your Instagram feed, remember to start at the bottom of the theme, moving right to left.
It's usually best to post 3 images at once or close together to keep the puzzle intact and making sense for new profile visitors.
Need photography and design help with this? 
Not so great at photography? Want to grab some stunning images? Grab some of our freebies or get an unlimited membership
Terrible at design? Grab this free template and theme made for you in Canva.

Plus, check out these Instagram tips: