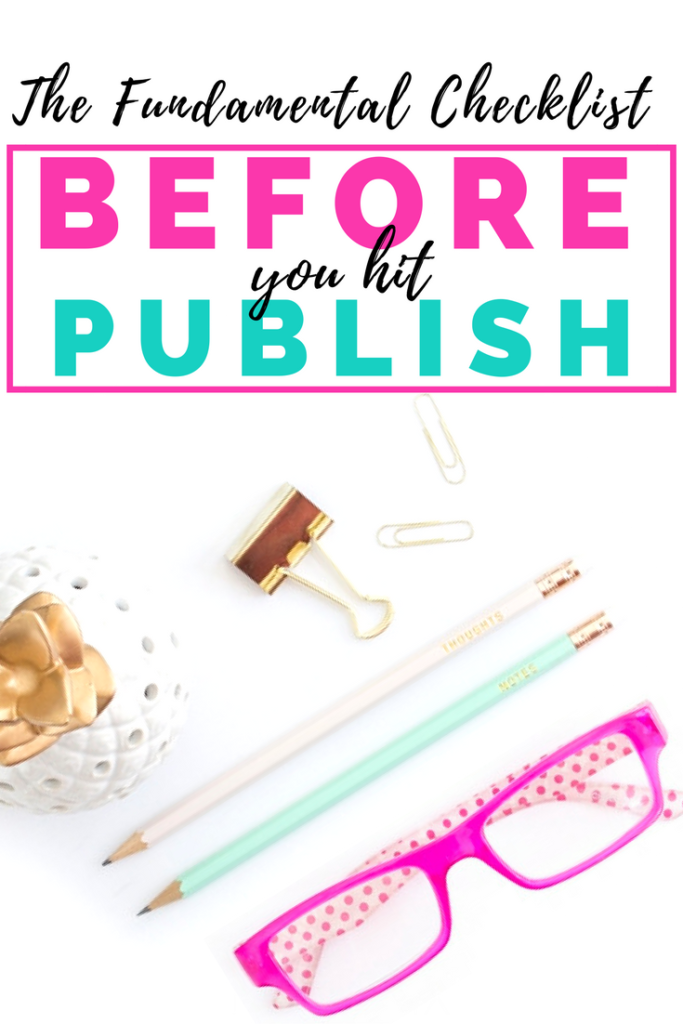 Are you new to blogging and not seeing much traffic or results yet? Are you wondering "am I doing this right?"
Blogging for beginners can be tough. There is so much to learn. Every blogger was once a beginner and goes through a sort of …. transformation. Blogging for self fulfillment and self-promotion has become an increasing trend but there's this whole thing with blogging that you just don't really hear or read about until you experience it yourself.  "Is anyone reading – does anyone care?"
The honest answer is, no one is waiting to read your blog posts and no one really cares. By 'no one really cares', I mean they simply are just caring too much about themselves to care about your blog. They want to see things that are for them and will help them. So, it's very rare that any new blogger will get a ton of new views with their first blog post without some form social sharing system in place and making sure you're offering excellent content people will find value in. You see, readers only start reading your blog after these two things happen:
Number 1. They find you naturally through a google search, a Pinterest pin, or on a social media platform, like Twitter.
Number 2. They find value in something you offer. It could be information, a product, a good laugh… anything they value will bring them in and keep them there
As a beginner blogger, every time you post something, you should be trying something new. By something new, I mean that you should be elevating your blogging to a new level every time. It doesn't mean making big moves every time. It could just means writing a  hundred more words, or getting a little better at SEO, adding an email sign-up form for the first time, or downloading that SumoMe app you've been reading all about.
You should be testing the blogging waters kind of like a science experiment. No need to overwhelm yourself. Just use the time in between each of your posts to search out and learn one new thing, and try to implement it on your next post.
Just for you beginner blogger, I've gone ahead and developed an easy to follow checklist that I am positive you need to download! This list is thorough and a great place to start when you're trying to get increased blog traffic today! It's going to help you with exactly what you should be doing before and after every blog post.
Before you hit publish on another post
---
Pick a focus keyword for SEO
If you haven't done so already, go and download the Yoast SEO plugin. It's one of the best tools you can use to increase your blogs SEO. Not sure what SEO is? SEO stands for Search Engine Optimization. Having this part dialed in on your blog will help your blog and blog content reach the top of someone's google search.
Once you've completed the writing of your blog post, and when you have the Yoast plugin installed, you have the ability to tell Yoast SEO what keyword(s) you think are being used a lot in your post. Yoast SEO will tell you the steps you need to take in order to optimize your blog post around that keyword. So, pick a keyword you think is related and use it in your title, your URL, your meta description and etc.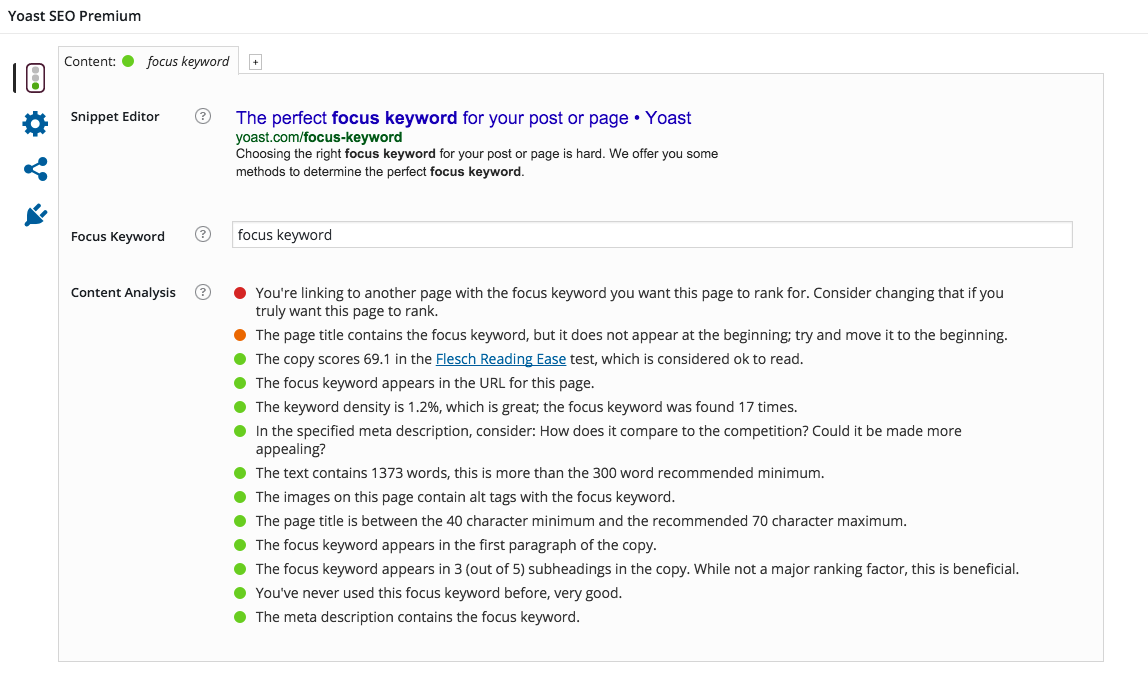 Another thing you may want to do for picking your focus keyword is using the Keyword Planner from Google. The keyword planner allows you to type in your intended keyword, and see how often its search, plus offer other relevant suggestions. You can use this information to help decide and modify the keywords you want to use.

---
Optimize and shorten your title
As I mentioned above, using the SEO tools available, you'll figure out which keyword(s) you will want to use. Once that's figured out, you should use that keyword as close to the beginning of your title as possible.
An example would be if my keywords were "start a blog".
I could create a title that says "10 unique ways to start a blog", but for SEO purposes, it would be better to just make the title "Start a blog" OR "Start a blog. Learn the 10 unique tips". You see what I did there? Start a blog is at the beginning of the title.
---
Add 3-5 tags and set the category
For new bloggers, it may be difficult to tell the difference between tags and categories.
Categories are ways to organize your blog content. You can use these to create dropdown menus for a reader to easily and quickly find the topics they're interested in. Do you write about fitness, health and food? Each one of these could be a category. Don't over do it though. Too many categories can be overwhelming to a reader. So, choose 3-5 categories and make sure you assign each post to one.
Tags are not meant for organizing your blog, they are meant to be sub or similar descriptions. The best reason to use tags is for people who conduct a google search, or a search on your blog for more general topics that may not be a category, but a sub category. Like Vegan Recipes can be found under the food section of your blog but only by searching for it in the search box.
An example would be if you are writing about a Vegan Lasagna Recipe  (which may be your keywords), but you  realize that people who search for vegan lasagna recipes might also want to see all your vegan recipes. Well, why wouldn't you create a category for vegan recipes then? The reason you don't want to create more categories is  because you write about fitness and health too and you want to minimize and simplify your categories as much as possible. On a fitness blog, you wouldn't want categories for paleo, gluten free, vegan, vegetarian and so on. No. You'll probably just want a category for food or recipes and use these other 'sub descriptions', like paleo recipes, as Tags.
---
Create an optimal blog and Pinterest graphic
It doesn't matter if you're blog is about writing, you'll still want sharable images on your blog or you'll miss out on a ton of traffic through Pinterest and other image rich social media platforms, like Facebook. It's hard to find the time to take blog images – I know. You can always join us on the Rymixer's group and download the  free styled stock pics offered in our Free and exclusive library of resources. Plus, there's a ton of free stock pic websites out there, which I created a massive list of too.
In order to optimize your blog images, make them 700px by 1000px for pinterest. Something smaller can be used for other images as well.
You'll also want to utilize the alt description for every image by typing in your SEO keywords. So, if your keywords are blog publishing, you'll want to type those words in the alt description on your photos – like seen below.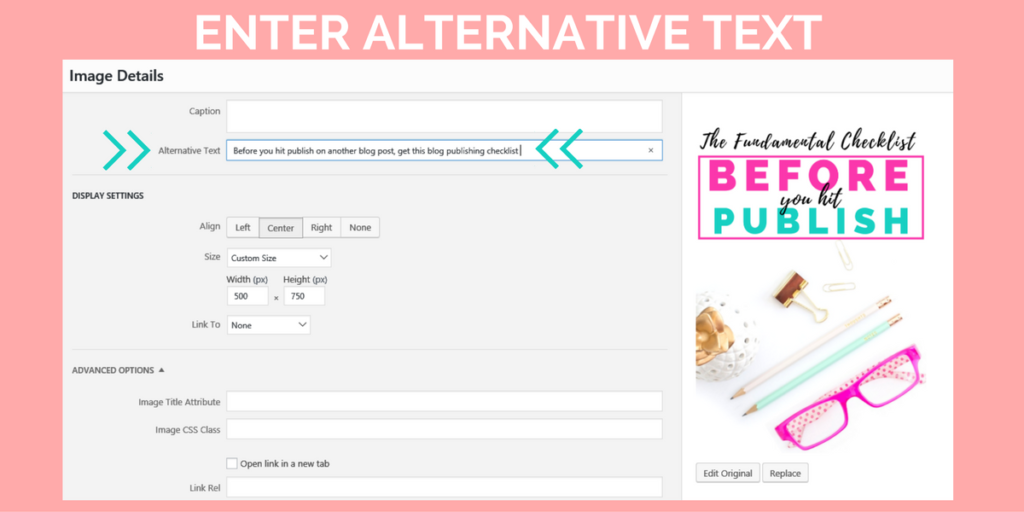 ---
Consider adding a freebie to gain new email subscribers
One of the important things you will want to do with your blog is gather email addresses so that you can share news and new posts with regular readers. So, making sure that you have a place for people to sign up is key. However, adding something that you give to your new subscribers makes it even more enticing and beneficial for them to sign up.
If you haven't done so already, sign up for an email and newsletter manager. I use MailChimp and the best thing is its FREE (for 1000 or less email subscribers). Get your free account here.
You can use MailChimp list manager by copying the codes it gives you into your blog posts, but the easiest thing to do is to link your Mailchimp Account to a Plugin. The plugins I use for this connection are called MailMunch and SumoMe. Get these three elements going (Mailchimp, Mail Much, and SumoMe), and you'll have a super powerful set up for offering freebies and collecting emails.
Check out how I've got this set up by signing up and watching the  welcome email and free resources come to you.
When editing your blog post, before you hit publish, think about something you can offer for free to a reader for signing up. If you are writing about something like a Vegan Lasagna Recipe, then maybe adding a "secret list of vegan baking substitutes" as a free download to new subscribers could be something that gets people interested and signed up.
I've found the best success is when you offer something of true value and substance that takes you a bit of time to create. People can tell when something was quickly put together. They may still enjoy it, but they might not stick around long enough to see what you have next and they certainly wont share it if it's not share worthy.  So, think about what you can offer as a bonus to email subscribers and how it might work with your next blog post.
---
Link back to your other posts
We keep talking about this but it's really something I can't stress enough. Add value to readers so they want to stay and learn more. One way to do this well is by adding links back to previously written blog posts of yours. An easy and natural way to do this is by mentioning it in a sentence that's relevant to your blog post topic. This one is all about what to do when you're ready to publish your blog post, but have you even decided what you're going to write about? Consider these 16 types of blog posts for your next one.   <— See what I did there?!
---
Ensure formatting is consistent
I personally don't read blogs that look haphazard and messy. I like a blog with clean reading pages with lots of white space, consistent font sizes and colors. A good rule of thumb is to keep it simple and consistent! So, use the same font sizes and colors, and format your blog posts as similar as possible to each other to create a "brand experience" for your reader. If you need some more advice and tips on formatting, you can dive deeper into formatting your blog here.
---
Re-read and preview before publish
I am guilt of just hitting publish, going to read it live with the rest of you, and THEN noticing typos and errors.
DON'T BE LIKE ME! haha – I am sometimes impatient when I've been working on one blog post for 2 – 3 days. Once it's even close to being finished, the last thing I want to do is re-read it to check for errors. "Haven't I done enough!!"
So, I've found that if I simply walk away for an hour, then come back to read it, that I have a little more patience and it does help a lot to check your own work for grammar errors and typos BEFORE YOU HIT PUBLISH.  🙂
---
Edit your "Publicize" custom message
If you're blogging on WordPress, chances are you've activated the Jetpack Plugin. If not, I suggest you do it because it comes with some great tools for managing and monitoring your blog.
One of the best features is the Jetpack Publicize plugin. This plugin makes it so easy to auto share your latest blog posts on several social media platforms. It's automatic marketing to help you simplify your social media strategy by taking half the work out of it for you.
As you know, twitter only allows 120 characters. So, if for some reason your title is more than that, you'll want to change the custom message that Publicize creates using your title. In fact, you should go the extra mile and customize a message that seems like a natural sharing of information. So, instead of sharing this post on my twitter saying "The fundamental checklist to use before you hit publish", I might actually modify my custom message for Facebook and twitter to say "Are you a blogging beginner? Before you hit publish on your next post – read this!"
This dropdown is located on the right side of your blog post editor.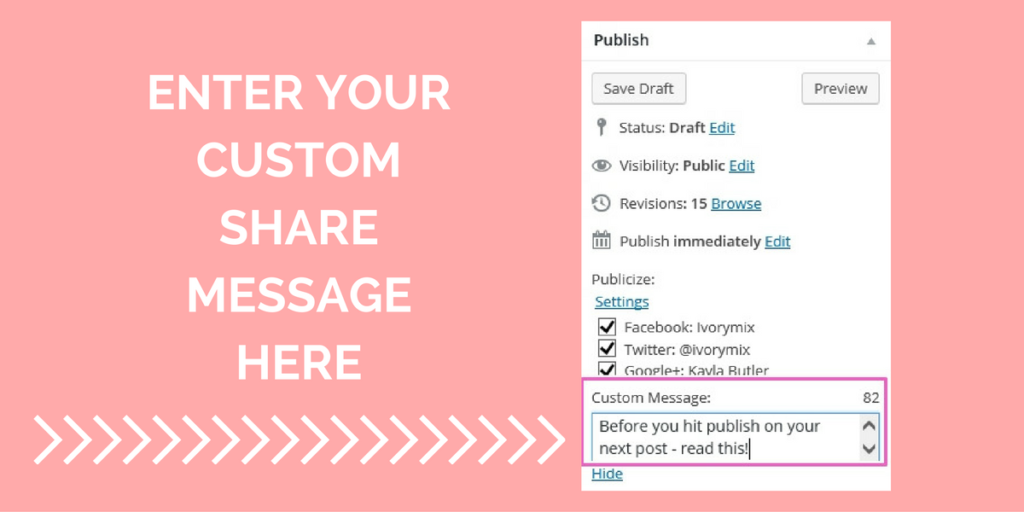 ---
Publish!
Last, but certainly not least – go ahead and hit publish!
You've got your social sharing set up automatically with Jetpack Publicize, and an awesome freebie and way for people to sign up for your newsletters and emails. So, you're already making it super easy to grow your traffic and your blog. But….
There's still more!
Yes, there is still more you can do AFTER you hit publish to further grow your email list and blog traffic. However, I've already written 2000 words here all about what to do before you hit publish. So, instead of writing another 2000 words in this blog post – I've added the complete checklist to our FREE exclusive resources page. I'll also be following up on what to do AFTER you hit publish on an upcoming article that will cover blogging Facebook groups, Pinterest strategies, and more!
Want to get added to the list so you don't miss the post? Sign up here to get all the updates from Ivorymix.com, plus access to our exclusive blogger and creative resources.