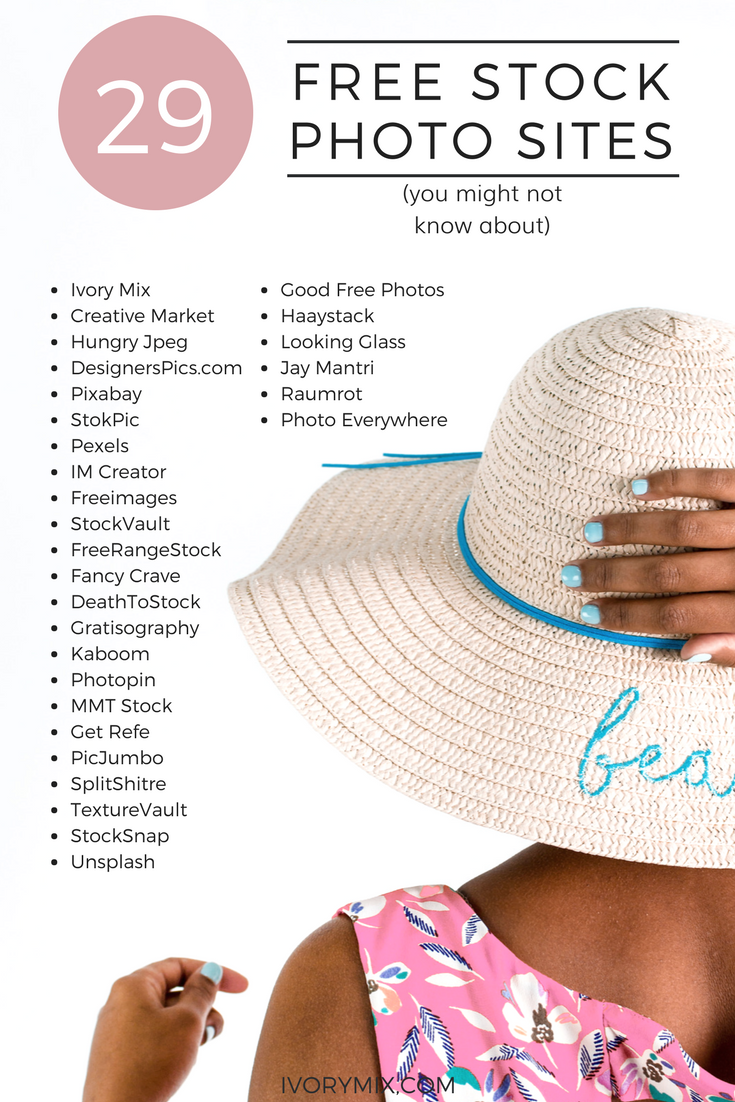 This list of free stock photo websites started at just 14 and has grown so much. There is just an endless number of sites that offer free access to brand design and blog assets from stock photos, graphics and more.
As a stock photographer, I know how difficult it can be to please everyone's unique brand and desired aesthetic. I clearly have my own style that might not go well with someone's ideas for their brand or content. My style is definitely more minimalistic, sometimes vibrant, sometimes quirky and definitely catered towards the online and digital content creator and blogger.
So, it makes sense that someone who is creating a mood board or a brand identity would want to browse many different stock photo sites for the right types of images.
That said, here it is. You massive list of free stock photo sites for your viewing and browsing pleasure!
List of 29 Free Stock Photo Websites:
Now that you have a massive list of websites to choose images from, you may feel a bit overwhelmed and you may be saying
"These are great and all, but my brand is fairly specific. How can I always get images that match my brand without searching for hours?"
Great question! I'm so glad I imaged you asking it 😉
First, you may want to bookmark a few of our articles on how to edit and customize stock photos:
5 Tips on How to Use Free Stock Photo Websites
Number 1 – Keep it simple and limit your website choices.
It's okay to save all of the websites in your favorites folders, but I suggest you pre-screen them all and pick just 1-3 sites that are your favorites and keep them separate from the others so you only goes to those. You can use the others if you really feel you can't find something, but limiting your options will make the selection process go much quicker.
Number 2 – Use your brand's filters.
You may or may not want to filter images, but if you're going for a consistent look, you can easily apply the same filter to all the photos you ever use. This will give your blog and brand a consistent feel and appeal.
Number 3 – Use Canva to upgrade your chosen photos with text and other features and elements that match your brand.
Create a template in Canva using one of their standard sizes or create your own. Make sure to load in your brand's colors and design away. The Graphic I used for this blog post is a picture I took myself, but I used Canva to brand it with my fonts and colors.
New to Canva? Take our free online class for creating graphics here

Number 4 – Use an hour to browse Stock Photos and save a bunch for you to use later.
Imagine if you already had your blog photos saved in a special file and organized just for your topics?! That way you wouldn't have to search through various free stock photo websites on the day you are trying to get a blog post out. Instead, take an hour or so on one day and download as many that fit your criteria as you can. You'll save yourself so much time in the future.
Number 5 – Use photos from the free stock photo websites as inspiration for your own photography.
Not interested in using other peoples photos all the time? You don't have to, but like I said before, it can be difficult to find the time and resources to make photos yourself that are relevant to your brand and website. So, in order to speed up the inspiration process and to give you some fun ideas, consider browsing the free stock photos to help you come up with some ideas.