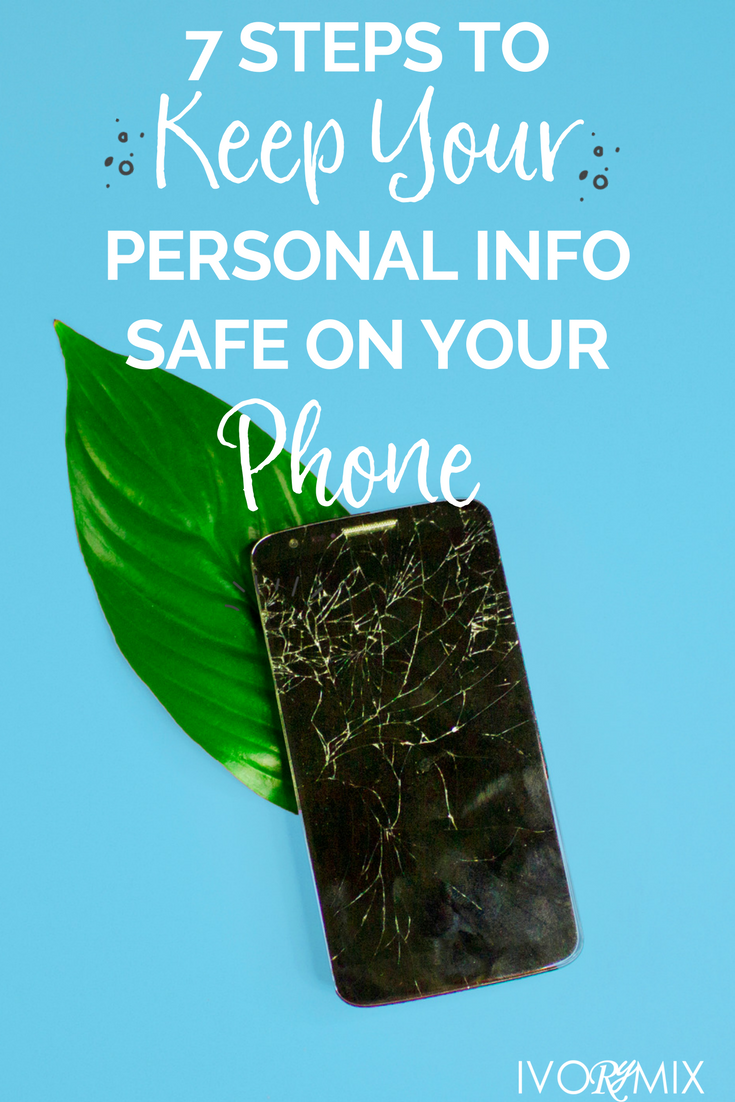 Hello again. It has been a while, but I am back. I enjoyed the feedback I received concerning my previous posting. One thing that was asked quite a lot was if I could share security tips for phones. I was amazed by how many people actually are blogging exclusively from their phones. While a lot of the tips concerning your computer are similar to your cell phone, there are enough little differences to warrant a follow up post. Hopefully you will find a few things that you did not know or give much thought to before that will help you.
I do want to preface this with the fact I will not being including screenshots like I usually do. In our household we have three different Android phones and each one has a completely different layout for the settings menus. With that said, Android phones are all fundamentally the same, so with a little time you can find any settings I may talk about. Also, I am not one for Apple products myself, but each of these tips can easily be applied to your iPhone.
TIP #1
"TRY SOMETHING LIKE UMM, ZEE SIX FOUR, DOLLAR SIGN, EIGHT"
The easiest thing you can do to help keep your phone safe is to set a password. Whether you use a password, pin or use your fingerprint to unlock your phone, this is your first line of defense to keep prying eyes away from your data. Both Android and iPhones will have various ways to lock your phone, just go into your settings and look under security. If you use a password use something that others will not easily guess and try to use a mix of letters, numbers and symbols. (ex. P@ssw0rd). The same goes for using a pin, try to use something that is not easily guessed such as birthdays or any other important dates.
TIP #2
"I KNEW WE'D NEED A BACK UP PLAN. THE BOAT WAS ACTUALLY PLAN C."
Keeping your data safe does not always mean keeping it safe from others. Sometimes you need to keep it safe from accidental loss. Most phone manufacturers have built in software that will back up some of your data such as your contacts and images. You may also use apps such as Dropbox or iCloud. Not only will this assure you do not lose this data, but you can then access those items from other devices as needed.
Related Post: 7 steps to make your computer faster, today
TIP #3
"OK, HERE ARE YOUR CREDENTIALS. YOU'VE BEEN GRANTED LEVEL THREE SECURITY CLEARANCE. DON'T GET EXCITED, THAT'S OUT OF 20."
Some people think that free Wi-Fi is one of the best things since sliced bread. Personally, I use the same rule about it I have for public restrooms. I do not use it unless I REALLY need to. To be fair not all free Wi-Fi is bad. The truly open ones, the ones that do not require any sort of sign-in or password are the ones to try and avoid. On these 'open' connections, your data can be at risk from what is known as a 'man in the middle attack'. There can be individuals that are intercepting the data being sent between your device and the network you are using, and you would never know they were there. Best rule is if you need to use public Wi-Fi, try to use one that you need a password for. Some restaurants will print a unique password on your receipt. This is not 100%, but it tends to be a more favorable option.
TIP #4
"FAX? WHY DON'T YOU JUST SEND IT OVER ON A DINOSAUR?"
I am sure you have received that weird text message that has you trying to figure out who sent it. Usually, they tend to have some sort of link in them and much like with strange emails, DO NOT CLICK THE LINK! If you do not know who is sending you this text, do not take the chance and just delete the text. These texts tend to be someone trying to phish you and get your personal data. Or the link will take you somewhere and will install some sort of malware on your phone. It is always better to err on the side of caution rather than put your phone and personal data at risk.
TIP #5
"GIFT BASKETS ARE…THE ESSENCE OF CLASS AND FANCINESS."
Another way you may be exposing yourself to threats is where you download your apps from. You should only download apps from either Google Play or Apple's AppStore. It may be tempting to download a cool app you found on the web, but along with that app you could be downloading a Trojan Horse giving someone access to your phone and everything on it. The good thing about Google and Apple's app stores is that they are vetting the apps on their stores. Yes, sometimes some malicious app make it on there, but thanks to the community, they do not last long. On Android phones you can block those unknown sources. Just go into your settings and then to your security and make sure the option for Unknown Sources is unchecked.
TIP #6
"WE DO SAFETY TRAINING EVERY YEAR, OR AFTER AN ACCIDENT."
Much like the backup apps, most manufacturers also pre-install anti-malware apps on your phone. These apps will alert you to any malicious programs that have made it past all your other lines of defense, quarantine them and help you rid of them. There are companies such as Malwarebytes and Kaspersky that make free apps you can download to your phone if you are unsure if you already have one or not.
TIP #7
"NO ONE STEALS FROM CREED BRATTON AND GETS AWAY WITH IT!"
Not many things feel worse than realizing you forgot your cell phone on the table at Starbucks or on the treadmill at your gym, then returning to find it already gone. If this happens to you, not all is lost. On Androids you can download an app called Android Device Manager. With this app, if your phone is lost or stolen you can track down your device using its GPS signal. If you are still unable to retrieve your phone, you can use the app to remotely wipe all the data from it so that no one else can access it. iPhones have a similar app called Find My iPhone that does the same thing.
Well I hope these tips are helpful in keeping your phones safe and secure. That way you have the peace of mind that your data is safe and can focus on your blogging. If you have any questions about anything in this post or have a topic you would like to see me cover, feel free to reach out. Until next time, happy blogging!