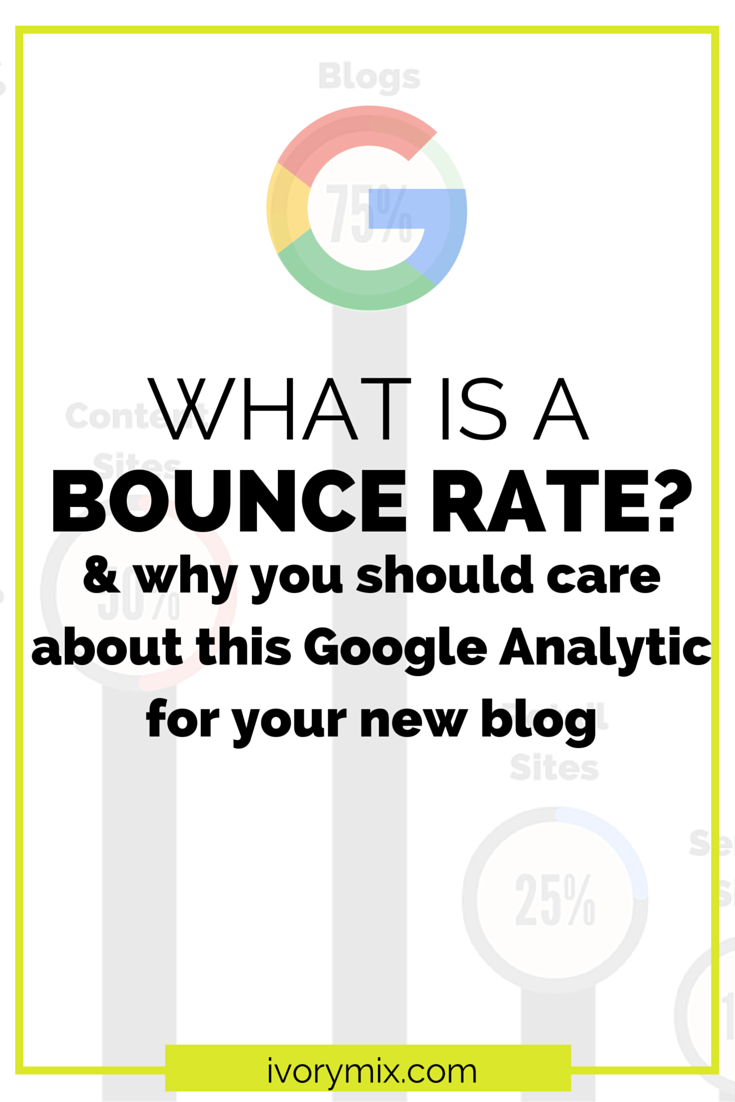 So, you're fairly new to blogging but still feel that you've figured quite a lot of things out on your own. Honestly, you deserve a good pat on the back! Blogging can difficult once you get all the active components going, from writing content, creating graphics, organizing your web design, and linking your social media. Despite all of your really great effort though, there is this thing you should be focusing on called a bounce rate.
What is a bounce rate?
Bounce rate is a percentage reflecting how quickly visitors are interacting with your site and leaving.
If you haven't done so already, go and get yourself set up with a google analytics report for your website here.
To calculate your bounce rate , google divides the number of bounces by the total number of site visits during a certain period, and multiplies that by 100. For example, let's say your site gets 1,000 visits in a 24-hour period, and 300 of those are bounces (the leave after hitting just one page). Your site's bounce rate would then be (300 ÷ 1,000 × 100 ) = 30%.
Why is a bounce rate important?
You're probably saying "Why should I care? At least I'm getting traffic on my blog!"
Yes, this is true, but don't you want to keep that traffic and turn them into email subscribers, clients, or customers? If you're selling products, you probably want them to buy something – right?  If you're monetizing your blog with ad's, you probably want them to click on something – right? How can either of those things happen if they don't stick around and click around on your blog?
So, what can you do to lower your bounce rate?
Stop trying to get as many vistor's to your blog and focus on quality! Remember that having a large number of viewers doesn't really matter if you don't get people to do the thing you need them to in order to engage with your reader, bring in business, or to make money from ads.  So, you truly want to focus on only getting quality views on your blog.
By quality, I mean getting just those people who find you and your blog naturally and organically. These quality readers are going to be people who have found you through a Pinterest search, have liked your posts on twitter because it was relevant to them, or have searched for something you know about on google. These are just a few examples, but I think you get the point.
That's not all though. Having a functional website that is simple and easy to navigate will also help new readers find their way around. Once they are on your website, you'll want to provide them with the content that they're looking for and provide opportunities for them to learn something or click on another link that they might find relevant to the reason they were on your blog to begin with. So, let's summarize how to lower your bounce rate:
#1 – Attract the right kind of readers and new visitors
#2 – Increase functionality of your blog and make it user friendly
#3 – Have killer content that visitors can't get enough of
#4 – Provide multiple reasons and ways for a reader to click around your blog

Ivorymix has an average bounce rate of 62.7% right now. Some days it's high and some days its low.
Why does it fluctuate?
It fluctuates because I do different types of promotions on different days. You'll see in the image below that one day we had a bounce rate of 85% and then the next few days we had it below 50%.
What was going on?
Well, on the 85% bounce rate day, I participated in link sharing on some Facebook groups. It's not unusual for people in these groups to click on the link you shared, skim it, then bounce.
The next day, when our bounce rate was below 50%, was a day we launched the free stock photos. Yep – giving away free stuff made new visitors click around a while. New readers were interested in what this free offering was all about and I noticed a huge amount of clicks and much longer session times!
So, what's the lesson?
Attract the right kind of visitors and then give them what they are looking for in a simple and user friendly way.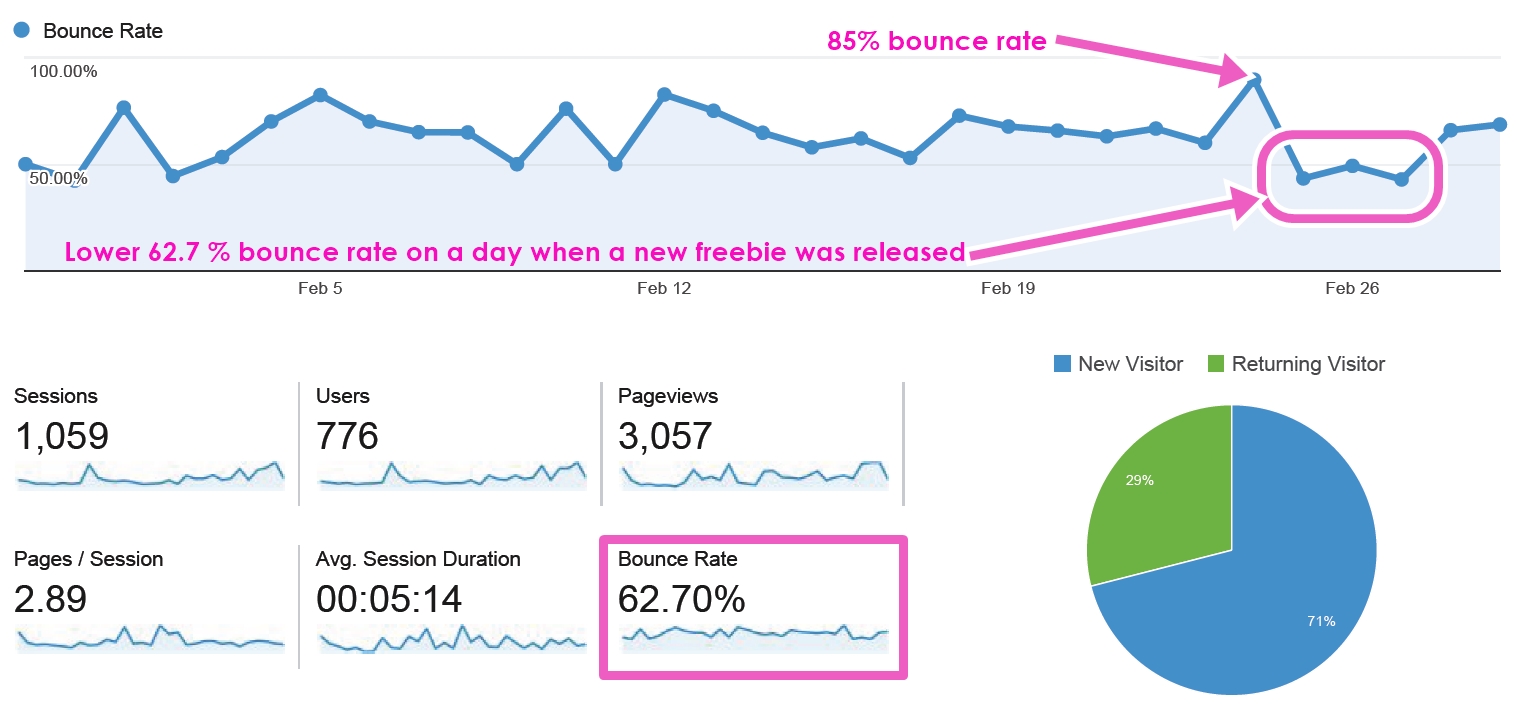 What should your bounce rate be?
You're always going to have some bounce rate but depending on what type of site and blog you have, the typical bounce rate expectation might be different.
The image below provides insight from google analytics on what an average bounce rate is from different types of sites. You can use this as a guide and a benchmark for your type of blog and website's expected bounce rate. If you are in the range – great! If you're way above the range – you may want to read this next part: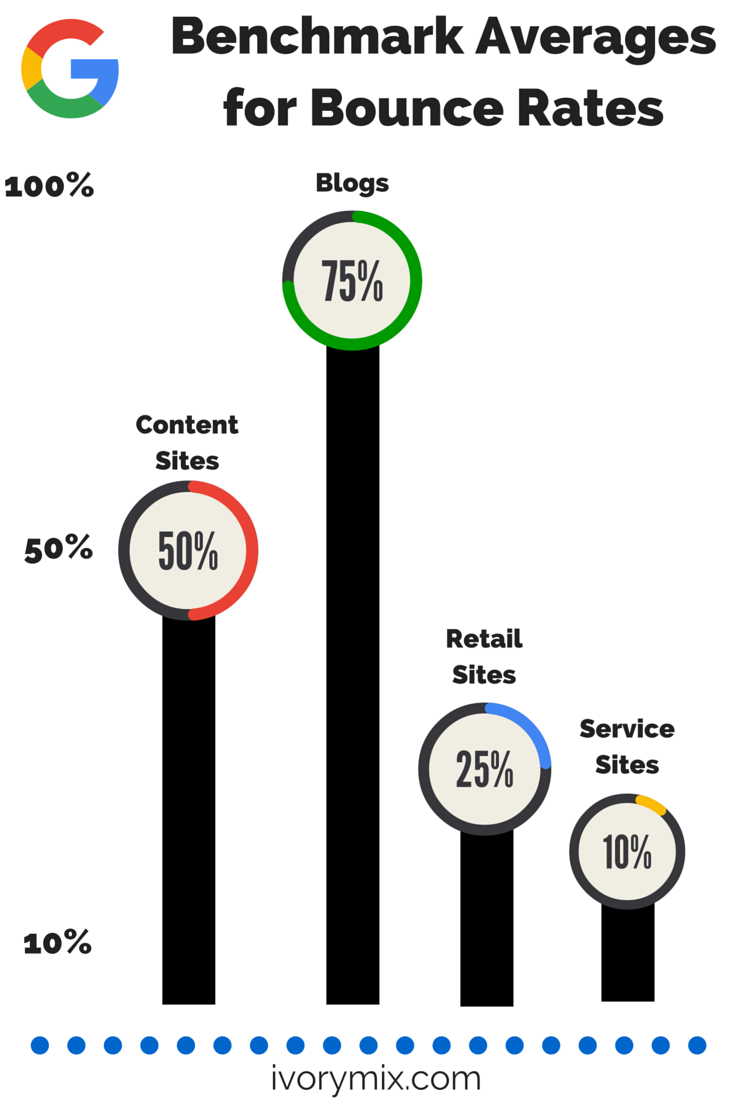 The bounce rate fix – checklist:
Now you should have the basic understanding of what a bounce rate is, why you should care, and what you can do to get it down to a lower percentage in your range. As a new-ish blogger though, I bet you still have some questions about how exactly you're going to attract the right kind of readers, or what qualifies as killer content.
If you're looking to have your blog stand out and to keep visitors a little longer, I've included a checklist for download here that will help guide you through the things you should be doing to reduce your bounce rate. If you're really wanting to turn this blog thing into a money maker, you'll want to download this checklist so you can turn that blog traffic into more engaged readers!