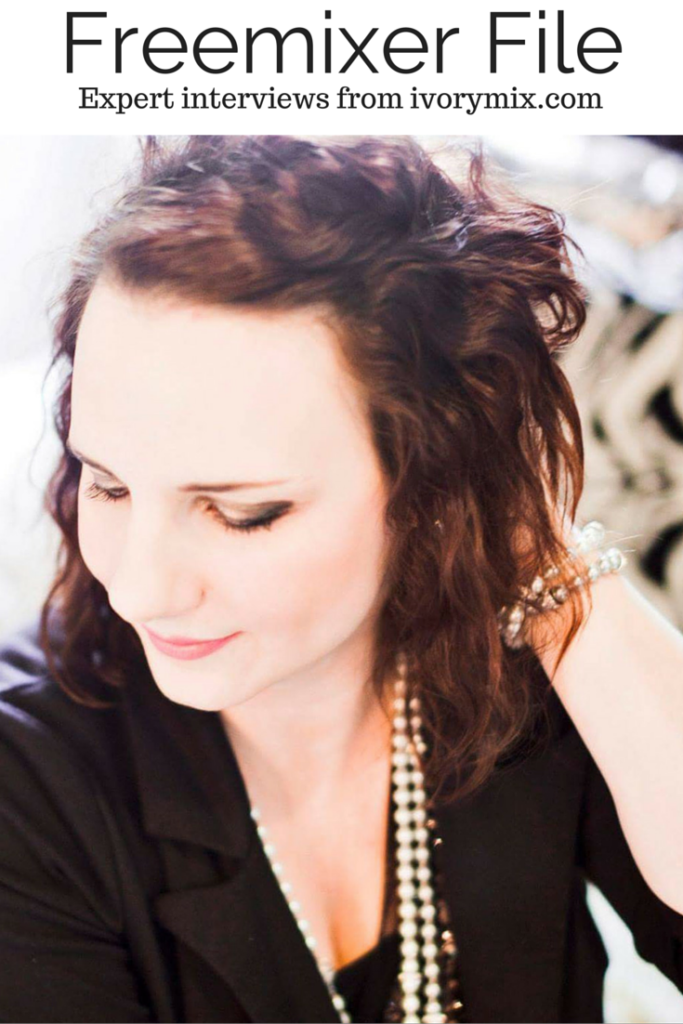 I thought I was busy with 3 kids, a career, Business school, and building something for myself online, but – HELLO?! – I was wrong. This interview your about to read is with Vanessa, a career woman, Blogger, Entrepreneur, Coach, oh – and mother of 5 daughters.
Five daughters is a full-time-job and I give this #LADYBOSS much respect, because she has her work cut out for her every day! If you're thinking about, or just starting your business, you'll want to read some of her tips for starting with a bang (HINT! Get your networking face on, because you actually have to talk to… people).
---
Vanessa, a lot of Ivorymix Readers are bloggers on the verge of starting their own business and I know you have a few things going on. Can you tell us more about what kind of businesses and blogs you have?
I am a Divisional Merchandise Manager for Chloe and Isabel Jewelry in NYC. Basically I on board, train, coach and motivate over 200 at a time, in the country. This is my full time job from home which is amazing! I create initiatives, education and more for merchandisers throughout the country. On the side, I obviously love the jewelry so I also have a ton of partnerships locally with wedding vendors and entrepreneurs that I am able to style and accessorize for fashion shows, magazines and more. I also have a degree in life coaching so I focus again on female entrepreneurs and busy moms or women who need success and life coaching. My blog is connected to my website www.vanessakromer.com, where I blog about business tips, life, entrepreneurship and more!
I love the confetti header of your website, it's so fun! Where do you get your designs, graphics, and images for your blog and business?
Thank you! I am very happy with my branding and design all done by http://www.ashleyandmalone.com. I chose them after multiple interviews and phone call with other designers. I just fell in love with their style and final products. I put 100% of my trust in them to design the entire space. After months of mood boarding my favorite colors, designs and more, Ashley finalized the logo and web design and colors. I was more than pleased! Her husband works the back end and puts the actual website together. I had them do the entire thing so I would know it was done right! And it was!! My professional pictures came from http://scarlettlovesstephen.com. I have worked with Scarlett before, she actually shot our wedding years ago. She nows focuses on seniors and business women so I knew she would get my images just right!!
As a busy person that you are, how do you stay sane and what's your daily routine like?
I am very busy! I also have 5 daughters!! We keep a very tight ship around here and a strict schedule for everyone's sake and benefit. I am huge on routine so during the week I work from home. I set timers in the kitchen and on my cell phone to keep me on track. I also book everything in my google calendar so I have all of my day booked accordingly. I am talking even shower time, meals and bus stop runs! This way I never book a call or an appointment during family time unless it is urgent! I keep my office hours during school hours to be there for my family when they are home. But being that I mostly work online, I love to work on my laptop while in bed or on the couch at night while every one is settling down for the night. I consider my job more of a hobby because I enjoy it so much!
This might be a bit deep, but where do your personal and professional inspirations come from?
I am a constant student and I am always looking for likeminded women to learn from. To be honest, I get an extreme amount of inspiration from actually helping others succeed. Watching other women tackle goals and accomplish things they thought they could not brings me a major joy factor that is hard to explain unless you have sat back and watched it yourself. My clients and those I work for bring me daily inspiration and joy. I also get a lot while learning from other big names like taking Dale Carnegie courses, online courses for social media, B School,  blogging and more. Who wouldn't be inspired by them??
Like I mentioned, many readers of Ivorymix are new to online businesses and blogs, can you tell us how you approach blogging and business online? How do you meet new clients?
Social media is huge for me. I do a lot of networking on Instagram. I love to direct message other bloggers as well as comment on and/or repost their grams. I am also involved in a lot of networking groups locally in my town. It helps to get your name out there. I also recommend a press release to your local magazines and news stations. Or submit a few article ideas to local reporters and journalists. I think the biggest thing starting out is to stay organized, make sure you have a plan when going in to your website and blogging. Do your research, there is a ton of information and tips out there for bloggers and female entrepreneurs. Also, getting a success, life or business coach is great in the beginning as well. He or she can make sure you have your eggs in your basket and that you have a clear vision and strategy for your brand and routine.
Can you tell us something that people might not know about you, but that you don't mind sharing?
One thing people may not know is that I do not know how to swim. And I live in Florida!!! AHHHHHH. It is actually been a joke in my family for years while growing up. I am from the suburbs of Detroit so swim lessons really weren't a necessity and once I got older obviously I could swim in a pool or at the beach just fine. BUT I really do not know how to actually swim or float. I am assuming I would drown quickly if stranded on a sinking boat. But no worries, all my kids are trained and are excellent swimmers so really I blame my parents for my lack of swim knowledge. LOL
So Vanessa, what does the future hold for you?
My future is full of possibilities! I am always searching for new growth and new opportunity! Anything is truly possible! I hope to be doing what I am doing now but even better and bigger!
Last but not least: What's your favorite blog that you follow and can't get enough of?
My favorite blog is actually Hello Gorgeous by http://angelalanter.com. I simply adore her and love her blogs, posts and youtube videos. She is super fun and sweet!
---
You can connect with and learn more about Vanessa Here
You can also find her on Instagram and Twitter too