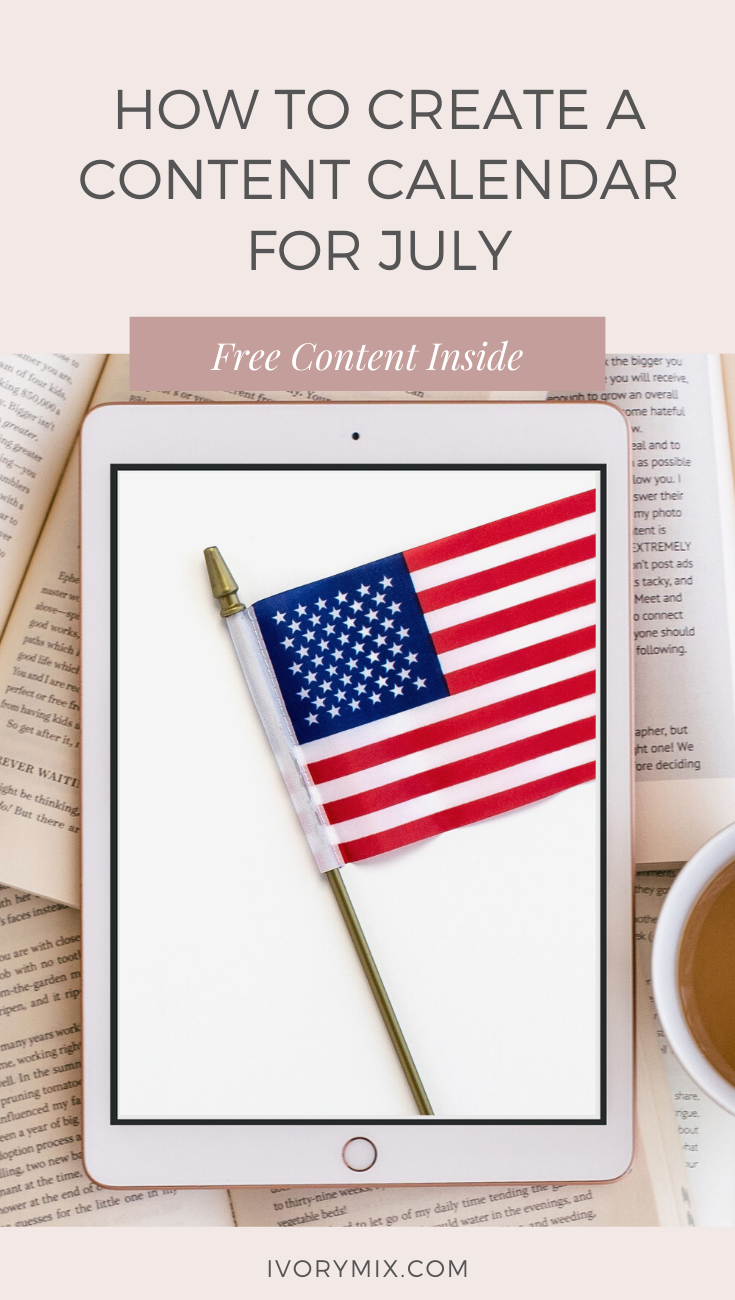 Do you feel like you're reinventing the wheel every month when it comes to creating content for your biz?
You know if you want to stay at the top of your audience's mind, producing engaging content is a must, but the pressure to crank it out month after month can be overwhelming and exhausting.
You need an easy way to map out your own monthly content calendar that won't cost you hours of your life.  
Take heart, you don't have to dread creating your monthly content calendar.  I've done the dirty work by researching and compiling this collection of organized content ideas for the month of July, saving you precious time. 
In order to maximize engagement, choose topics from this post that will resonate with your specific audience. Browse through the following social media post ideas, take note of those that will speak to your followers, and tweak them to vibe with your brand and voice. 
THE MONTH OF JULY
Summer's in full swing, the kids are out of school, and parents are looking for activities to keep their kids busy and give them a sense of normalcy in these unprecedented times. July 2020 is a great month to slow down and just have FUN. With most travel and social gatherings on the back burner, it may not look like your average July. Even so, there are plenty of safe celebrations you can add to your content calendar to inspire and engage with your audience. 
From weird, obscure holidays to world-wide celebrations — we've got you covered!
GENERAL THEMES FOR JULY
We've handpicked these monthly themes that are perfect for including in your July content calendar. Use these ideas to kick off giveaways, promotions, sales, a blog post series, and more:  
Summer Holidays: The Fourth of July 
Summertime Fun: Pools, Parks, Beaches
Summer Fashion: Swimsuits and Beachwear
Summer Projects: Home Improvement and Outdoor Living
Summer Food: Ice Cream, Picnics, and Grilling
Stay Safe this Summer: Sun and Water Safety
MONTH-LONG OBSERVANCES FOR JULY
Check out these July observances to see if any will especially resonate with your audience. Use these content ideas to motivate, encourage, and build unity around a particular cause:
Anti-boredom Month — It's the dog days of summer, and if you're not careful, boredom can set in. Encourage your audience to find ways to combat boredom by trying new things and creating new fun memories.

 

Family Golf Month — Encourage your readers to get outside and try their hands at golf. It's the perfect outdoor, social-distancing sport for the whole family!
Fourth of July —  As American as apple pie, Independence Day is no doubt the most celebrated holiday of summer. Delight your audience with recipes, quizzes, or ideas for how to celebrate.
National Blueberry Month — Nothin' says summer like fresh berries! Share recipes for pie, muffins, jams and cobbers, and encourage your readers to pick the blue gems themselves by visiting a local farm. 
National Culinary Arts Month — This observance r

ecognizes the professional cooks and chefs who create innovative cuisine for our taste buds to enjoy. Visit a new restaurant or try your hand at creating something special in your own kitchen. 

National Hot Dog Month — Hot Diggity Dog! Use this fun observance to promote recipes for one of America's favorite summer foods. Poll your audience to discover their favorite hot dog toppings.
National Ice Cream Month — Everyone loves ice cream, so grab a scoop, share your favorite flavor with your audience, and ask them to share their favorite, too!
National Park and Recreation Month — Urge your audience to explore their area parks and recreation options. 
Here are just a few examples of images from the Ivory Mix Membership you can use when posting about the above holidays. Click here to learn more about the membership and join the VIP waitlist.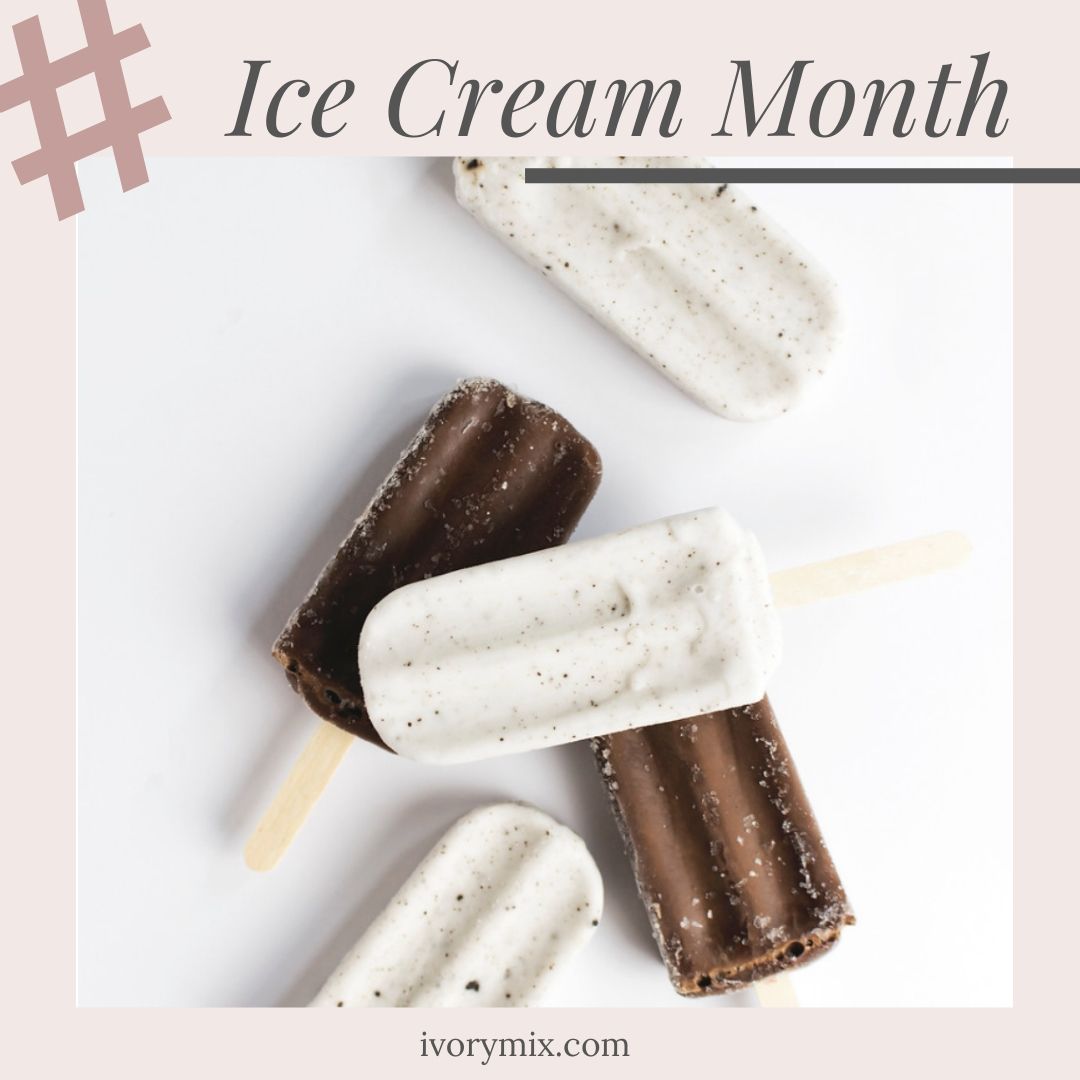 JUNE WEEKLY THEMES 
Create a week-long series of posts featuring these July observances: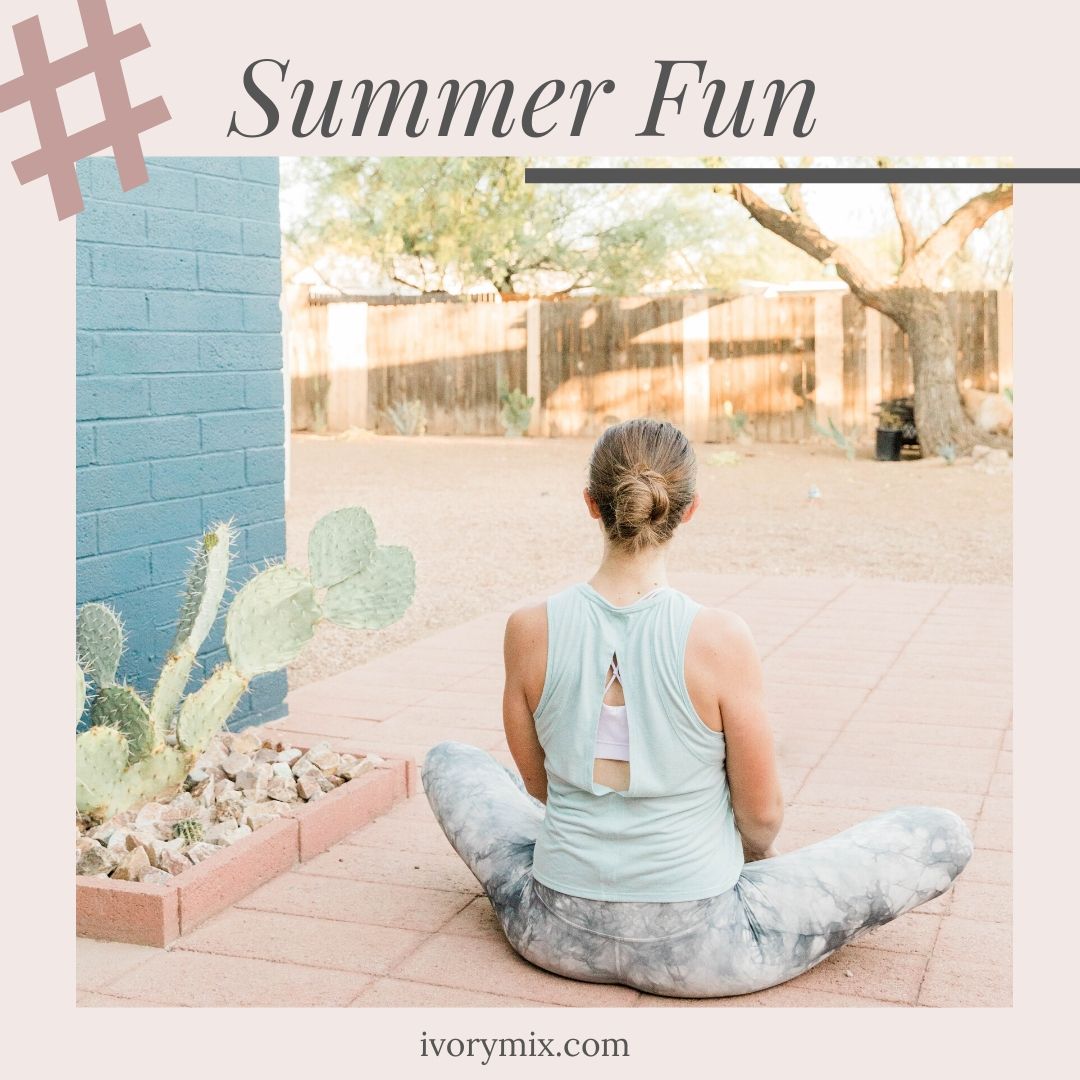 JULY DAILY HOLIDAYS AND HASHTAGS
Infuse a mix of serious and silly observances into your content calendar with daily holiday posts. Choose the ones your tribe will love most and don't forget to include relevant hashtags! Using them will increase your post reach, get your content in front of a larger audience, and boost engagement.
Cheer Up The Lonely Day (1)
#CheerUpTheLonelyDay #cheer #up #lonely #day
Independence Day (4)
#July4th #fireworks #independenceday #firecrackers #usa #summer #whistlers #celebrate #tnt #instafireworks #america #glow #celebration #nighttime #boom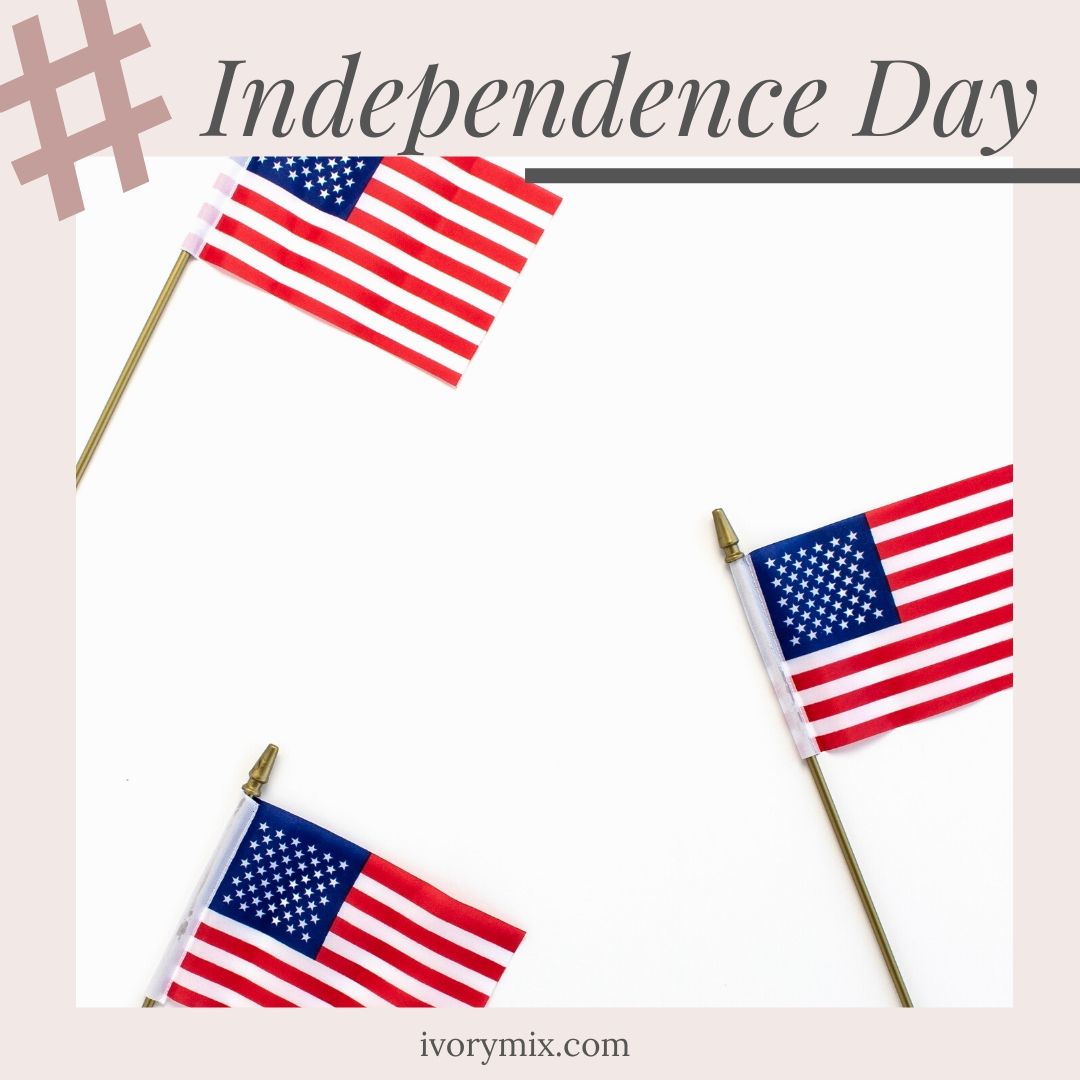 World Chocolate Day (7) 
#WorldChocolateDay #chocolate #dessert #chocolateday #lovedessert #pastry #pastrylove #nuts #chocolatecake #desserttable #chocolatelove #thebakefeed #bakersofinstagram #mood #foodporn #foodie #bakery #eating #goodvibes
World Video Game Day (8) 
#NationalVideoGameDay #nationalvideogameday #gaming #gamer #gamerlife #worldvideogameday #gameroomgoals #nintendoSwitch #xbox #ps4 #pc #fun #gamergirl #videogames #gamefreak #gameconsole
National Pecan Pie Day (12) 
#NationalPecanPieDay #nationalpecanpieday #dessertstagram #nomnom #nom #foodporn #foodpornshare #instadesserts #pecanpie #foodpost #piesofinstagram #foodblogger #pie #pecans #foodie #desserts
Give Something Away Day (15) 
#GiveSomethingAwayDay #follow #like #followback #likeforlikes #photooftheday #photo #love #friendship #friendsgiving #giveaway #likes #foodphotography #edits #loveyourself #lovestory #photography #likeforfollow 
Get To Know Your Customer Day (16) 
#GetToKnowYourCustomersDay #socialmediamarketing #gettoknowyou #gettoknowme #whodoyouknow #tagsomeone #tagafriend #onlinemarketing #lemmepostdat #femfeed #biztips #communityovercompetition #marketingtips 
World Emoji Day (17) 
#WorldEmojiDay #emoji #emojis #emojiparty #emojiart #cute #love #cool #follow #fun #emojilove #emojiworld #smile #emojiforemoji #emojilife #emojicake #emojigrid #emojiface #emojisinthewild #emojipop #emojicookies 
National Hammock Day (22)
#NationalHammockDay #nationalhammockday #hammock #metime #relax #relaxing #adventure #adventureawaits #hammocktime #camping #nature
National Milk Chocolate Day (28)
#NationalMilkChocolateDay #nationalmilkchocolateday #chocolate #milkchocolate #chocolatesauce #chocolatechips #brownies #chocolateday #happychocolateday #chocolatelove #chocolateoftheday #ineedchocolate #craving #chocolatecraving #cravingchocolate #chocolateporn  
International Day of Friendship (30) 
#DayOfFriendship #dayoflove #schoolyear #playlearnandgrowtogether #schoolisfun #preschooleducation #kids #preschoolkids #kidsankara  #preschoolactivities #parentinvolvementday #loveforfriends #parentinvolvementactivity #travelfriends  #holiday #dayoffwork #friendship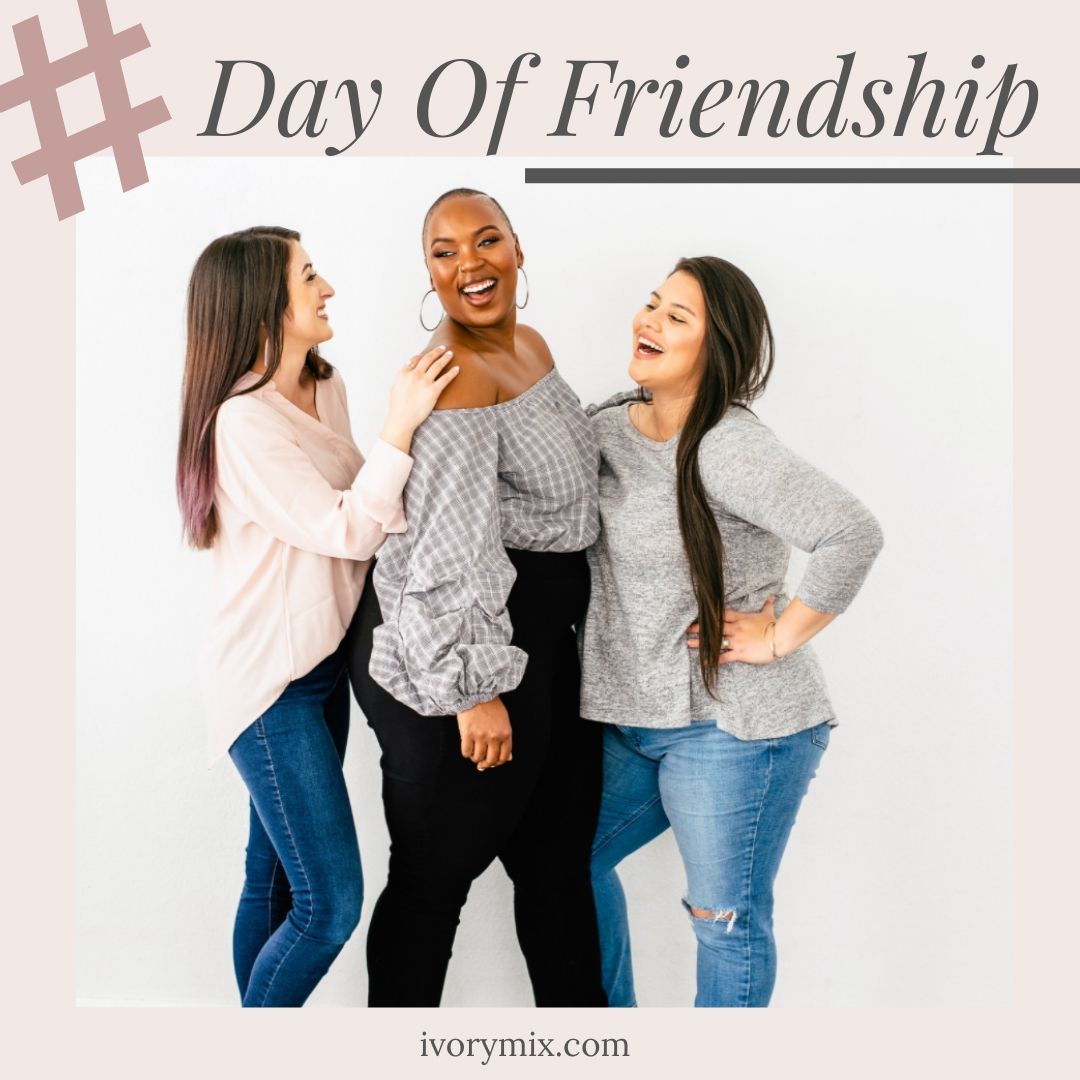 Here are just a few examples of images from the Ivory Mix Membership you can use when posting about the above holidays. Click here to learn more about the membership and join the VIP waitlist.
WANT EXCLUSIVE ACCESS TO OUR STUNNING STYLED STOCK PHOTOS AND EASY-TO-CUSTOMIZE CANVA TEMPLATES? 
If you're a VIP member at the Ivory Mix, you get access to these pre-formatted and styled templates for your business! Simply place styled stock images from the Ivory Mix library into the template, change the text, and create eye-catching social media images in a matter of minutes. Click here to learn more about the Ivory Mix membership and join the VIP waitlist.

USE THE IVORY MIX, EASY MARKETING PLANNER, TO CREATE CONTENT 10X FASTER
Imagine what it would feel like to have 12 months of content ideas and the captions ready for you to create a new high-converting post each day.
The Easy Marketing Planner allows you to do this quickly and easily.