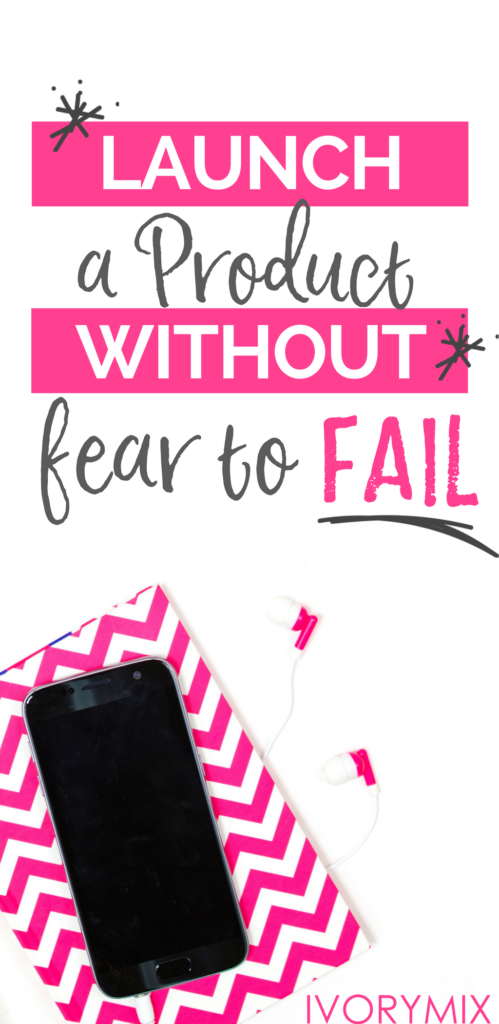 Have you ever felt slightly afraid to start something BIG? Like, launch your first blog, reach out to a big name influencer in your niche, launch an online course, or start a podcast? One thing that helps to get over fear is to realize YOU WILL NEVER TRULY BE READY.
Everything that has kept you from starting has been a lie.
"I'm not good enough"
" I'm not ready"
Be okay with being a beginner
The key to getting over fear and getting out of your own way is to just start.
Convince yourself it's not a staircase to climb, it's one tiny step. After that, it's another tiny step.
If there is one thing my husband, family, and friends will tell you, it is that I do not take direction well. It's not that I don't appreciate someone trying to help me. It's that I am stubbornly independent. Being a beginner at anything is a REAL struggle for me. It's uncomfortable to not know everything.
Even so, being a beginner is a must. In order to overcome our fears of failure or that fear of the unknown, we must simply start. There's quite honestly – no other way. Even if it's just to do it once to test the waters.
When I started Ivorymix, I only had a vague idea of what I wanted to do with it. I knew that I wanted to develop a creative business that would one day lead to my legacy – the thing I leave my children and their children as a memory of what walking in your own passion and purpose looks like. I knew that my plans were small then and that they would grow over time. I knew going into it that it was one step at a time, one foot in front of the other – as a beginner.
Commit to taking the first step
If you have been afraid, I hope that you make a promise to yourself today:
"I promise that I will overcome any doubt or fear I have during this journey by allowing myself to be a beginner and to simply COMMIT myself to following through on the first step to see how it goes"
Once you've completed your test and done your thing once, you'll see that it's not that bad. It's just one step after another. Then, when the next step is complete, you simply move to the next step. Don't look forward. Pay close attention to the here and now.
Once you've tested the waters a bit, how can you find out if your next big step or idea is worth doing – with very little risk?
In it's simplest form, blogging is pretty easy. Write. Publish. Share. Pretty simply, right?
But, you know it's not that simple. You've probably got your hands in developing passive income strategies and sales funnels (or are at least thinking about these things)
But, what about those ideas you have that you've never done before?
It sounds great coming from an experienced blogger. Their story makes complete sense. Their process seems pretty straight forward, but –
How in the heck do you make their process work for your idea and How can you be sure it's even a good idea to begin with?
I know where you're coming from and this is one proven way that I've used to find out if an idea is worth doing. . .
Do the minimum to find out if it's worth doing. .
Create a Minimum Viable Product
A what? A minimum viable product is the idea that you produce something with just enough features or information to learn if it's worth developing further for a larger value.
It doesn't mean you skimp on quality. You simply produce a high quality smaller version of the big thing you really want to create.
Here's an example: You may have a goal to make a big payday from one giant online course. You've heard it's a great way to help a large amount of people and that they can be profitable passive income, but you're unsure if YOUR idea is worth it. You're worried that you'd spend 3 months creating something no one would buy. It's Risky.
So, instead of creating a $100 – $200 – or $300 course, you could create a mini-course for a reduced price.
Ask yourself:
"What is the smallest and highest quality thing I can create that solves a very impactful problem for my audience?"
That means, helping your audience change an area of their life that is meaningful to them. It doesn't have to be this huge earth shattering thing. Just something meaningful.
Then, follow up with your audience by doing Q&A's.
This follow up will allow you the time and the space to ask your target audience more about what challenges they still need answered. This gives you an area to provide more meaningful answers but also gain helpful information on whether you should move forward with your next idea. Not to mention, it gives you more clout and expert status.
NOTE: You can apply the minimal viable product to anything.
Coaching,
handmade products
digital products
So much more. . .
The key to remember is keep this simple and think of it like an experiment. I hope this sheds some light on vetting ideas in a low-risk way. What kind of minimal viable product can you create?
Bonus Step !
Learn to Make Money Blogging For Free from 20 Experts
Would you like to make more money with your blog? There are over 150 million blogs all over the world, and the majority of them are not making any money.
There are a few tips and tricks for getting more traffic to your blog, increasing engagement, getting sponsors, and making more money (even if you don't have a huge following) and I'm glad to be able to share these secrets with you.
In the MoneyMaking Blog Virtual Summit, you will learn from me and 20+ experts and discover the secrets to a profitable blog.
This event is going to be so amazing because we have experts who use their blogs in different ways, so whether you want to
get sponsors

or you want to create courses,

or you want to launch a coaching service
One of the experts will help you with their successful step-by-step process. The Summit is free from April 23rd to April 28th and I highly recommend you register now so you don't miss any of the amazing expert speakers.
Here's the link to register