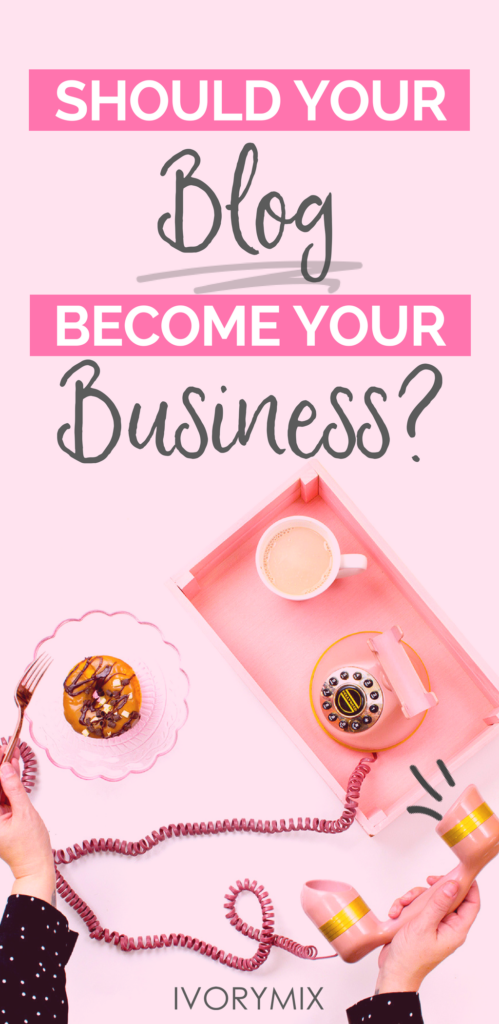 As most bloggers can attest, blogging can be cathartic. When I first started blogging, I couldn't wait to get out of bed every morning and sit at my desk, still in my pj's with that first cup of coffee and my keyboard. Every moment, I was thinking of titles and funny moments and other things that I could share. Blogging was addictive and I couldn't get my thoughts down fast enough. Sometimes even too fast, as I would eagerly press 'publish' and later find loads of mistakes and errors.
I have relayed this story to other bloggers, and many feel the same. That rush of getting a post written, and then publishing it can feel scary and exhilarating at the same time. Like anything that becomes a passion, the next logical step is, how can I do more of this? And how can I make money doing this? Should I make my blog my business?
And that's where things get tricky. Do a google search of how to make money blogging, and you will get loads of results. There are many blogger publishing income reports that have made decent income with affiliate networks and sponsored posts. But as the world wide web gets more complex, there is not one simple way to make money blogging. Rather it is finding the right combination of products and services that you can sell yourself, or generating enough traffic to your own site, that you get enough clicks to make decent money.
In 2014, after a full year of blogging several times a month, I was ready to take the next step and monetize my blog. I had taken a 2 day in-person blogging workshop by some of the best bloggers in the industry. I was armed with what I thought was the right information. I had a discovery call with some web designers that had just complete a lifestyle blog for celebrity Bachelorette Jillian Harris. It was neatly done with a tonne of affiliate links – and 'that's what I want' I told them. 'I want to make a living off of an affiliate income'.
After quoting me a $6000 price for a new website, the designers reluctantly – and thankfully – let me know that Jillian Harris didn't make 'a living' off of her affiliate income. Rather, she made just a few hundred dollars a month from affiliates. (note: this was a few years back, I am sure she must be making more $ now with her social media reach!)
If Jillian, with her thousands of followers was only making a few hundreds a month with affiliates, I realized sadly, that this was going to take much more time and effort on my part to get my blogging business rolling.
Which brought up a bigger question; Should my blog become my business?
It's tough when something you love doing is not an easy road to earning an income. And turning a blog into a business is not a straightforward path. Essentially, to make income from solely blogging content to my own blog I needed to get more people viewing my blog.
Should I make my blog my business?
Essentially, I learned that there are four main ways to earn income as a blogger:
Ads on Your Website – This is ad placement that people pay you to place on your website. These are best used if your traffic is large.
Affiliate Income – Affiliate networks pay you when place a link to their product on your blog and someone clicks a link on their product. Some of the most popular affiliate networks are Share-A-Sale and Amazon.
Your own Saleable Content – This can be a course that you create, something you physically sell like t-shirts, or services like coaching.
Outsource Your Writing – If you are a writer and have blogging down pat, then there are plenty of small and medium sized-businesses that will pay you to blog on their behalf.
One of the course moderators from the Blogging course I took said that she started selling ads on her website when she reached 1000 view a day consistently. She was a very niche market blog  – alternative weddings – so selling ad space made sense for her niche. But getting up to 1000 views per day took her 4+ years of blogging consistently while making an income elsewhere.
So I started down a different path of submitting to other publications to get paid and outsourcing my writing. Through consistent submitting, I landed some pretty sweet gigs and increased the traffic to my website. I started taking on private copywriting clients and writing for a website SEO company. But this took me away from my original goal of making income from my own website.
Blogging for business can be tricky, because many bloggers are great creative writers, but perhaps not as great at building an online business. In order to find the right combination for you to turn your blog into a business, you must go down various paths, perhaps try things and fail and then try other different things to feel out what is going to work for you. There isn't one straight path to turn a blog into a business.
There isn't one straight path to turn a blog into a business
Three things you can do TODAY if you are thinking of turning your blog into a for-profit venture:
Make sure your site looks good – Your website needs to look clean and professional, even if you are doing it on the cheap or DIY. There are plenty of templates, free stock photos, and plugins to help you make your site look and function well.
Highlight your best work – If you have a post that went viral, feature it on your homepage. Do you write for other websites? Let people know. We all have some posts that are lackluster, but show people your best ones first.
Show people where to go – Do you have a freebie to give away or something that can help your readers? Show them where to go with a Subscribe button or a Start Here tab.
It's like dressing for the job that you don't yet have. If your blog is going to become your business, you can start today by dressing the part.
How are you going to turn your blog into your business?
About the guest author: Scarlett Ballantyne is a freelance writer, makeup artist, designer, and business owner. Married with children, she is an active dance-mom of two teenage girls. She writes a blog, That Mom Hustle, dedicated to inspiring moms that balance parenthood with earning a part-time income side hustling. When she isn't chauffeuring kids around, she is passionate about photography, cooking healthy meals and Dancing with the Stars. Scarlett's musings on parenting have been published on Scary Mommy, Urbanmoms.ca and the Huffington Post Canada. You can also catch her sharing musings, parenting funnies and photography on Twitter , Facebook, or Instagram.