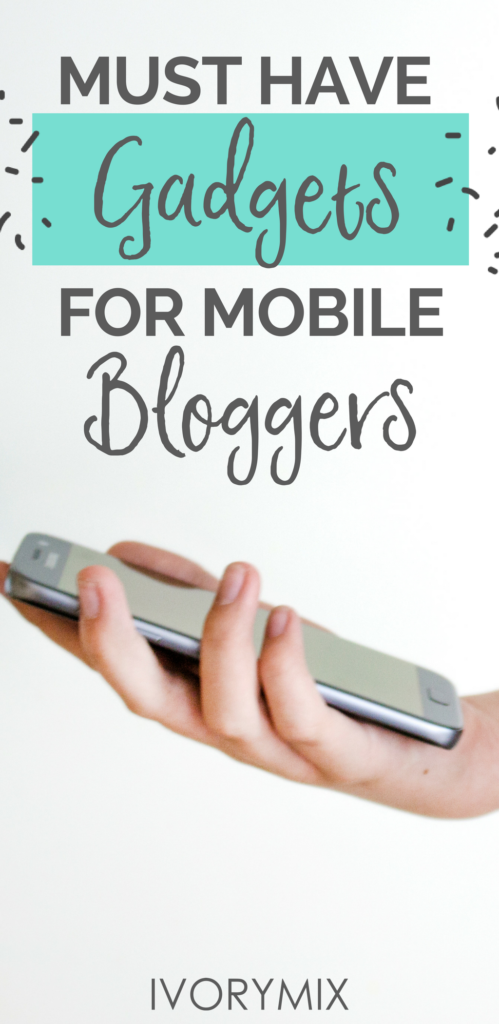 Hello again! It is that time of the year when taxes are due. I know, I am sorry for bringing up that horrible subject, but I do have a purpose in it. Even though it can be a chore to get them done, it also means you may have a few couple of bucks to treat yourself to a few new toys. With that in mind, I will be presenting your with a few "guides" over the next few weeks. This time I will share a few gadgets that can help you in keeping your blogging life a little more mobile.
As Kayla can attest, I do not make very many purchases without doing A LOT of research. I took two weeks of research just to make a decision on the exact television we should get for our kids for Christmas. So, I do suggest that you do research about any of the products suggested below. Ask yourself simple questions about what YOUR needs are for the devices you purchase.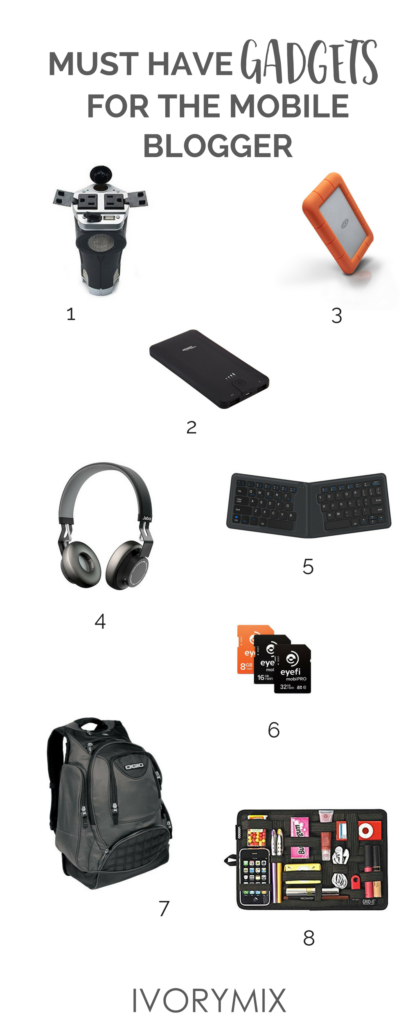 PORTABLE POWER
We have all been there. You have just found the best photo op or you were in the middle of trying to send a text to someone and your phone dies. At that moment, nothing seems like it could be any worse than that. What you might not know is that you have options to keep that from happening. The easiest thing when it comes to your phone is keeping a car charger in your car at all times. What if you are not near your car though? There are gadgets out there that have you covered. You can always just carry your power on you with a power bank (1). There are several brands with just as many power capacities. Some are good for one full charge of your cell phone, others can charge several devices. There are even solar powered power banks that can be replenished as you are in the great outdoors.
Another source of "on the go" power in a power inverter (2) for your vehicle. These are useful when you have something like a laptop or any other device that requires a wall plug for charging. Essentially, it is a device that plugs into your can and gives you a regular outlet to plug into. I have had one for nearly fifteen years that has passed down to each of our cars and has been a very convenient item to have, especially on road trips.
EXTRA STORAGE
Something I tend to touch on in every post I write is backing stuff up. Something I always suggest is having an external hard drive (3). Using one is always good to have a place to keep copies of your important files. Though this is not always the only reason to have one. Maybe you have an older laptop that does not have the space you need for everything you want. And before you ask, "Isn't that what the cloud is for?" Yes, but what if you are somewhere and you do not have immediate access to WIFI? With an external hard drive you always have everything you need at your fingertips. One thing to keep in mind when shopping around for an external drive is not how much space do you need, but how much you MAY need for the future. It is better to buy something that is a little bit too big for your needs now, but will have enough space for later do you do not need to go out and buy another one.
PORTABLE WIFI
Now most of us have cell phones that can be used as a mobile hotspot, but doing so can eat your data so fast. If you are someone on the move a lot while blogging, you may want to invest in a mobile hotspot device. Besides saving your phone's data, it is also a much more secure option over using free public WiFi (the public toilet of the internet, yuck). Most cell carriers offer these and they tend to be pretty inexpensive. Some even offer the device for free, though that includes signing a contract. Carriers will sometimes also give you a deal on service if you also have cell service with them. It is best to shop around and look at your options before just going with your cell carrier though.
HEADPHONES
There are few devices that really depend more on personal taste than a set of Bluetooth headphones (4). Personally, when writing I NEED headphones in order to zone out and just write, especially when I am out and about. Every person I have talked to about headphones seems to have different qualifiers. Everything from price to type (earbuds or over-the-ear) to style to sound quality. There seems to be something for everyone out there from basic twenty dollar headphone to sets that cost upward of five hundred dollars. You just need to decide what features you want and how much you are willing to pay. Just a word of advice a higher price does not always equal a quality product.
BLUETOOTH KEYBOARD
I love my iPad, but I hate the touch screen keyboard I am required to use for it. I recently found this cool portable keyboard that I cannot wait to get and use for it. From iClever, is their foldable Bluetooth keyboard (5). It has full-sized keys and is compatible with iOS, Windows and Android devices. Now I know for some, it not having a numeric keypad is a deal breaker, but someone like myself who NEVER uses that part of my keyboards, I say, "Good riddance!" For being foldable and fully portable, a pricepoint less than forty dollars makes this a must buy.
NOT WIFI, EYEFI!
Now here is another little gadget I just recently discovered and seems amazing. For those of you that do photography with your blogging, this is something that you may want to give some attention to. It is the EyeFi card (6). What is it? It is a sd card for your digital camera that has built in WiFi. Now what it does is it connects to another device such as your smartphone or laptop and it wirelessly backs up the photos you are taking to that device. Making it easier to transfer your photos and making it more immediate that you can edit and share your photos on the spot. They also have a service that uploads your photos to the cloud. Of course there is a fee for that, but it is a cool option. You can visit their site at eyefi.com.
STORAGE IRL
Well now that you have all these gadgets, you will need something to carry them in. Now much like the headphones, this will be more decided by your personal taste. The OGIO Metro Street Backpack (7) is the backpack I have used for the past nine years and I love it. It has been durable and help up all this time and is perfect for lugging around your laptop and various other gadgets. I highly recommend it.
If you choose to go another route and use something a little more fashionable, but still want to keep the inside organized, I have the thing for you, the Grid-It Organizer by Cocoon (8). Essentially, it is a 12"X8" flat organizer covered with elastic straps that lets you organize your smaller devices and cables in any configuration that works for you. It is actually pretty ingenious. Simple and completely useful, especially if you are OCD like myself.
I hope I showed you a few things that you did not know you needed and that they help make your blogging life easier and more fun. Just remember to do your research. Until next time Happy Blogging!
*this article includes affiliate links*