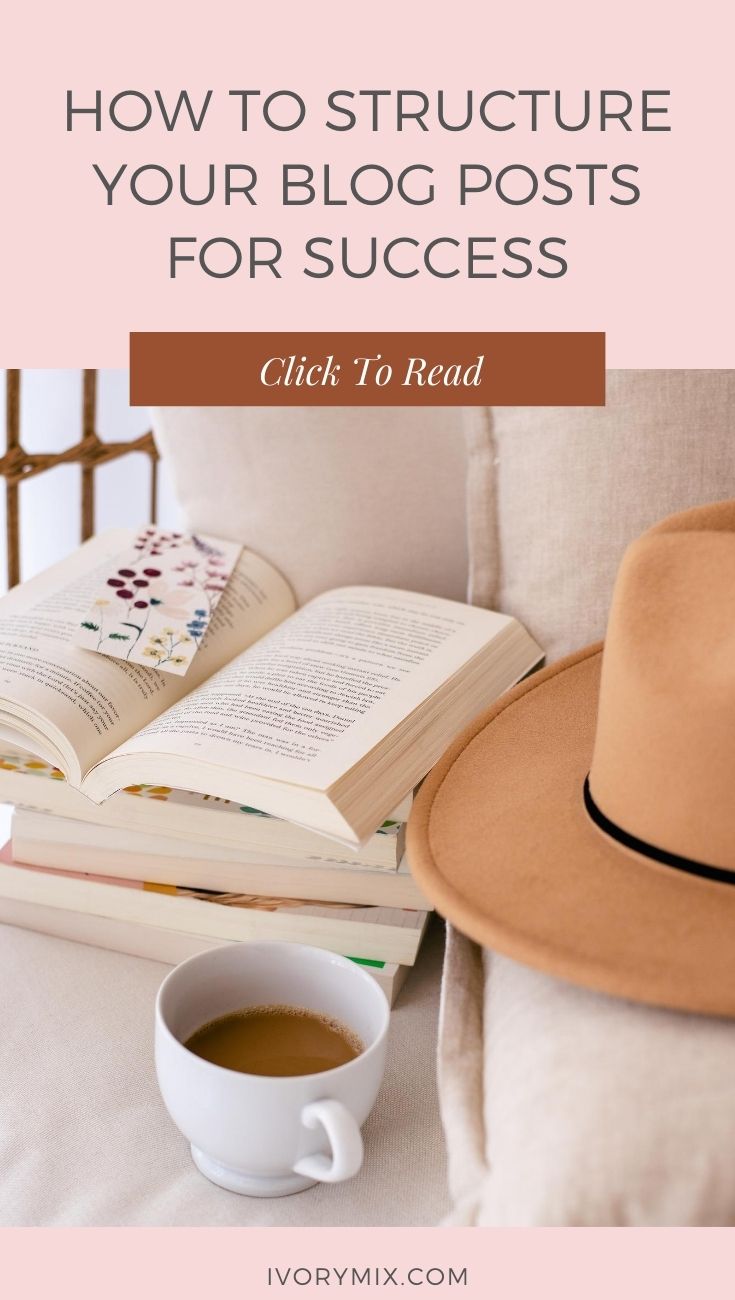 Staring at the blinking cursor on your screen as you attempt to write a blog post your readers will love? 
You know a successful blog is critical to your online business's success. Blogs inspire, inform, and entertain your readers while leading them to the next step in their customer journey. 
But creating a post that contains all of the components it needs to accomplish these goals? That's a tall order. 
Blog posts are complex — they require forethought and structure. With thousands of blogging tips and templates on the internet, it's hard to know which ones to implement when structuring your posts.
In this article, I'm cutting through the clutter and sharing my proven blog blueprint to help you structure your blog posts for success. Your readers will love you for it!
Structuring your Blog Posts for Success 
Get Prepared Before you jump and start writing, take these steps to prepare your content for a winning post. 
Know your audience

. Before you start writing your post, take the time to consider the factors below, as the right type of content which resonates with your audience and is powerful at showcasing your authority and expertise in your niche.

What type of content do they prefer to consume? Will they respond best to longer blog posts, or are they busy readers who need their content quick and to the point? 
How do they read or skim? Will they appreciate lots of on-brand images throughout the post, or do they prefer a minimal format with 1-2 images?
What problems are they currently facing in their business and how can you help solve this through a blog post. If they struggle with time management, then a blog post about time blocking would help your audience.
Make the content relevant by identifying which of your freebies have been downloaded the most. This shows the content inside the freebies are popular with your audience. Take one topic or section of your freebie and develop this into a further blog post.
Look at what content is popular right now in your niche or industry. Use sites such as Keywords Everywhere, BuzzSumo and Answer The Public to find out what your audience is searching around particular topics. This helps you create sharable content, which your audience finds useful and resonates with.
Review your Google Analytics. This will give you insights and data into which blog posts and topics have been most viewed on your site, whilst also showing you which search terms were used to find your content. Use this data and information to create more content for your site. If your top 3 blog posts are all on Instagram, then create more content around Instagram. Maybe even develop these topics deeper.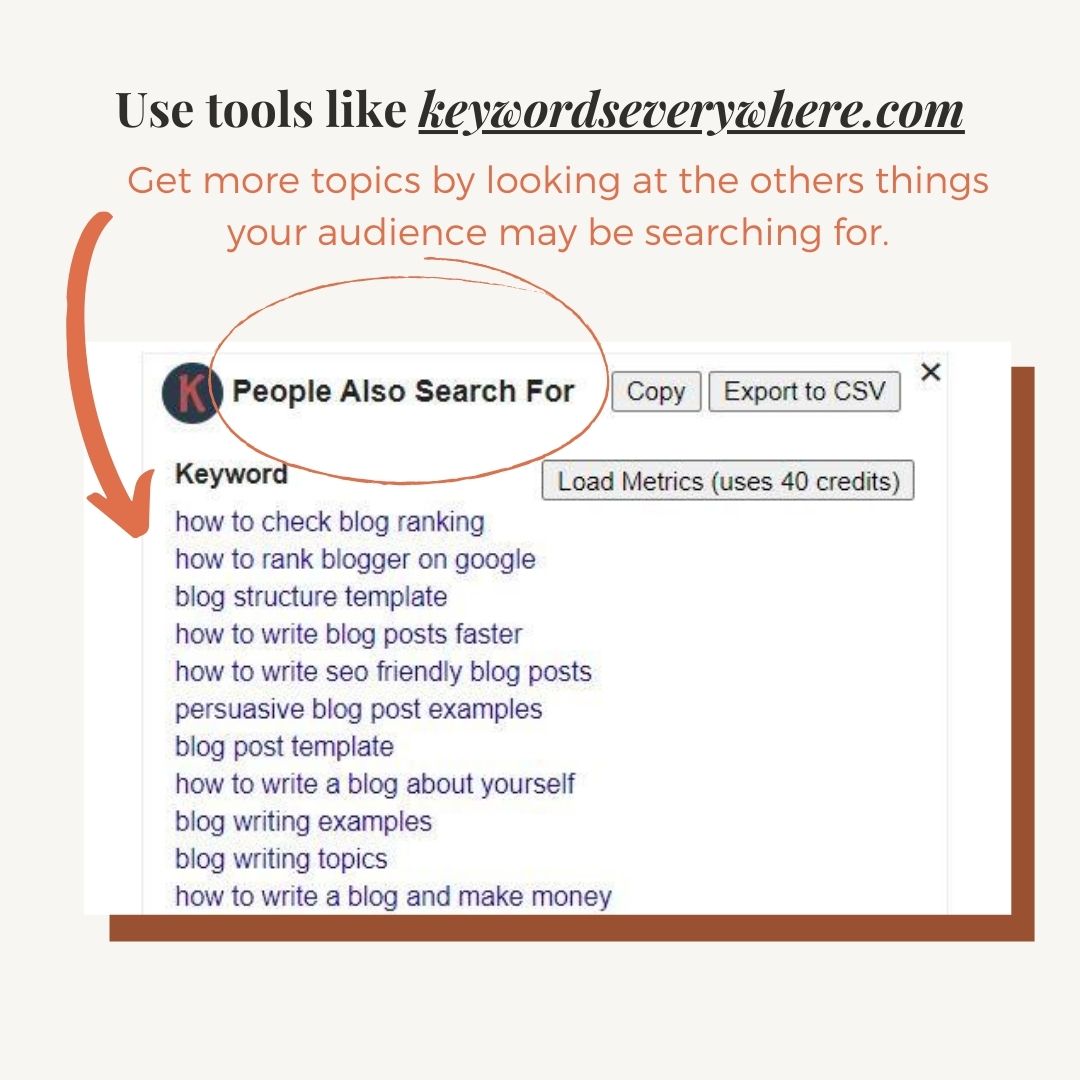 Choose your SEO keywords.

Highlight specific keywords in your post that relate to your niche. Try to include these keywords in several places throughout your post, in headings, and in any meta descriptions so that search engines can work to your advantage.

When used correctly good SEO allows Google and other search engines to drive FREE traffic to your content. When many business owners reach for Google when trying to solve a business problem they have a specific problem in mind, which they are looking to solve with your content.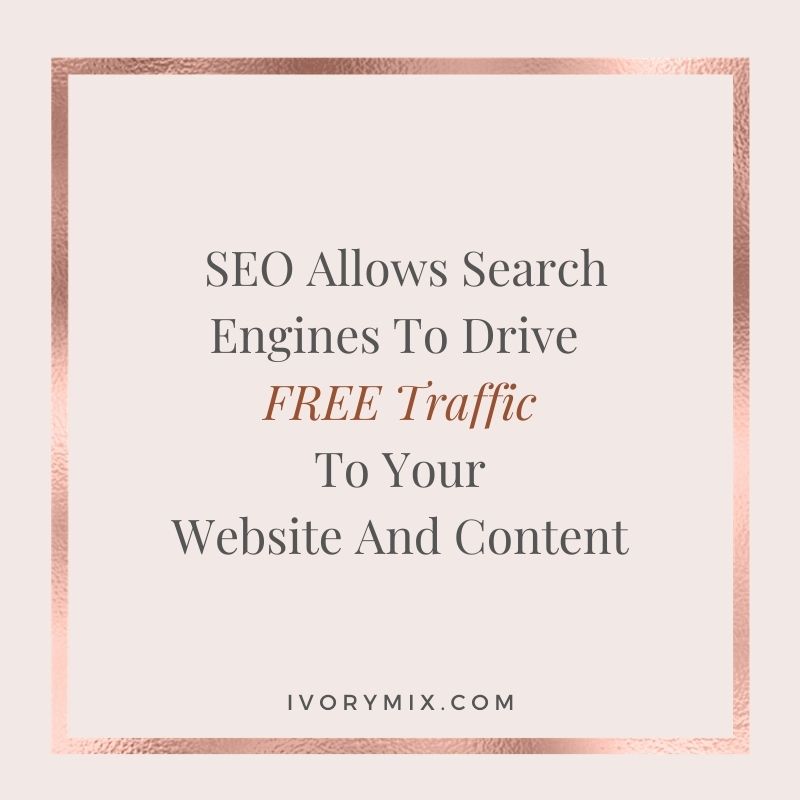 Want to find out more about keywords and why they are important to your business, check out my blog post 'How To Pick Keywords For SEO And Why It Matters.'
Create a blog post outline

. To organize your thoughts, create an outline that includes the main points of your blog post, your subpoints, your call to action, and any extra links you plan to include. This outline will help you stay focused on the purpose of the post and create a flow that moves seamlessly from one point to the next. 
Structure for Success
Breaking your blogposts down into these sections helps with readability and SEO ranking:
A Clear and Catchy Title.

Blog post titles have a big job to do — they must quickly capture a reader's attention and compel them to click. An effective title

sums up the most important aspects of your post using rich keywords. It draws your reader in and convinces them your post is worth their time to read. 
Want to know more about how to write clickable blog post titles, click here to read my post 'Learn How To Write Clickable Blog Post Titles'
On-brand Images.

Blog post images work hand and hand with the title to snag the attention of the reader. Use images that reflect your brand personality and support the content of your post.

Tip: Make sure to add a name and an alt text to your images to improve SEO.
The Ivory Mix membership has over 5000+ styled stock photographs which instantly make a blog post look on-brand and cohesive. To find out more about the membership click here
Just like these styled stock photos which can be found inside the membership.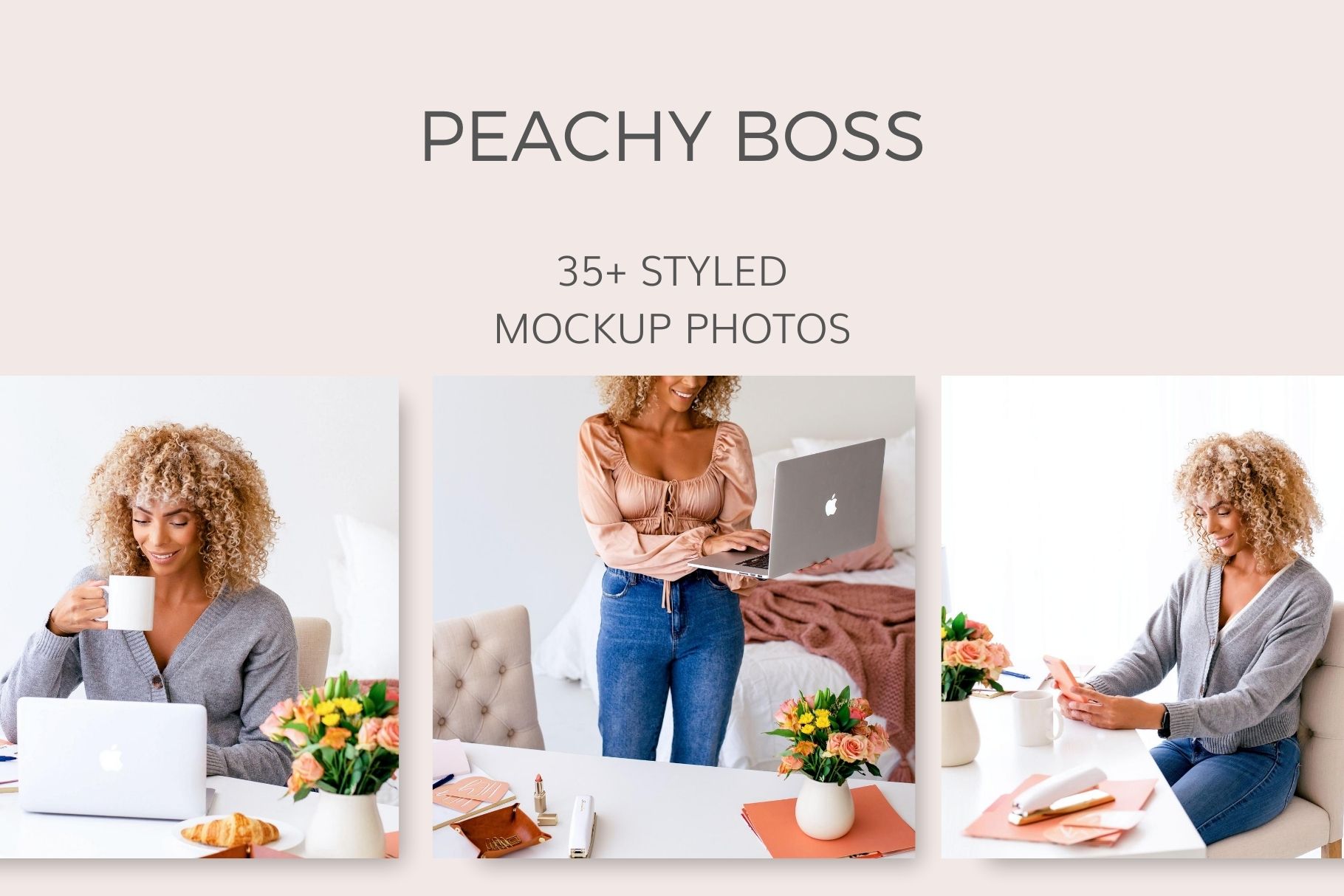 Introduction.

You want your audience to think of you as their biz bestie, so talk to them in your blog post like you would talk to a friend. Introduce your topic in a fun, engaging way by addressing one of their pain points, asking a question, or sharing a relevant quote.

Then tell your audience the life-changing info you're about to share with them in the post, and get them on the hook by hinting at the transformation they'll get by reading all the way to the end.
Clear Subheadings.

  Break up and organize the body of your post with clear, to-the-point subheadings that tell your reader what information is coming next. Many people skim read articles first, so it's important to make the content readable and broken down into smaller chunks.

Conclusion.

Briefly summarize your key points. Now that you've provided them with the right information and tools, motivate your reader to take action and accomplish the promised outcome.

CTA.

 It's time for your audience to make the next move, so give them a clear way to take the next step through your call to action. Do you want them to download your freebie? Set up a 1:1 call? Join your Facebook group? Give them an easy, clickable way to take the next step in their customer journey!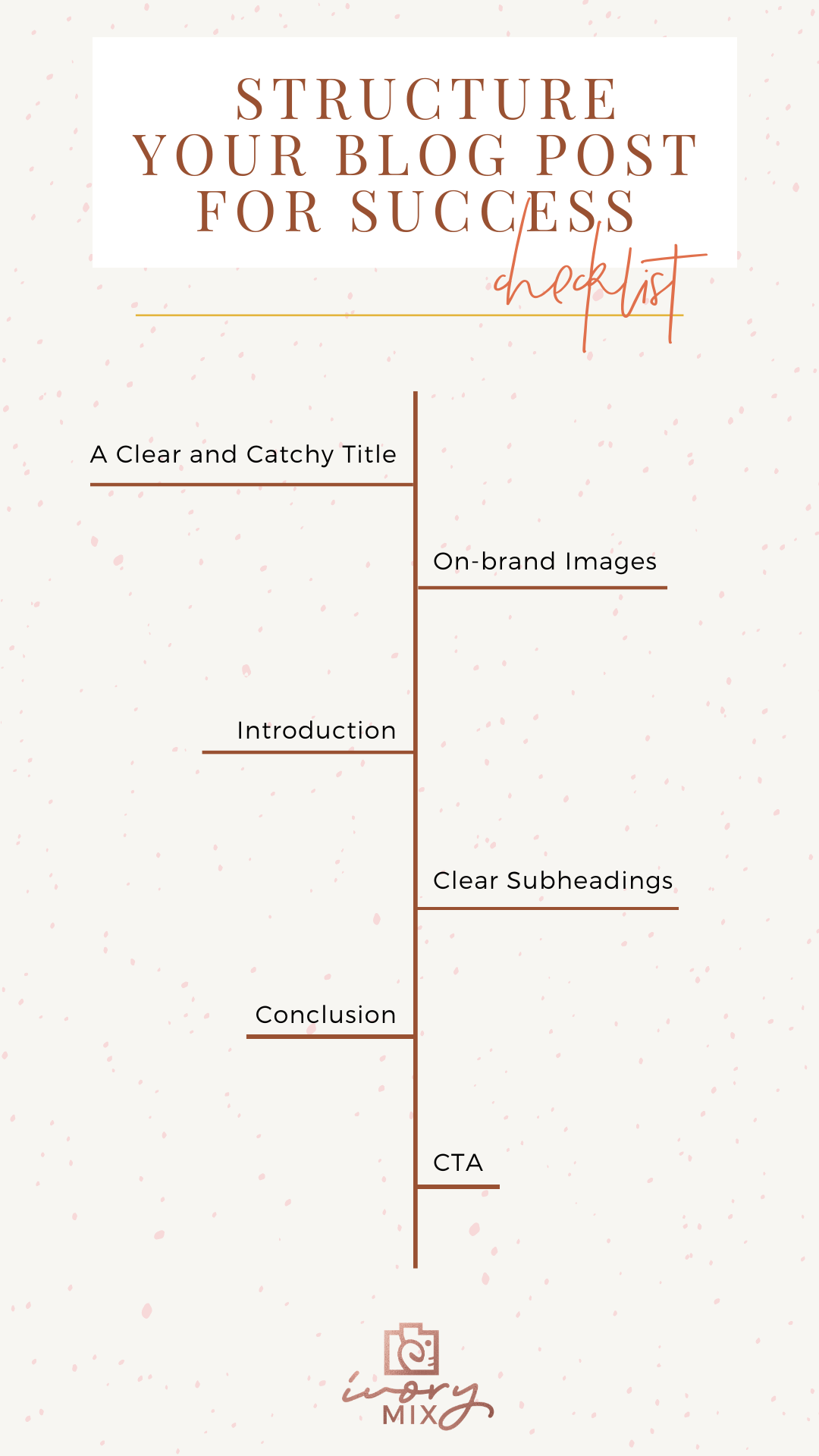 Call to Action Options:  
Create a button to lead readers to click, join, purchase, learn more, etc

A link to another website or resource

Share your freebie

Add social share buttons so your readers can share the post

Listen to your Podcast
Join your mailing list

Direct readers to another blog post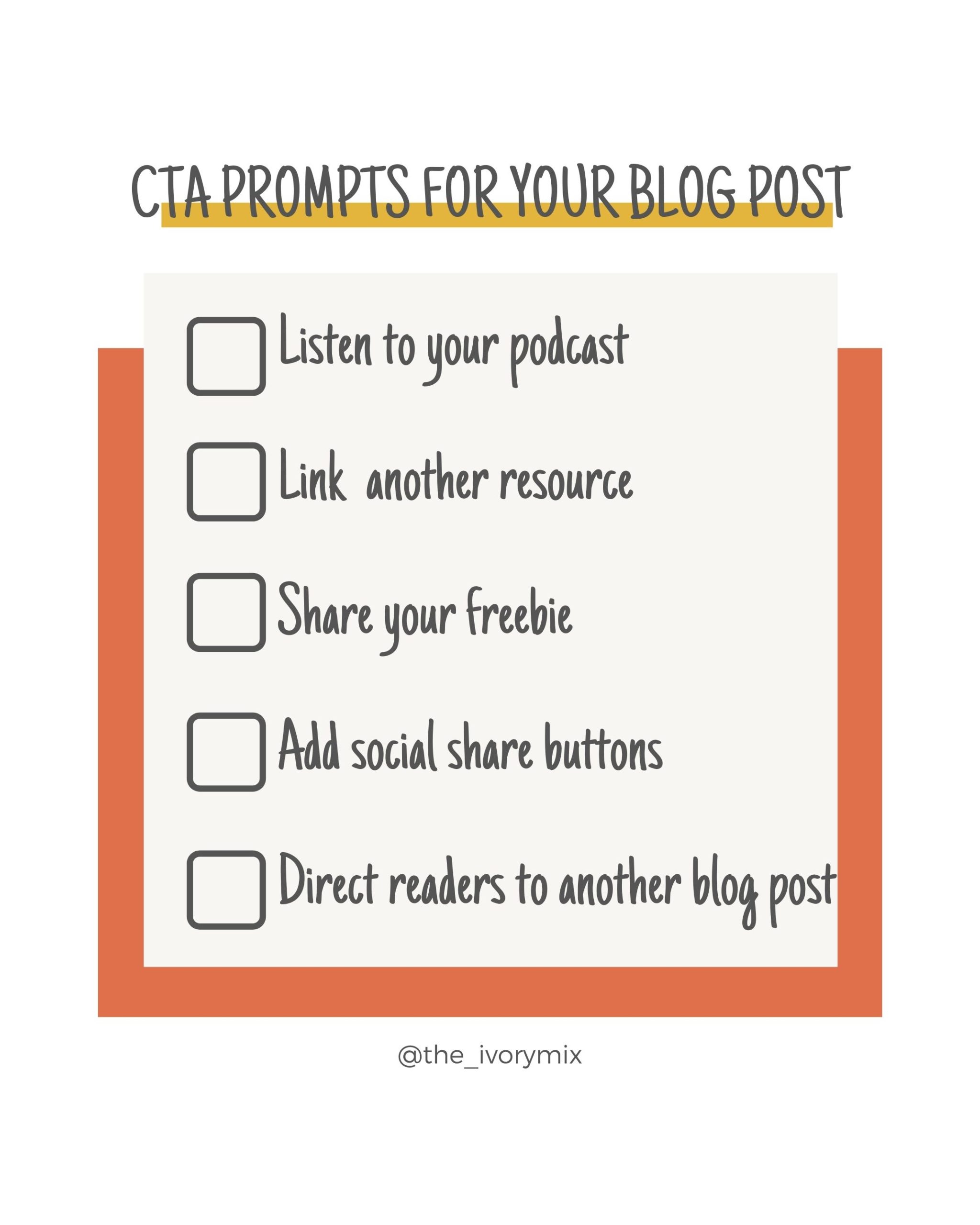 More Structural Tips for Blog Posts
Short paragraphs. Lengthy paragraphs have no place in blogging. Short and easily digestible paragraphs ensure readers don't become uninterested and make the content readable to the eye. Long paragraphs are hard to read but especially hard to read on a laptop or mobile device.
Instead, keep your paragraphs short and sweet — about 1-3 sentences is perfect. This will break up your content into bite-sized paragraphs, so readers can follow along easily and not be overwhelmed or lose their place. 
Use bullet points. Nothing breaks up content like a lovely set of bullet points. Use them to concisely highlight lists or steps for your audience to take. 
Add additional links.  Keep readers engaging on your website even longer by including links to other related content. This creates raving fans and improves your SEO. You can add links throughout your post or at the end with a teaser — "Want to read more? Here's your chance!"
Use this blog post blueprint to structure your posts for success. Your readers will thank you for it!
WANT EXCLUSIVE ACCESS TO EASY-TO-CUSTOMIZE CONTENT? 
Join the VIP membership at Ivory Mix and get immediate access to stunning stock photos, quotes, captions, and stylish Canva templates for your biz. 
To create your customized images, choose stock images from the Ivory Mix library, add them to the template, change the text, and voilà! — eye-catching social media images in a matter of minutes.
Click here to learn more about the Ivory Mix membership.